February 14th is not far away, and it is time to start thinking about Valentine's cards! This year, we're especially excited to feature a little-known area of our expertise as the perfect approach to producing lots of beautiful, handmade Valentine's cards: printmaking!
Printmaking takes many forms, but the best-known (and the ones we supply) are screen printing and block printing. Screen printing is a process often used to reproduce a high volume of images onto bags or apparel, and involves layering highly pigmented inks onto a surface through a silk or synthetic screen. Block printing refers to any printmaking process that involves the transfer of an ink or pigment onto another surface via a stamp or block. Fingerprinting and rubber stamping with an ink pad are some of the most simple forms of block printing. For our Valentine's cards, we'll be making a simple block print using a few tools you can find at collage!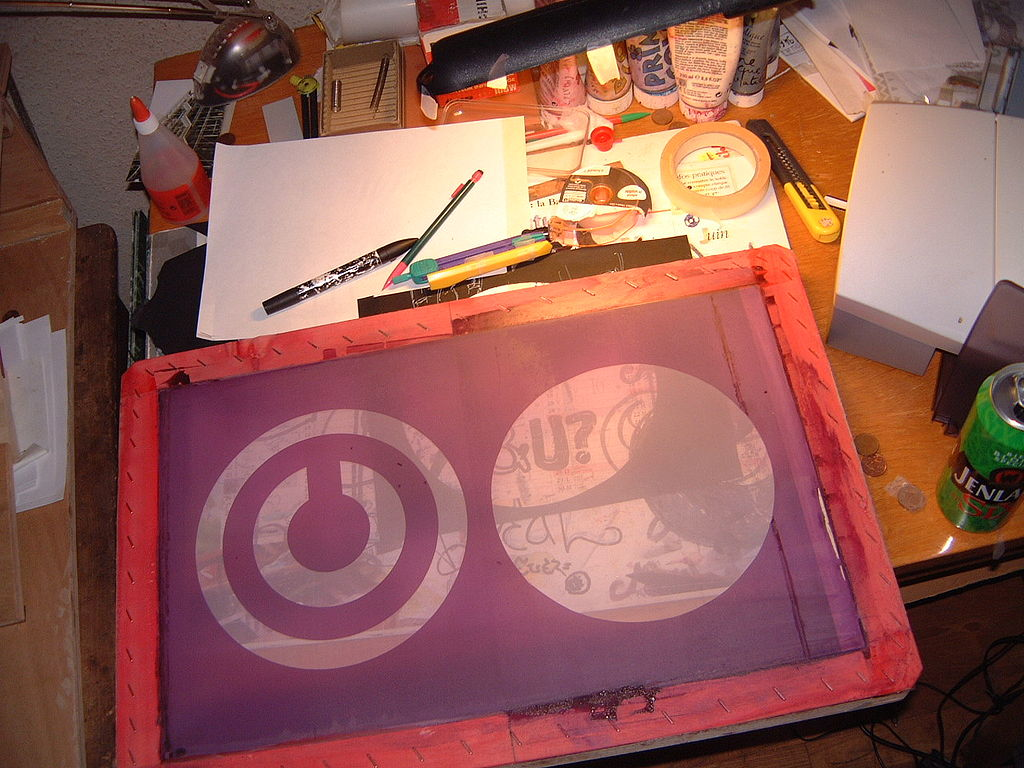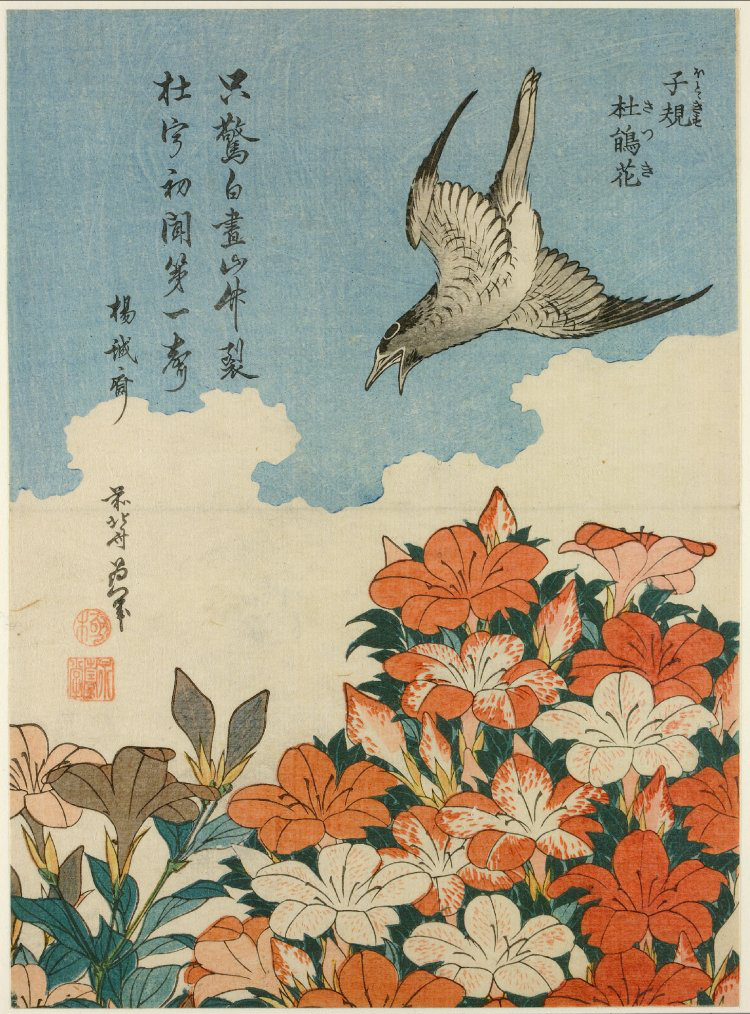 Ukiyo-e woodblock print, a well-known form of woodblock printing which originated in Japan (By Katsushika Hokusai - Ukiyo-e.org, Public Domain, https://commons.wikimedia.org/w/index.php?curid=33584611)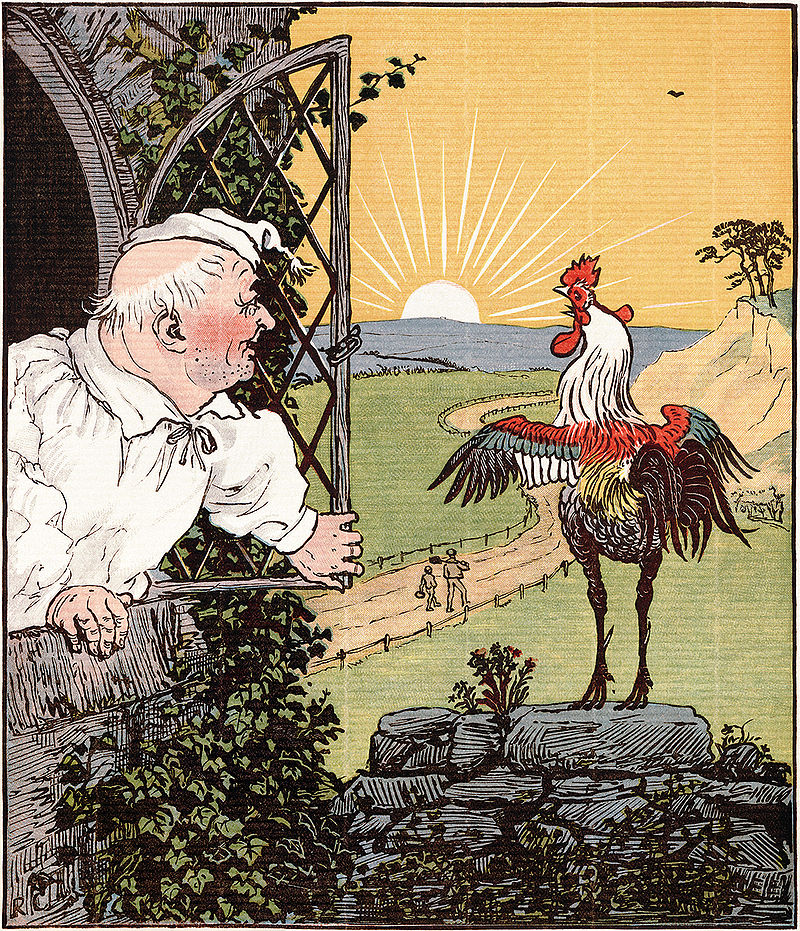 Woodcut illustration by Randolph Caldecott (By Randolph Caldecott - Library of Congress[1][2], Public Domain, https://commons.wikimedia.org/w/index.php?curid=8125013)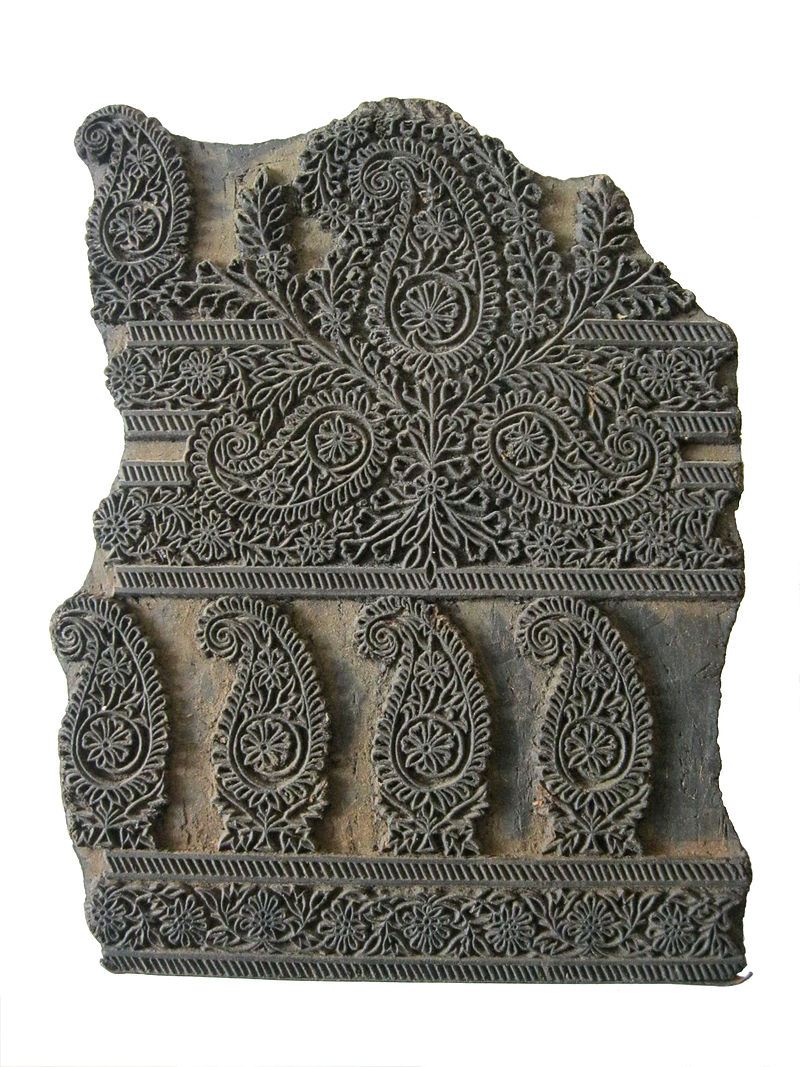 Indian woodblock for textile printing from about 1900 (By Hubertl - Eigenes Werk, woodblock is property of the author, CC BY-SA 3.0, https://commons.wikimedia.org/w/index.php?curid=19414635)
Block prints can start with any two surfaces: the surface on which the image will be (or is already) created, and the surface onto which the image will be printed. The second surface is often paper or fabric, and is technically called the substrate. The block, or carving surface, is where a relief image is created: a raised design that will come into contact with the printing ink and will create the image on the substrate after printing. For a block print, the image is created by carving with a special cutting tool. The block can be made out of wood, linoleum, or other softer rubber or eraser-like materials that are easier to cut. collage carries linoleum blocks and two types of softer carving surface for beginners. (A softer surface is easier to carve, and a harder one allows for more fine detail.) For our cards, we'll be using Speedball Speedy-Carve blocks and a linoleum cutter. 
These are the materials you'll need to make your block printed Valentine's cards (we have everything you need!):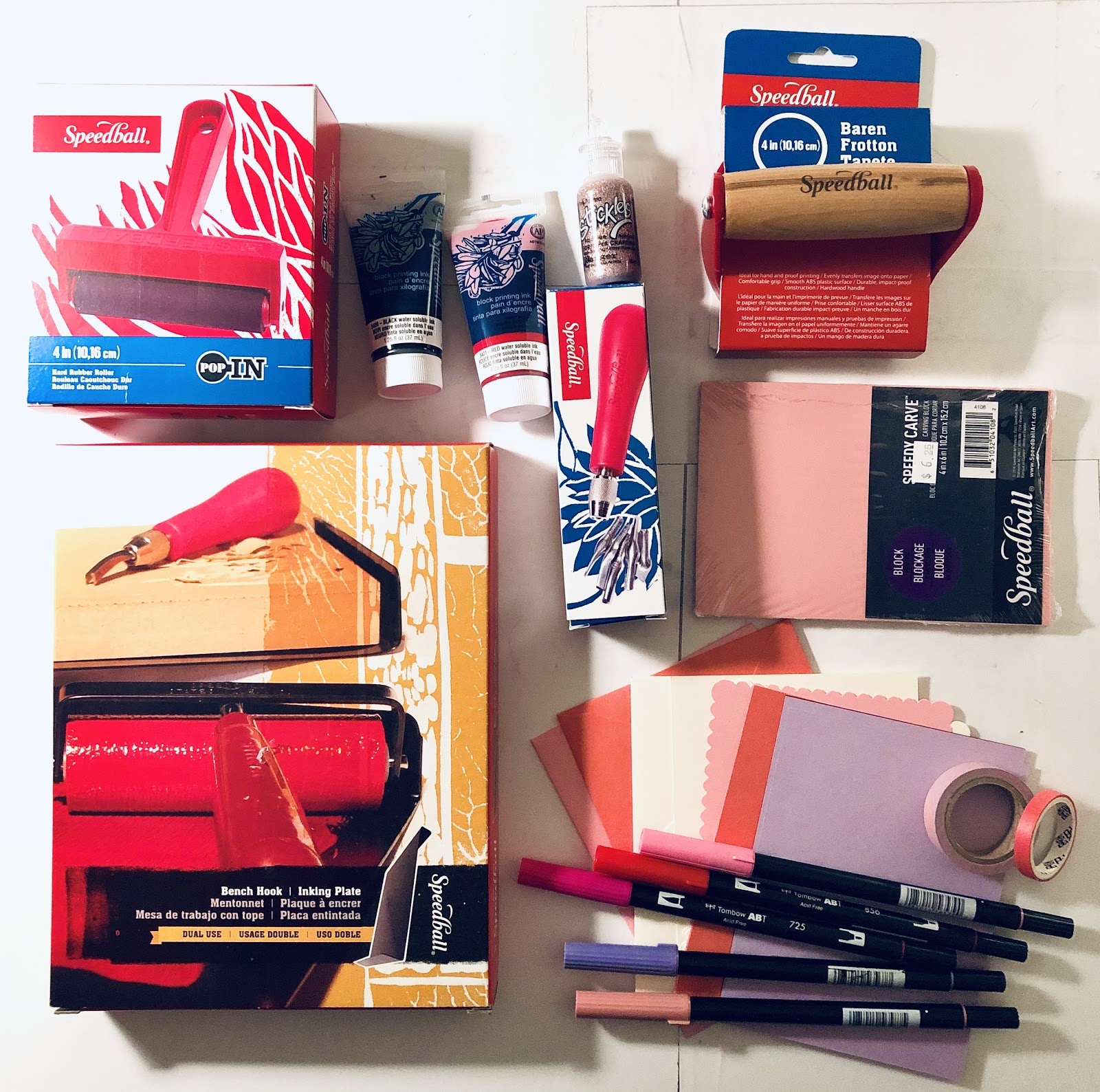 Materials:
- 1 or more printing blocks, depending on how many designs you'd like to make (Speedy Carve or Speedy Cut blocks for beginners, or harder Speedball Gray Linoleum blocks for the seasoned printmaker)
- Linoleum cutter (We carry a few varieties of Speedball cutter handles and blades.)
- Brayer (a paint-roller-like tool used to apply ink to the block)
- Baren (used to press the block evenly onto the substrate. Barens are in used in block printing techniques that don't require the extra pressure of a printing press, and require only the pressure of your hand to create an even, clean print.)
- Block printing ink in one or more colors
- An inking plate, also known as a bench hook (These are very useful if you are going to be printmaking often, since you can also use them as a brace to hold your block while you carve. If you don't want to spring for this specialty item right away, you can use a flat, clean plate or baking sheet instead.)
- Blank cards to print on (bulk stationery or packs) 
- Fun pens or markers, glitter, stickers, or any other decorations you want to add to your cards
Step 1: Create your design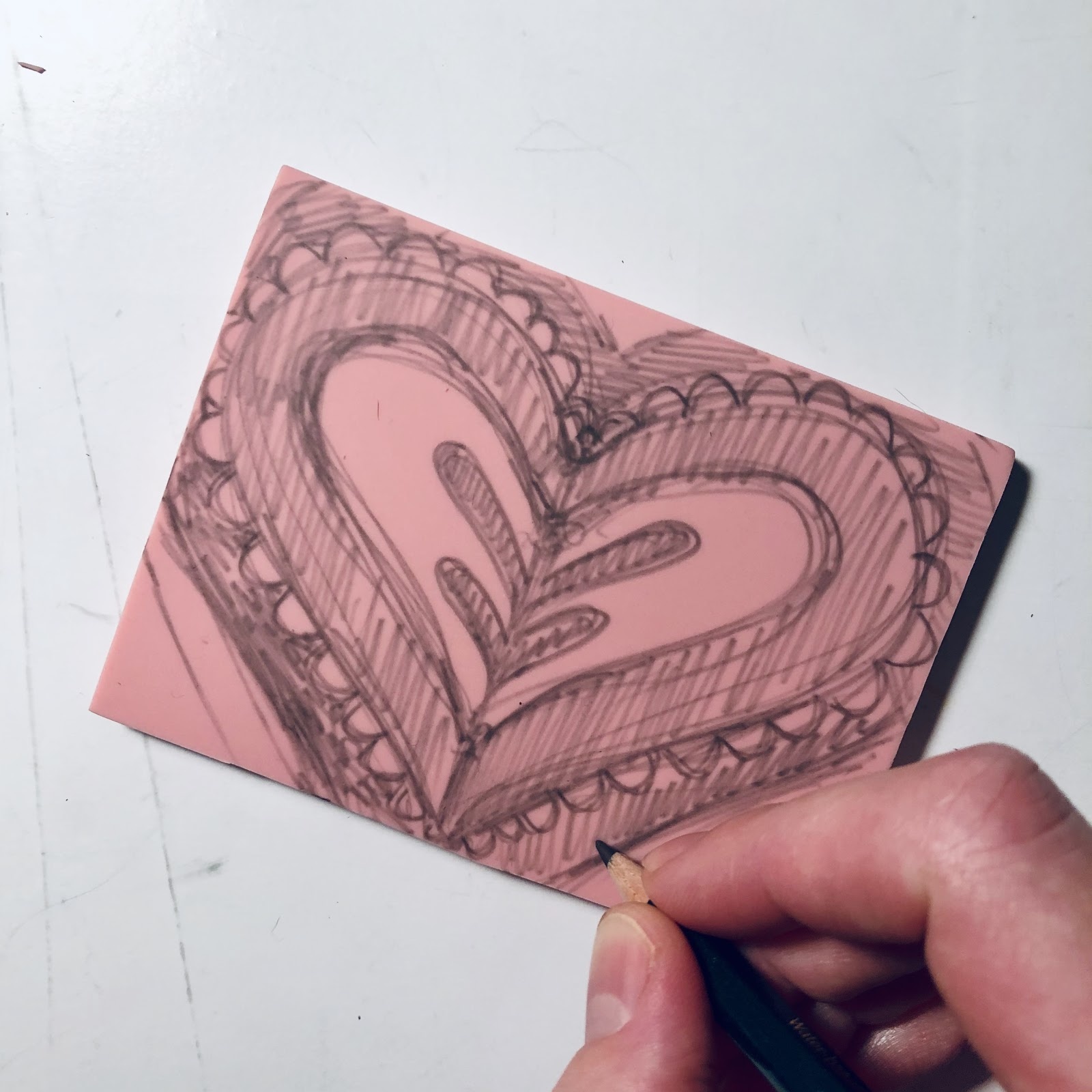 Using a pencil, sketch your design onto either side of the pink Speedy Carve block. Pencil lines won't show up on your print, so don't worry about erasing mistakes. Anything you make will be reversed in the finished print, so if you are writing a message, it needs to be backwards! We are going to carve an image of a decorative heart, which will look the same when reversed. Use your pencil to shade in all the areas you want to be filled-in in the final print. These are the areas you are not going to carve, to create the relief. 
Step 2: Start carving!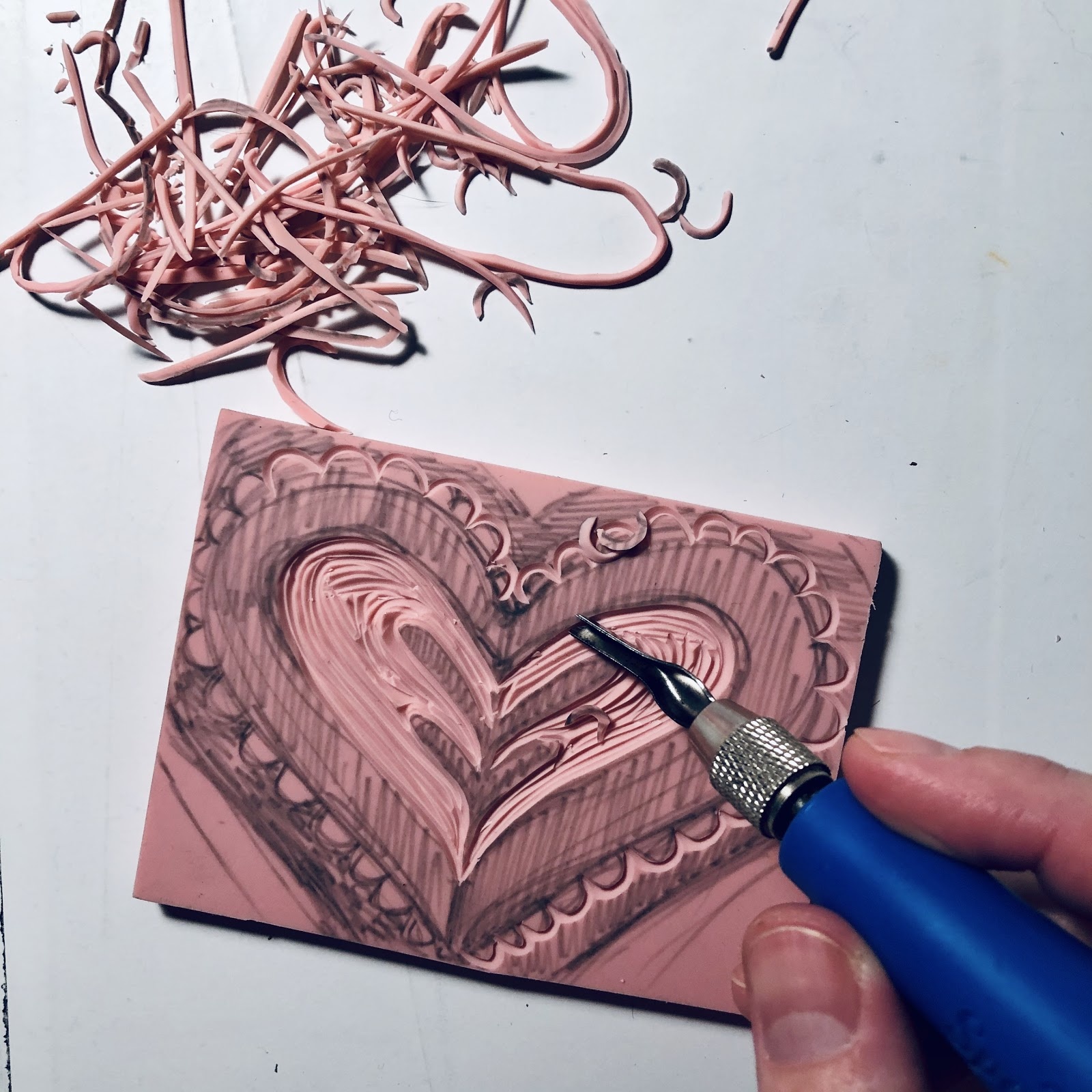 Once you get your cutting tool set up with a middle-sized V-shaped blade (we're using the #2), you can start carving out the unshaded areas. Hold the block still with one hand, and carve about halfway into the block with the cutter. You should cut deep enough to remove some of the block, but not so deep that you go through to the other side. Shallower carvings will create a textured surface, which some people like. Deeper carvings will result in an emptier space, where the ink can't touch the block. A great rule of thumb (to protect your thumbs!) is to always cut away from your hand. That way, if your carving hand slips, you won't gouge your fingers. 
Step 3: Test print your block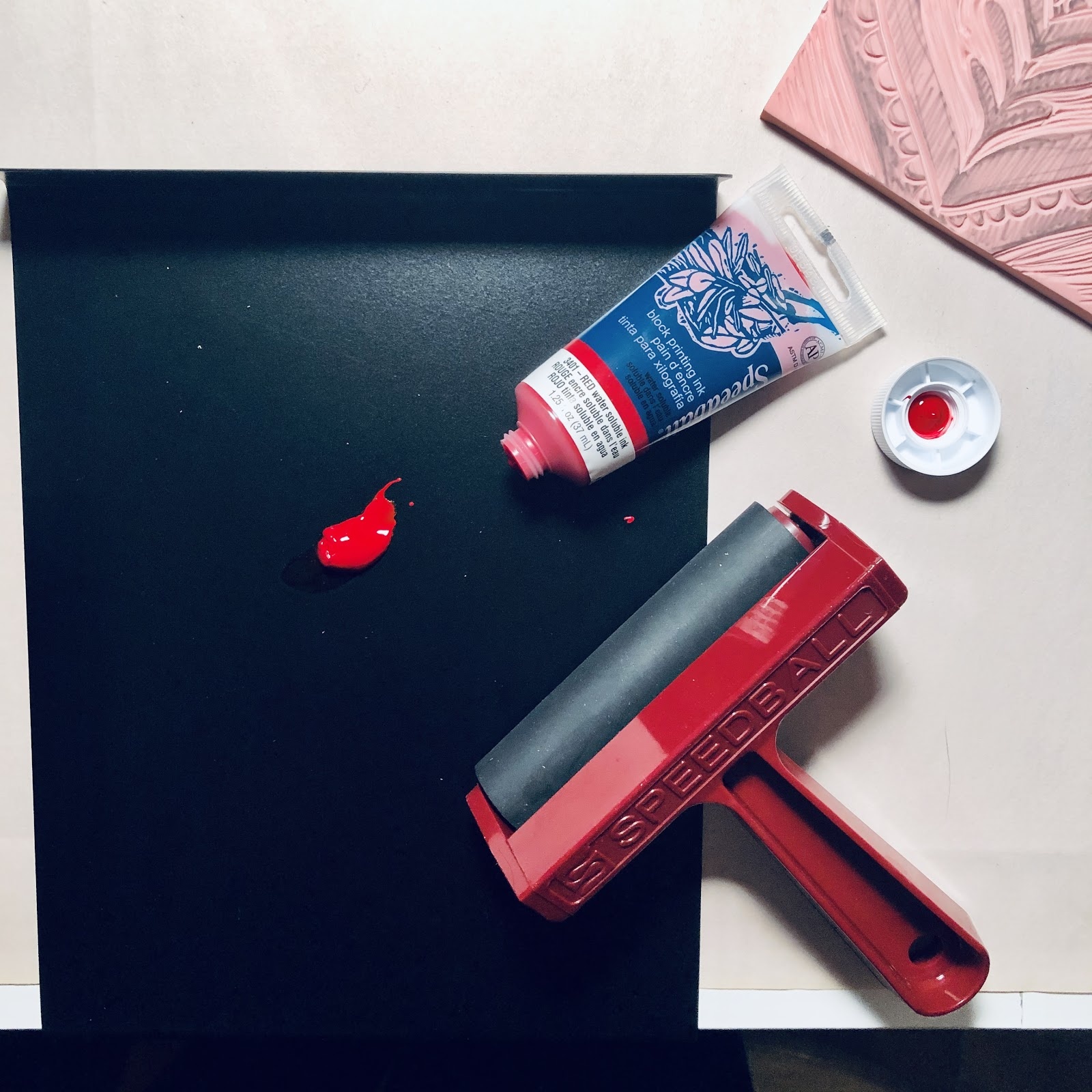 Once your block is carved out and you like the way it looks, you're ready to do a test print. Squeeze a small amount of printing ink onto the inking surface, about as much toothpaste as you'd use on your toothbrush. (We've put a sheet of newsprint under the inking plate , which doubles as a test surface and protective layer.) Using your brayer, roll the ink out until it is evenly coating the brayer's surface. Make sure you lift up the brayer after each roll so the ink distributes over the entire surface of the roller. Brush away the carving scraps from your block and get a piece of clean scrap paper ready nearby. Lay your block carving-side-up, and make a few passes over it with the inked brayer; you should have a thin, even coat of ink over the raised surfaces of the block. If the ink is seeping into the carvings, you've used too much. If you can still see the block through the ink, use a little more.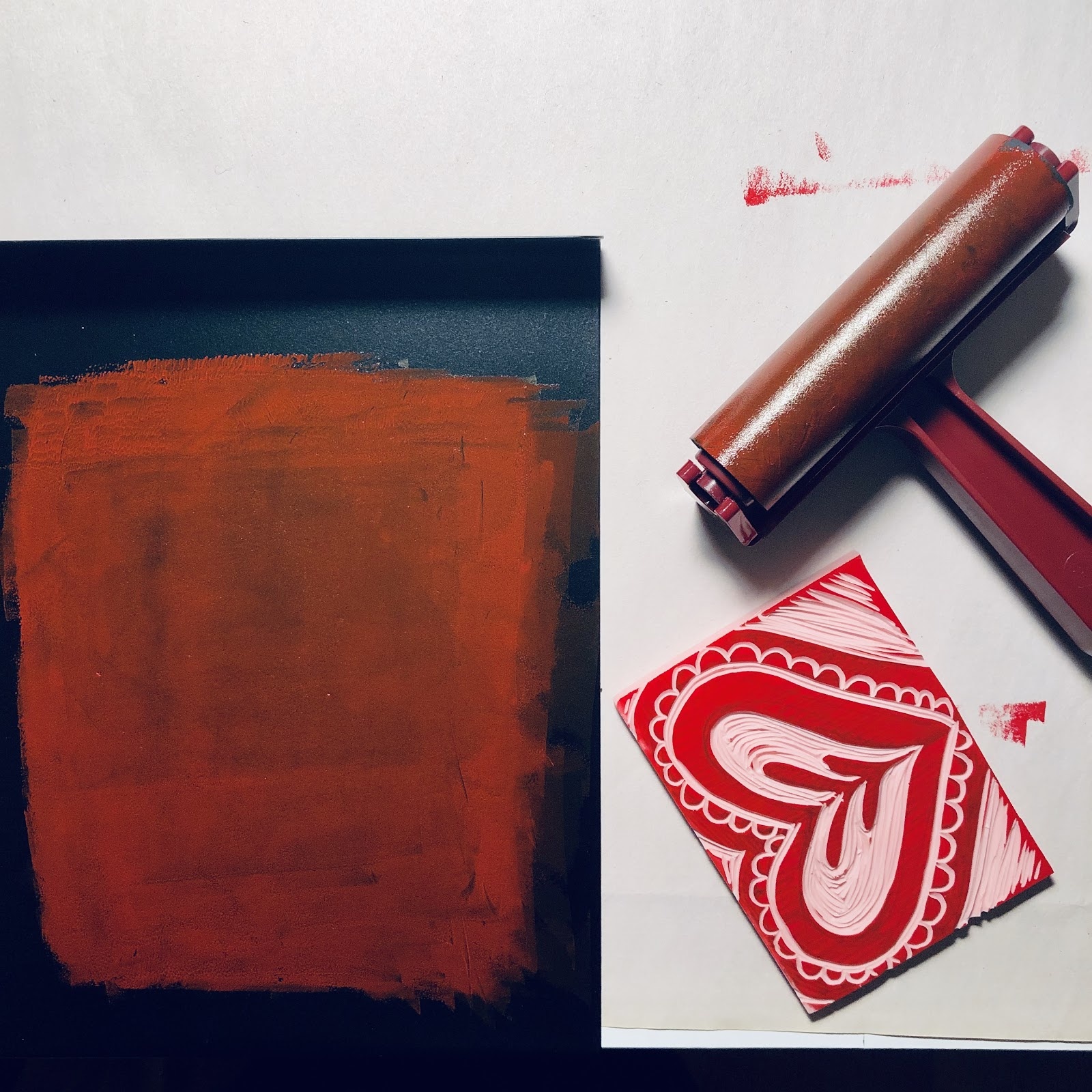 Gently take the block by the edges, flip it over (this is the tricky part!), and place it carefully onto the test paper. Using your baren or the palm of your hand, firmly press the block down until all parts have made contact with the paper. Carefully peel the block up, and, voila! You have your first print.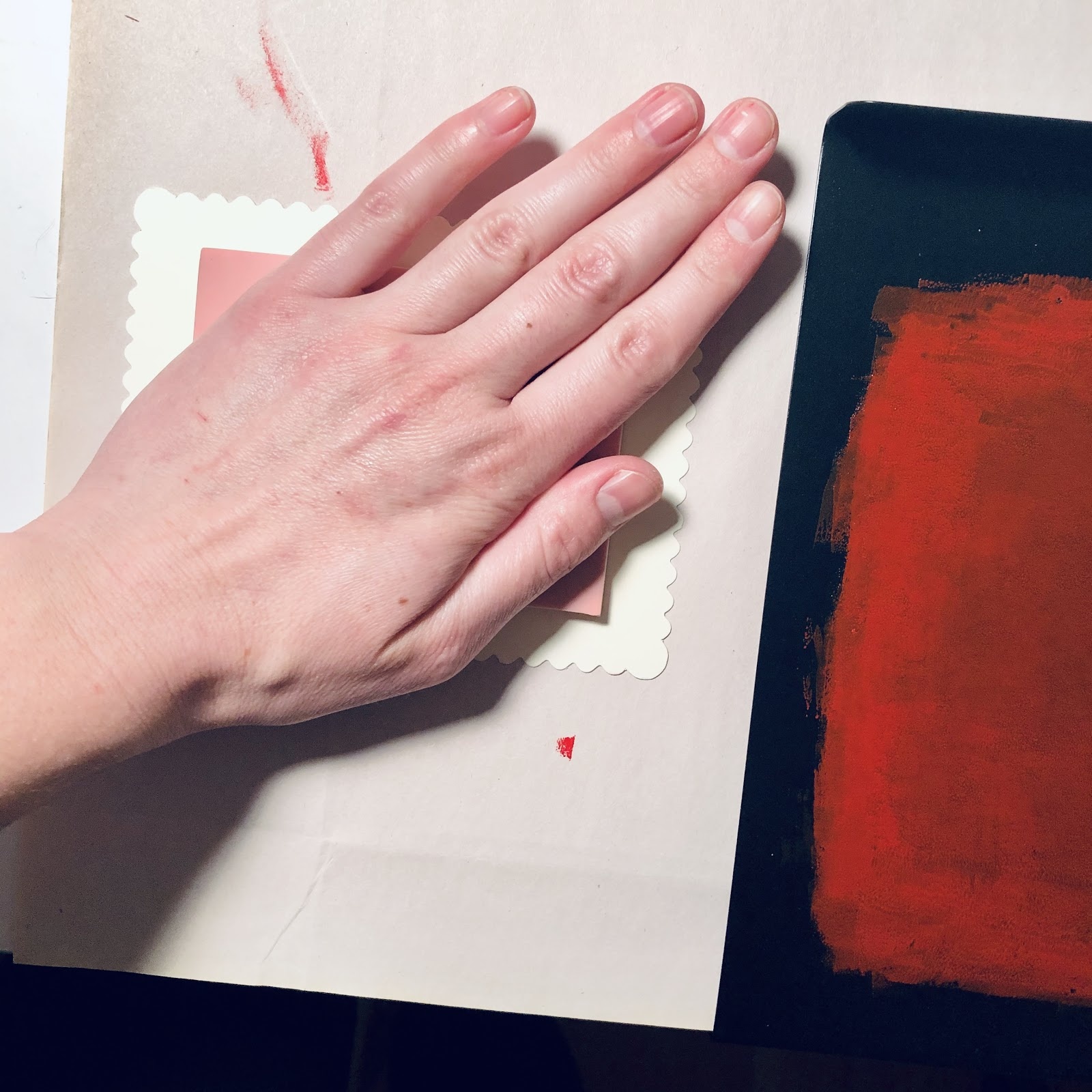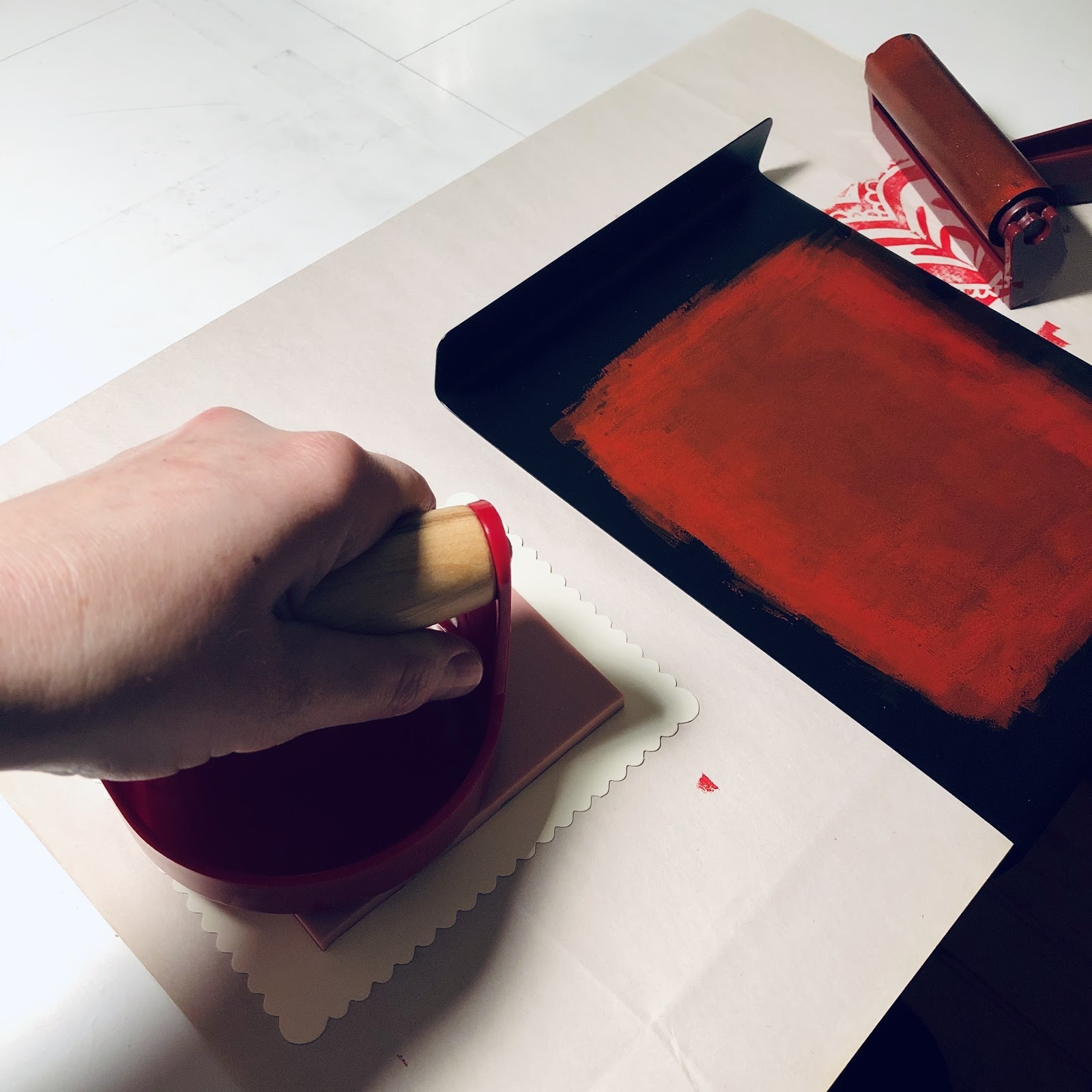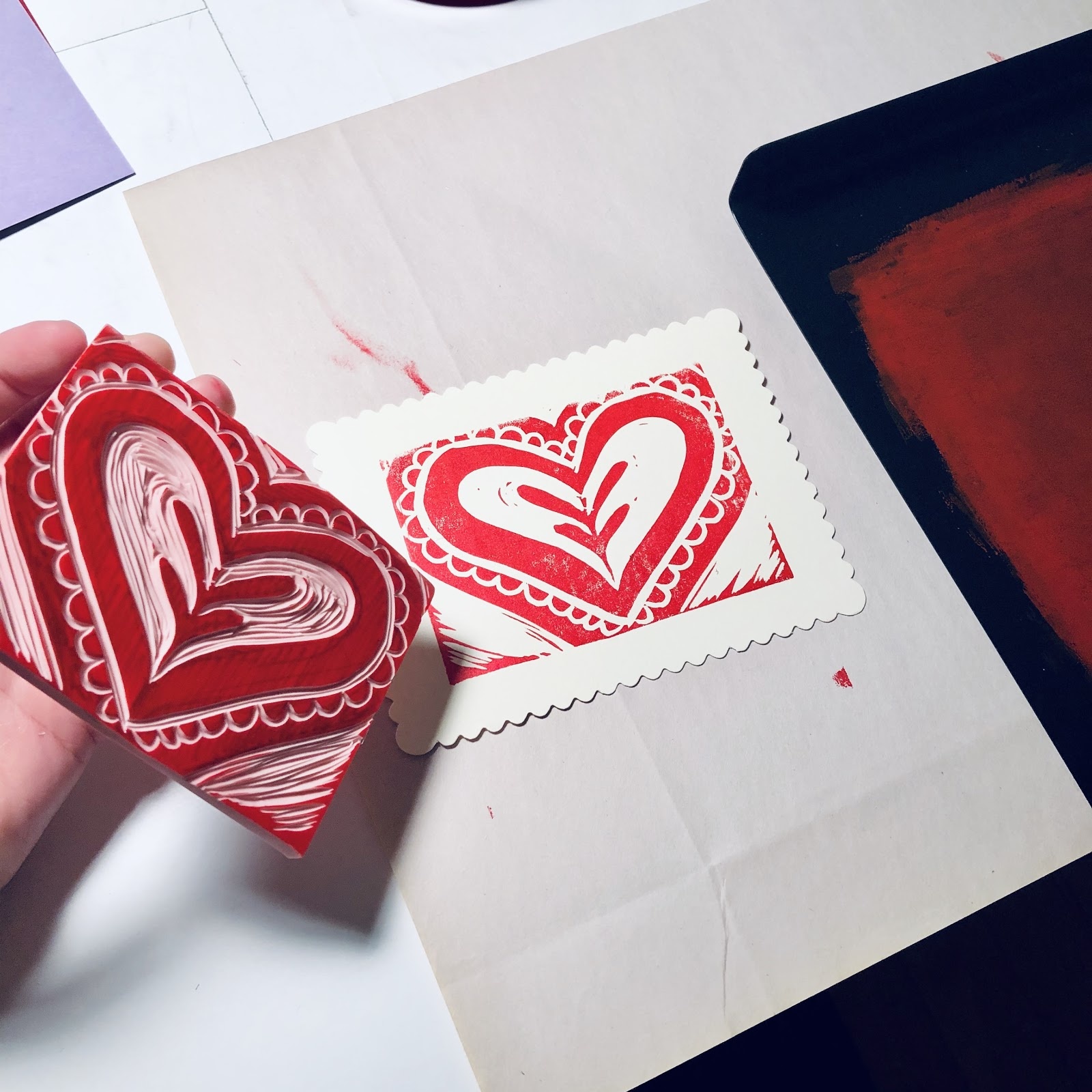 Step 4: Final prints
Do you like how it looks? If not, you can clean it by stamping it off on the test paper a few times and go back to carve some more. If you like it, you can start printing on your cards! Once you've printed as many cards as you want, let them dry for 30 minutes before going back to embellish. We've decorated our cards with Tombow brush pens, Stickles glitter glue, and washi tape, all available at collage!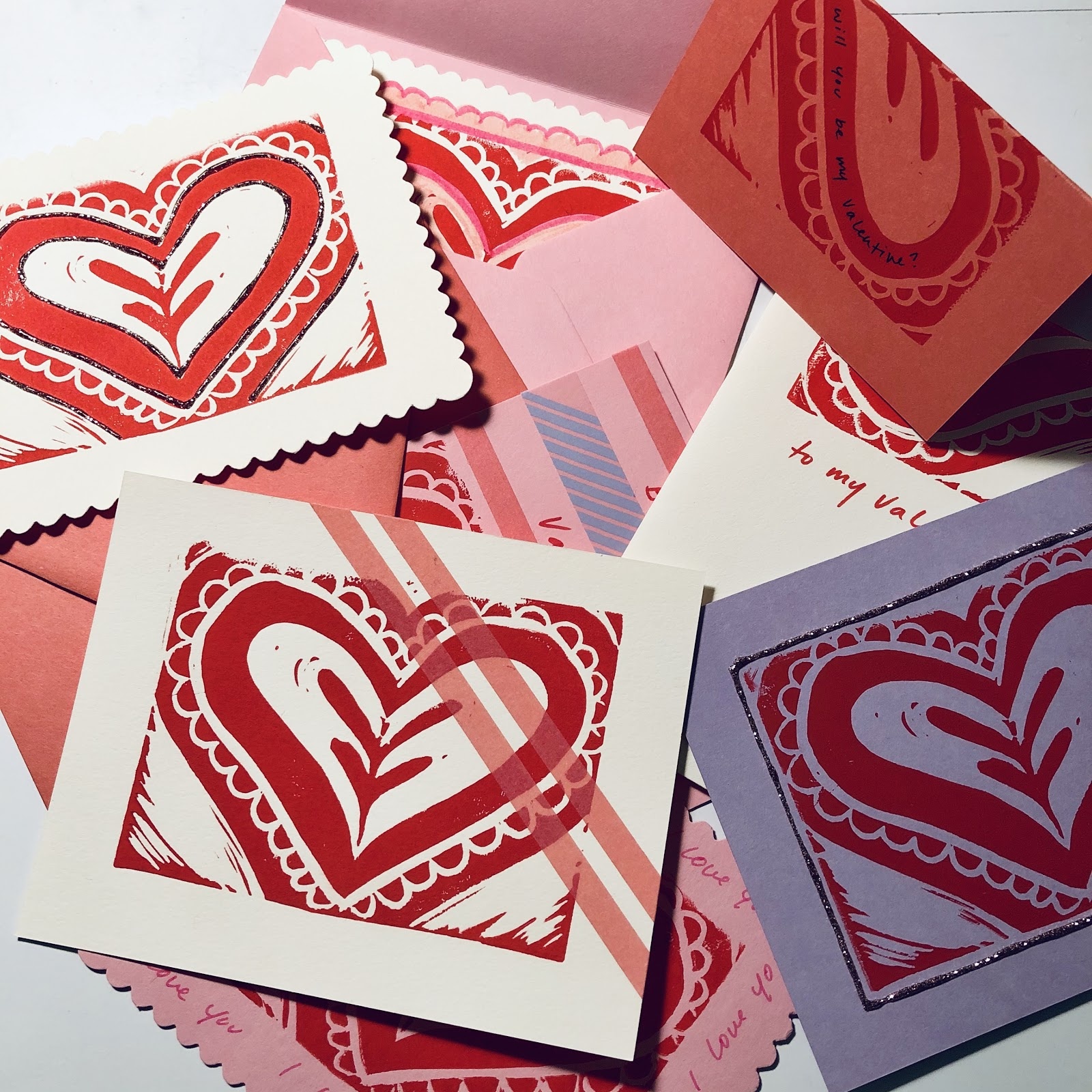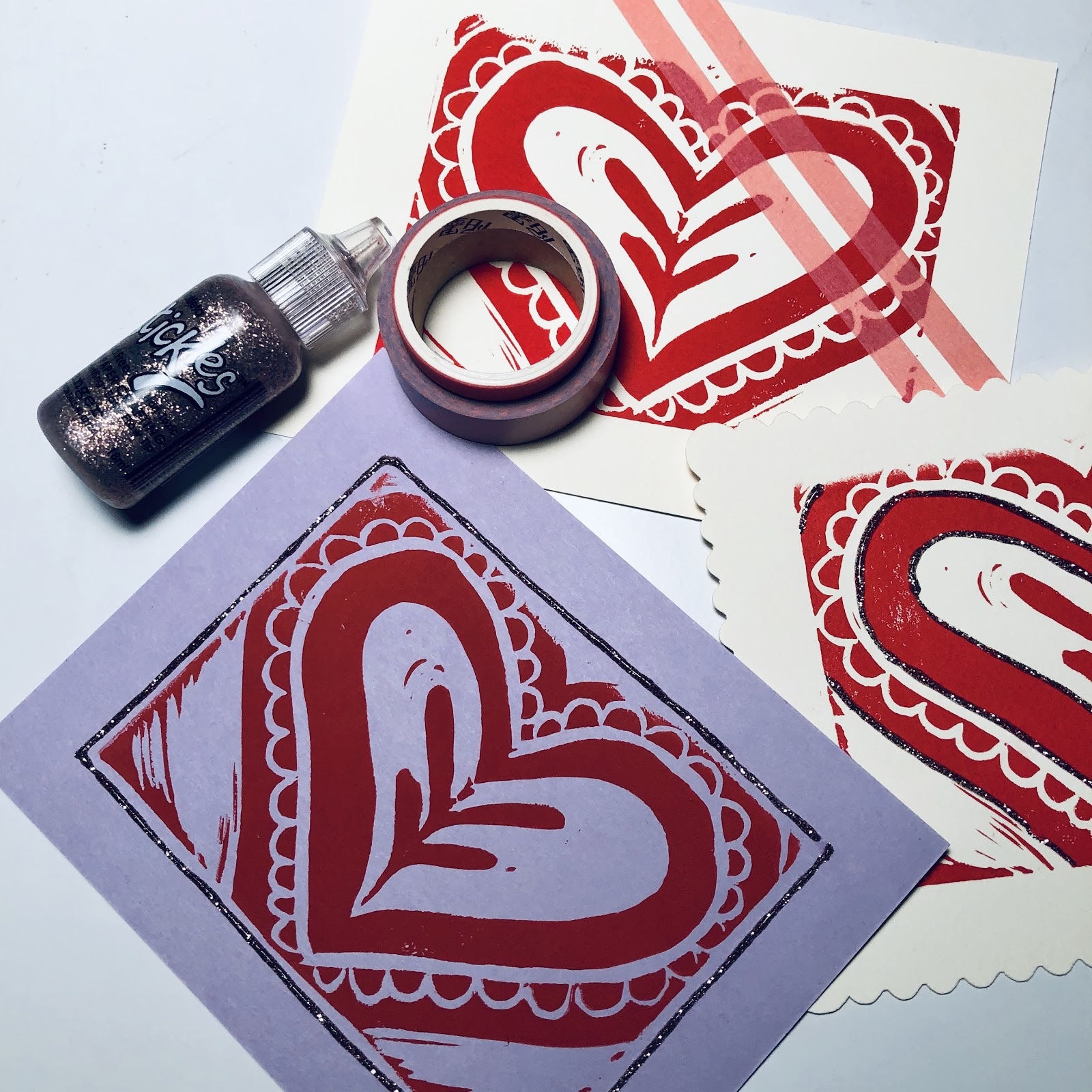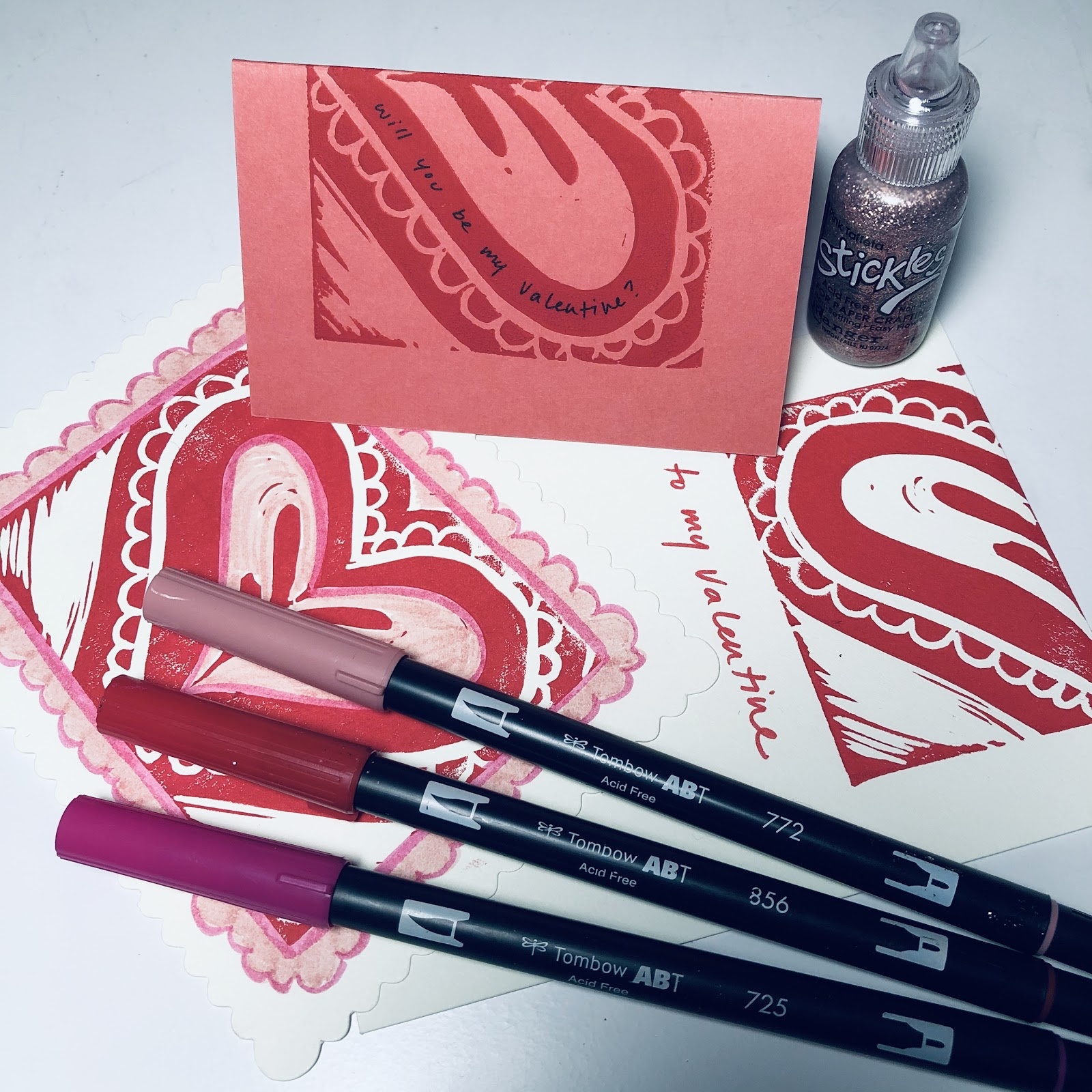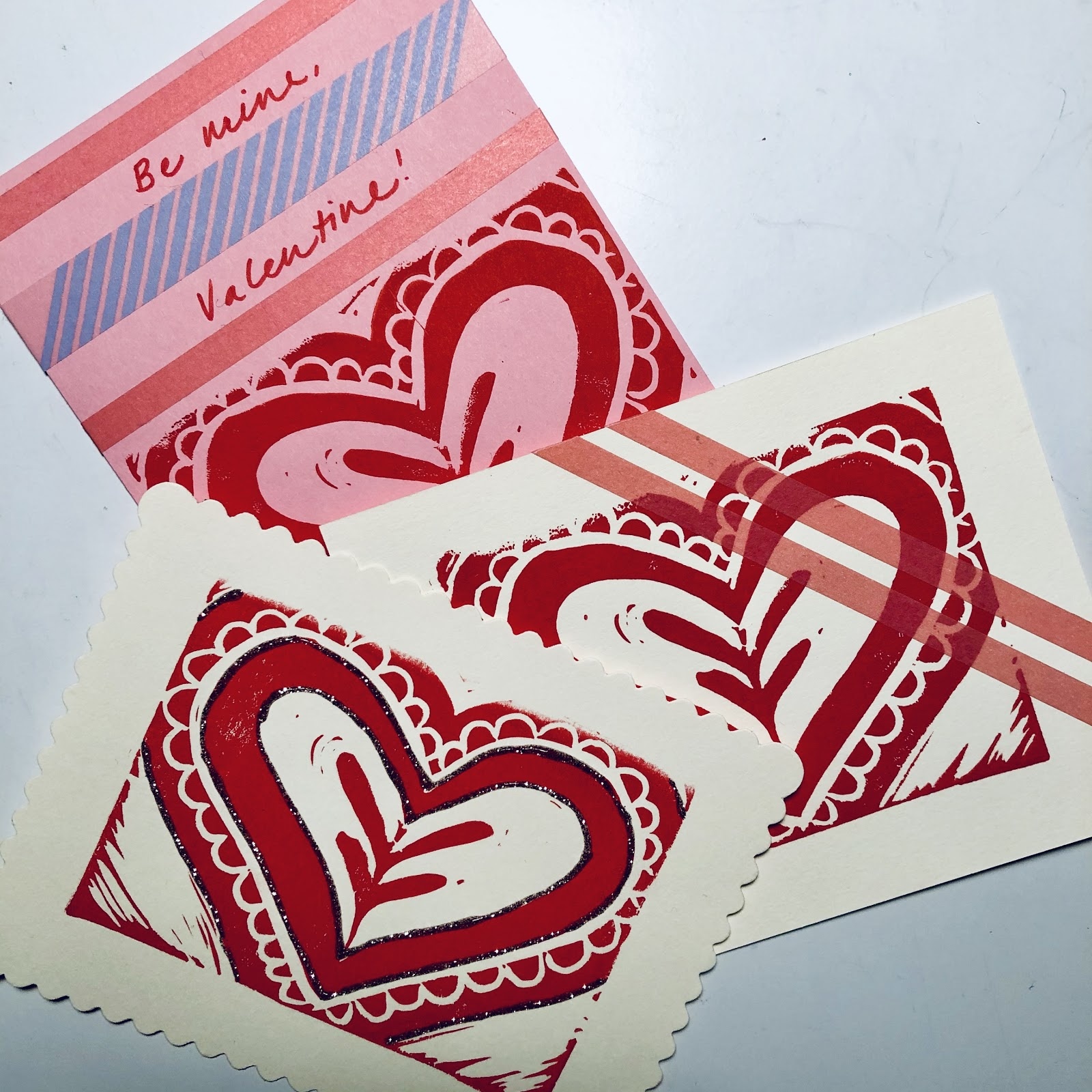 Clean up is easy. Roll the brayer off on your scrap paper to remove the extra ink. The rest of the ink will come off easily in the sink. Stamp your blocks a few times on scrap paper until most of the ink is gone. You can continue to reuse them as many times as you want! Any ink smears or spots will come off a counter or table with a basic cleaning solution. 
The printmaking process can seem daunting at first, with its specialty tools and unique terminology. 
Now you know the basics, and you're ready to start experimenting! We'd love to see what you make.
 

Did you know every month we give away a $50 gift card to someone through our instagram contest? It's super easy to enter our monthly contest.  Check our Instagram page HERE


You need to have a public Instagram account and post a picture of something you've made with supplies you've purchased at collage. Tag us: @collagepdx in your post and add the hashtag #collagepdxprojects to be instantly entered! We pick a winner on the first of each month.  
Check our blog HERE for more info and to see photos of previous winners.