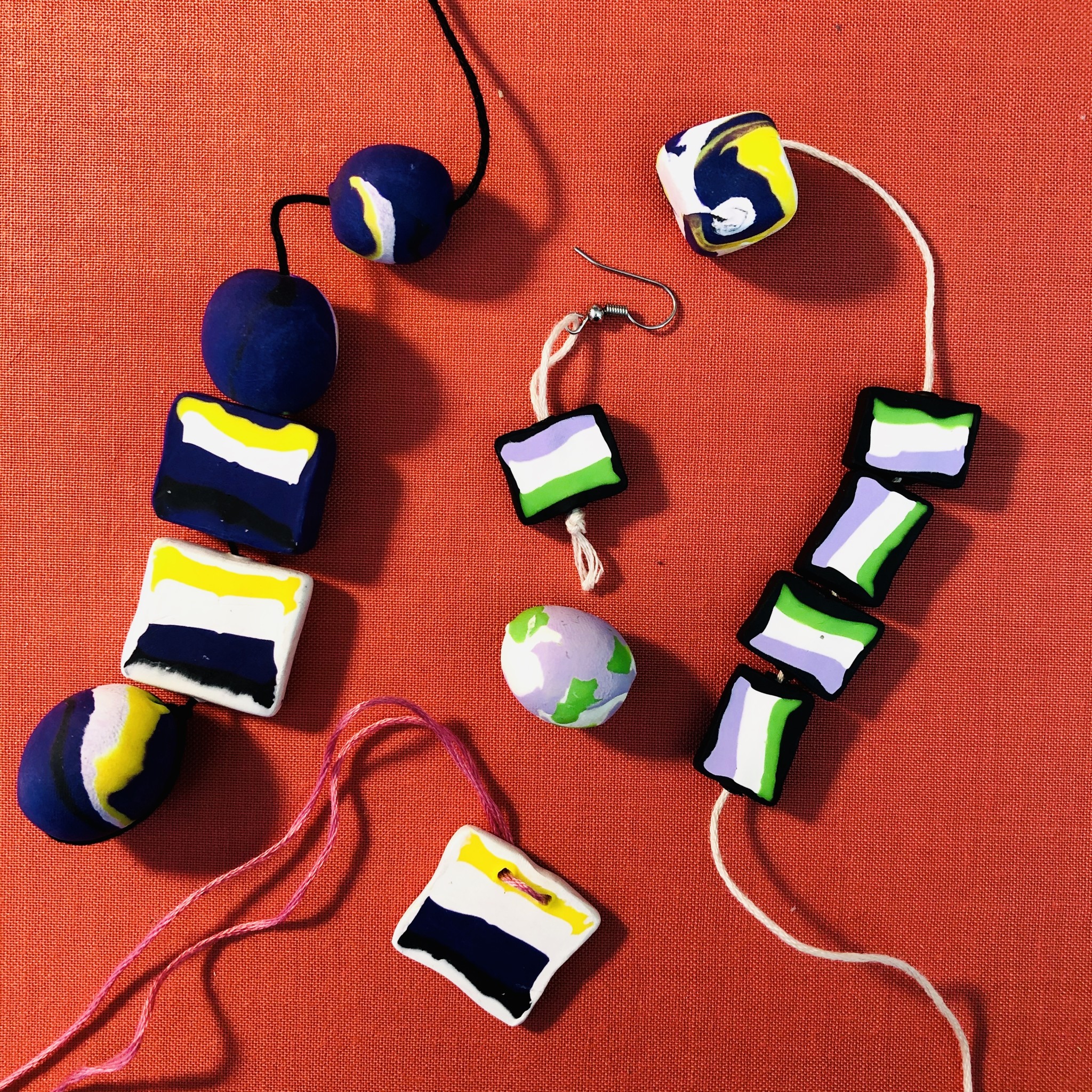 Ages: 5+
Time: 2-3 hrs
Happy Pride Month! Though we may not be celebrating in person, we can still show our pride with handmade polymer clay beads! This project can be done with little kids, big kids, and adults.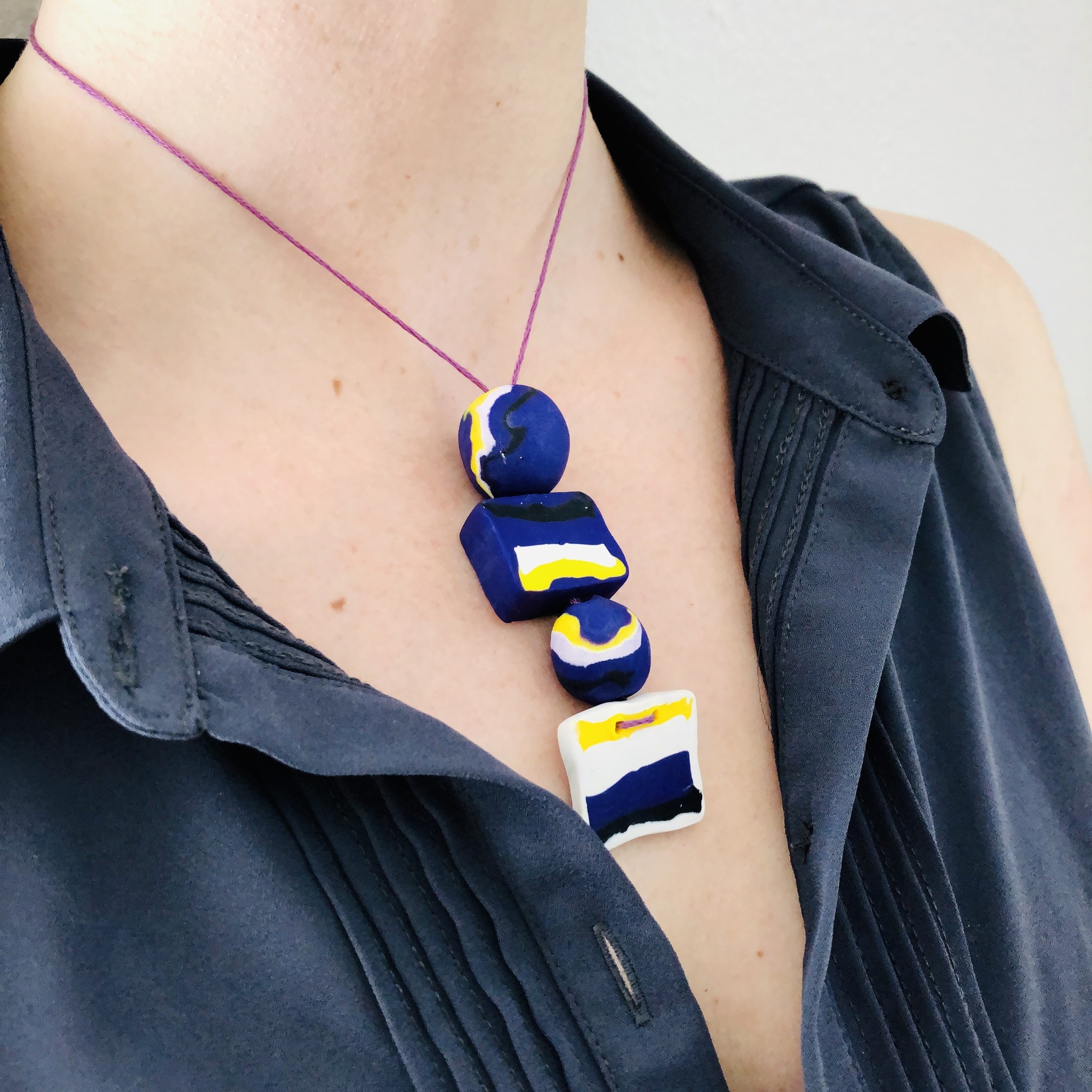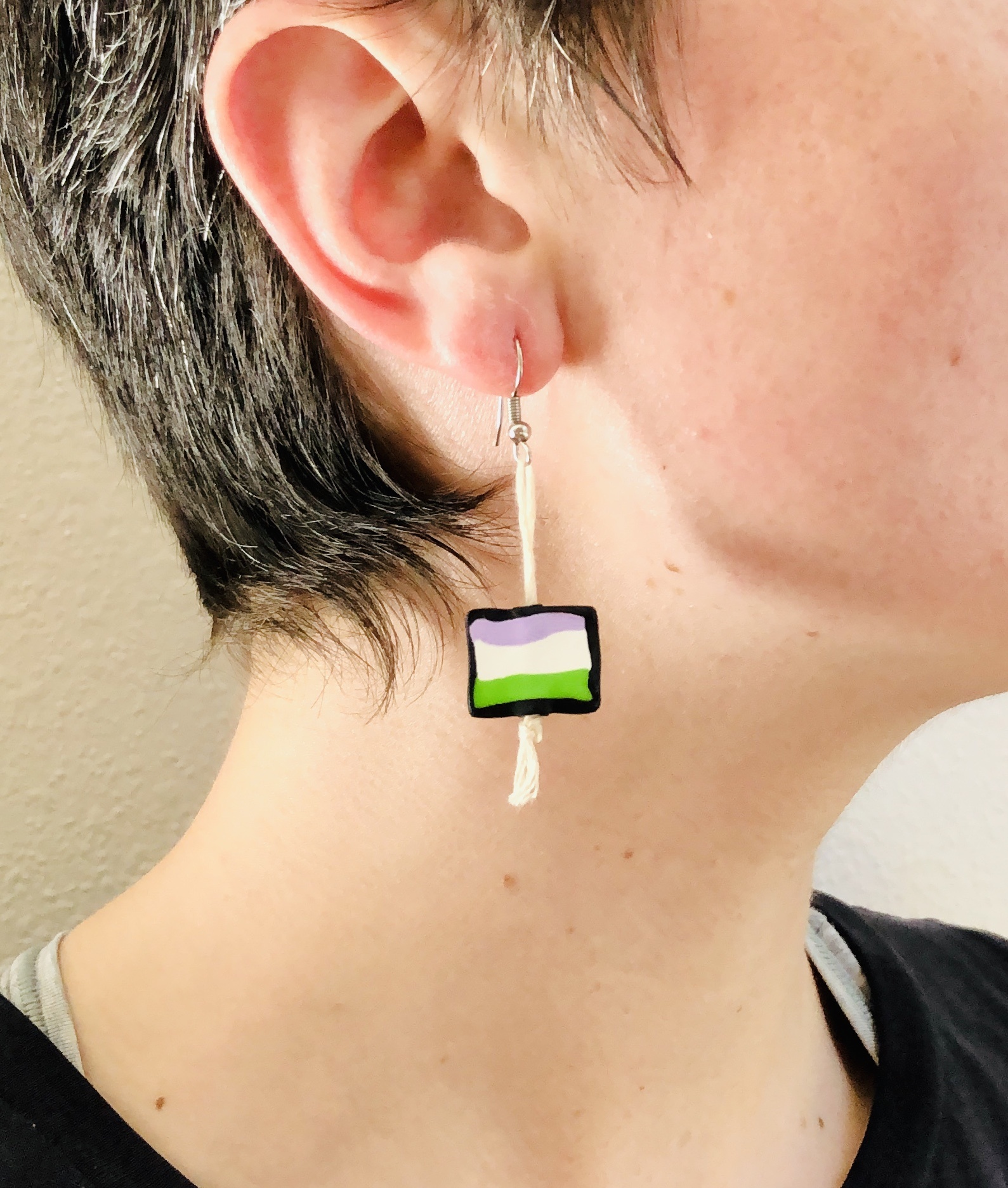 Caning is a beading technique that entails rolling or reducing blocks of polymer clay to create a hidden pattern. When the cane is complete, slicing it (like a loaf of bread) reveals the design in the core. Caning can be very complicated or very simple, and you can create intricate patterns or very basic ones. Since this project is geared toward beginners and kids, we're going to keep it simple!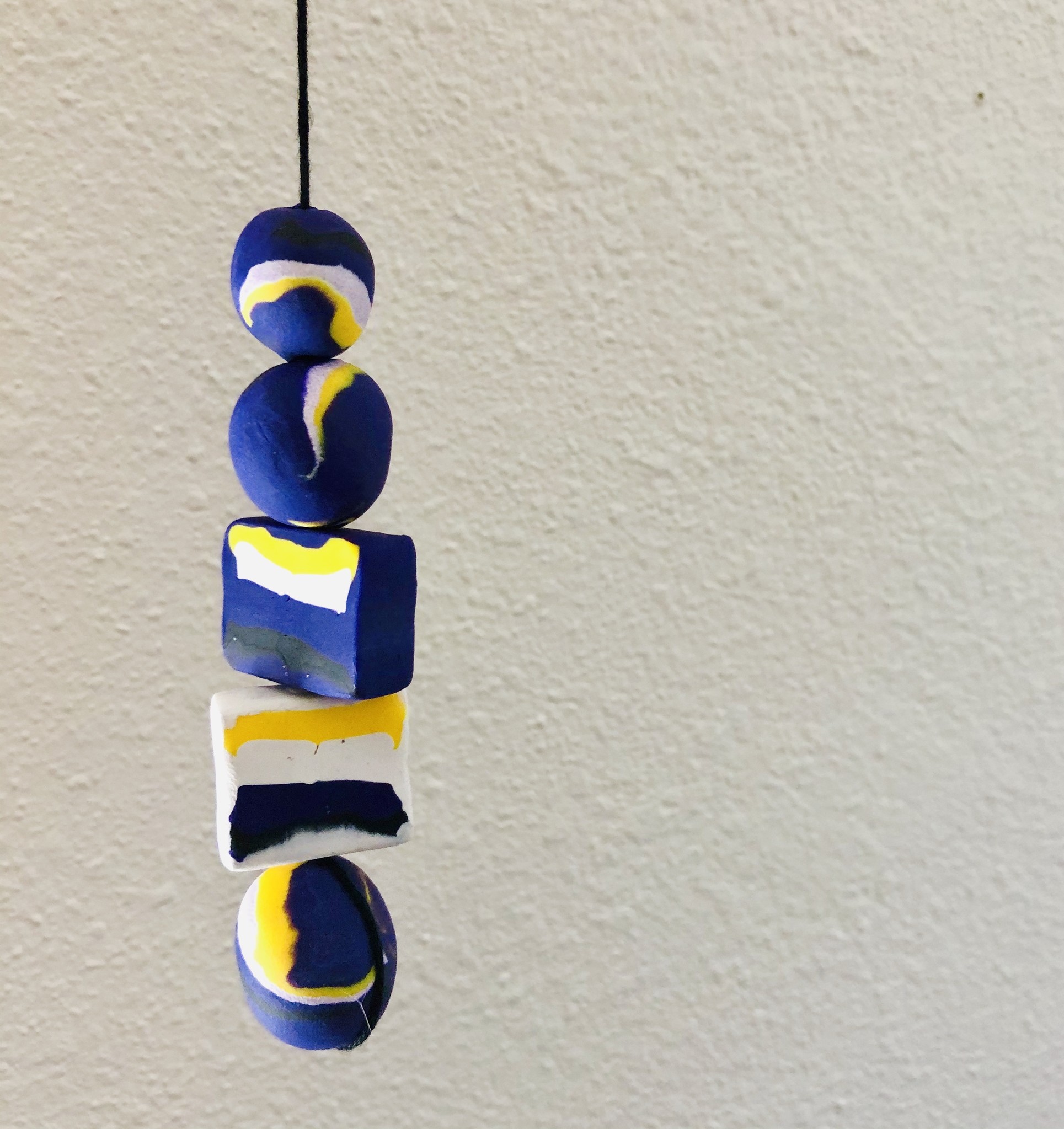 A garland of flag beads and roll-up beads in the non-binary flag colors.
Roll-up beads are a good alternative for younger children (ages 5-7). These involve choosing a few colors of clay, cutting them into small pieces, and rolling them into a ball between your palms. You can also use these simple beads as extra adornment for your caned beads. If you're working with this age group, or you just want to keep it easy, skip steps 1-6. 
Since June is Pride month, we decided to make genderqueer and non-binary pride flag beads. A three-to-five-color striped flag is a simple pattern to make into a cane, so we suggest you choose something equally simple. Below are some other popular pride flags to choose from, or invent your own! (If you're doing the simple bead option, choose 2-4 colors.)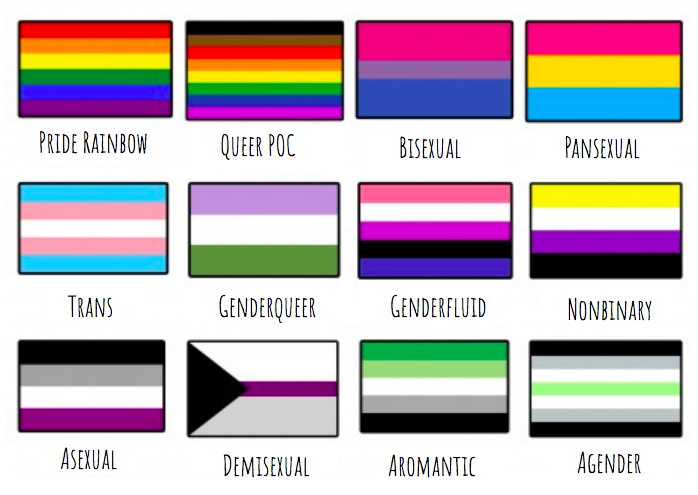 What you will need:
- Sculpey polymer clay in each color you plan on using for your flag. 2oz single-color Sculpey blocks are enough for two canes, plus one extra for the border. (We used basic Sculpey III for this project.)
- A cutting blade for polymer clay (this is essential, since a kitchen knife is too thick and will damage your design)
- An acrylic clay roller or wooden rolling pin 
- Embroidery floss and needle for making a necklace, bracelet, or ornament and piercing the beads
- Other jewelry-making supplies as needed, such as earring backs and elastic cord
- Waxed or parchment paper
- A glass, vinyl, or linoleum work surface (we used a cutting mat, but you can work atop an extra sheet of parchment paper or waxed paper, a piece of plexiglass, or anything hard and smooth that can take a little reside or staining)  
- An oven and baking sheet for hardening the clay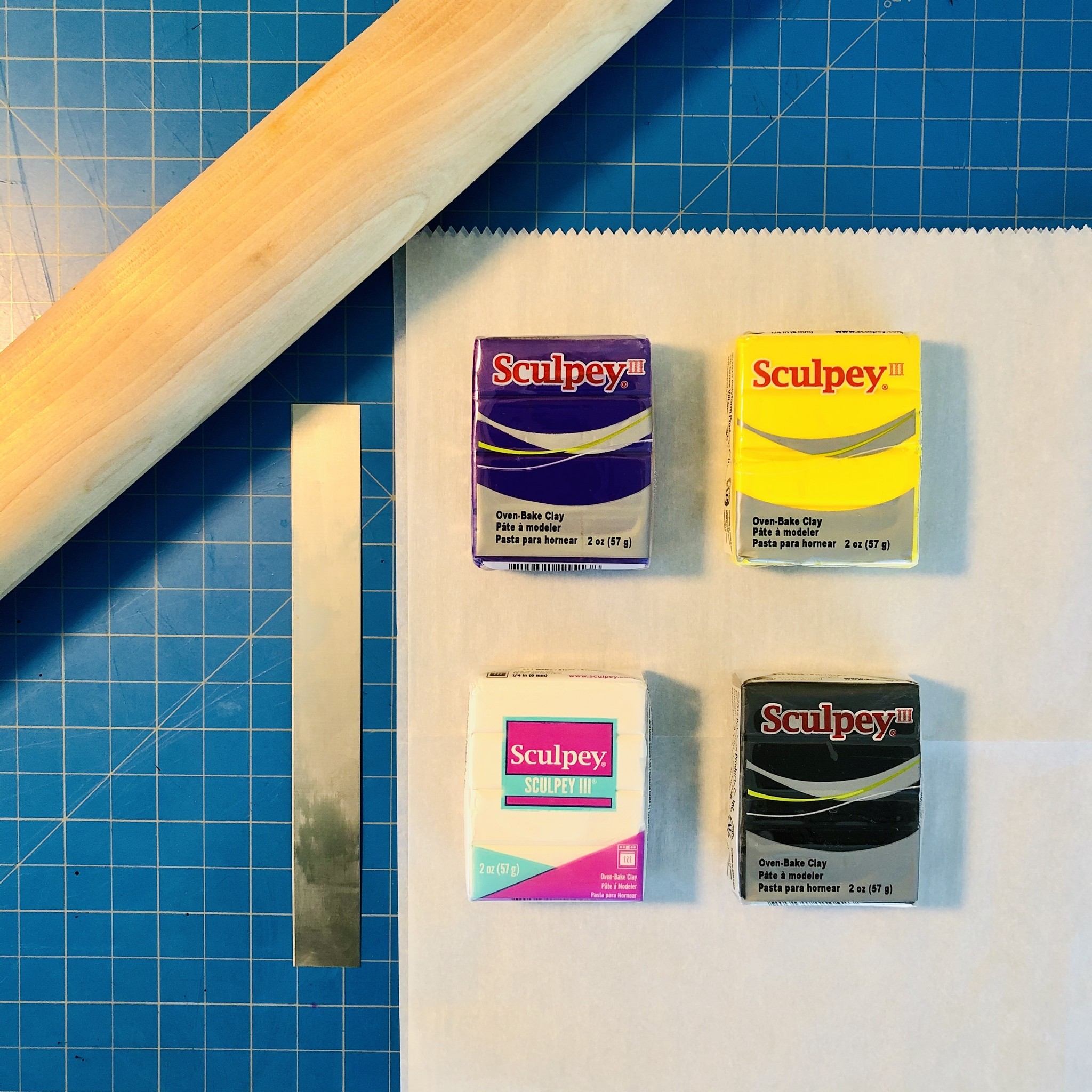 All the tools you need.
1. Portion out your clay.
We started with one block each of the four colors in the non-binary flag. Use your cutting blade to cut each block in half along the center cutting line, and then again down the skinny side (like slicing a bagel). You should end up with two flat-ish rectangles of each color. Set aside the other halves of each color for use later. If want to fit more than four colors, or you want to make mini-beads (like our purple, green, and white genderqueer beads) slice your clay down the skinny side a second time to make it thinner.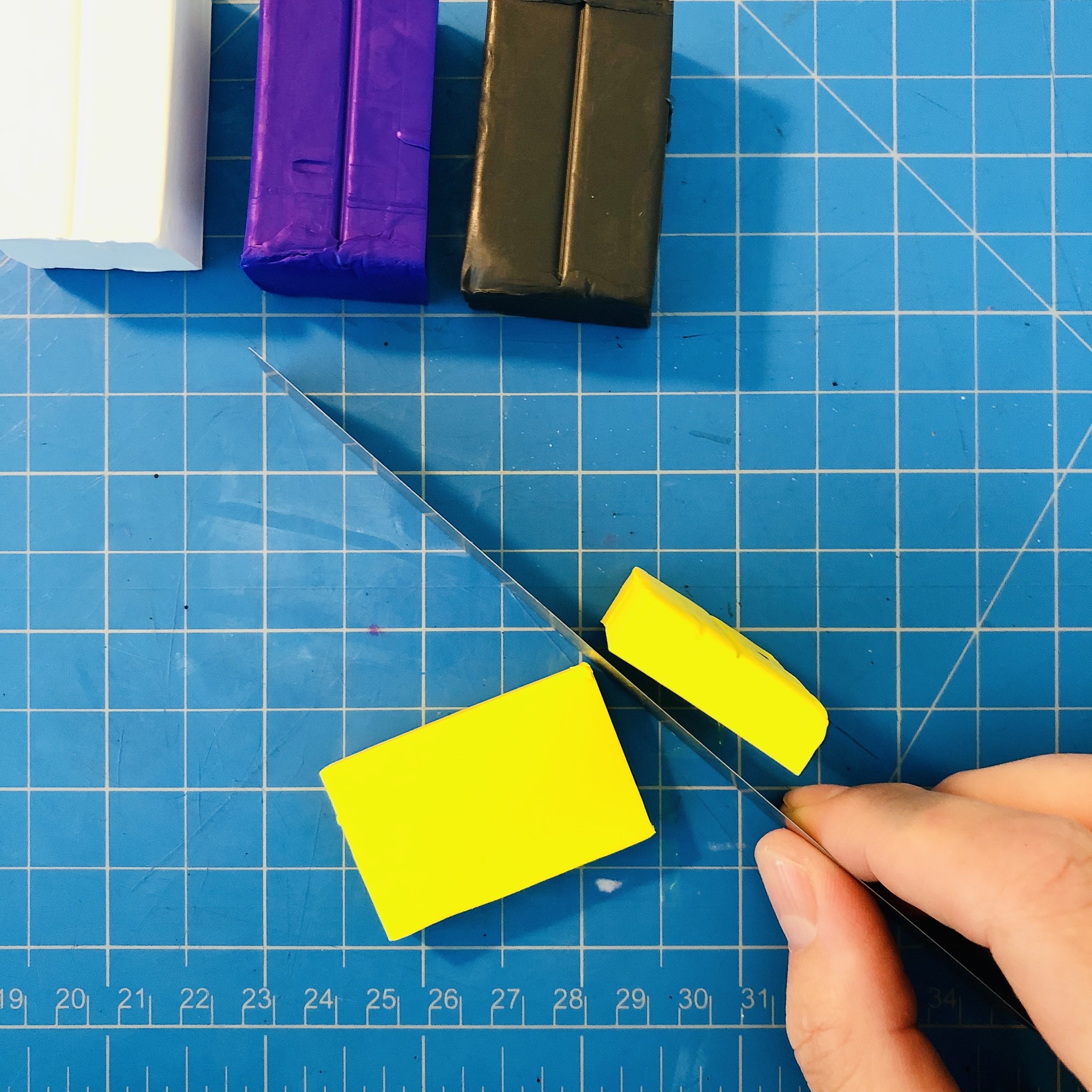 Slicing the clay into thin blocks.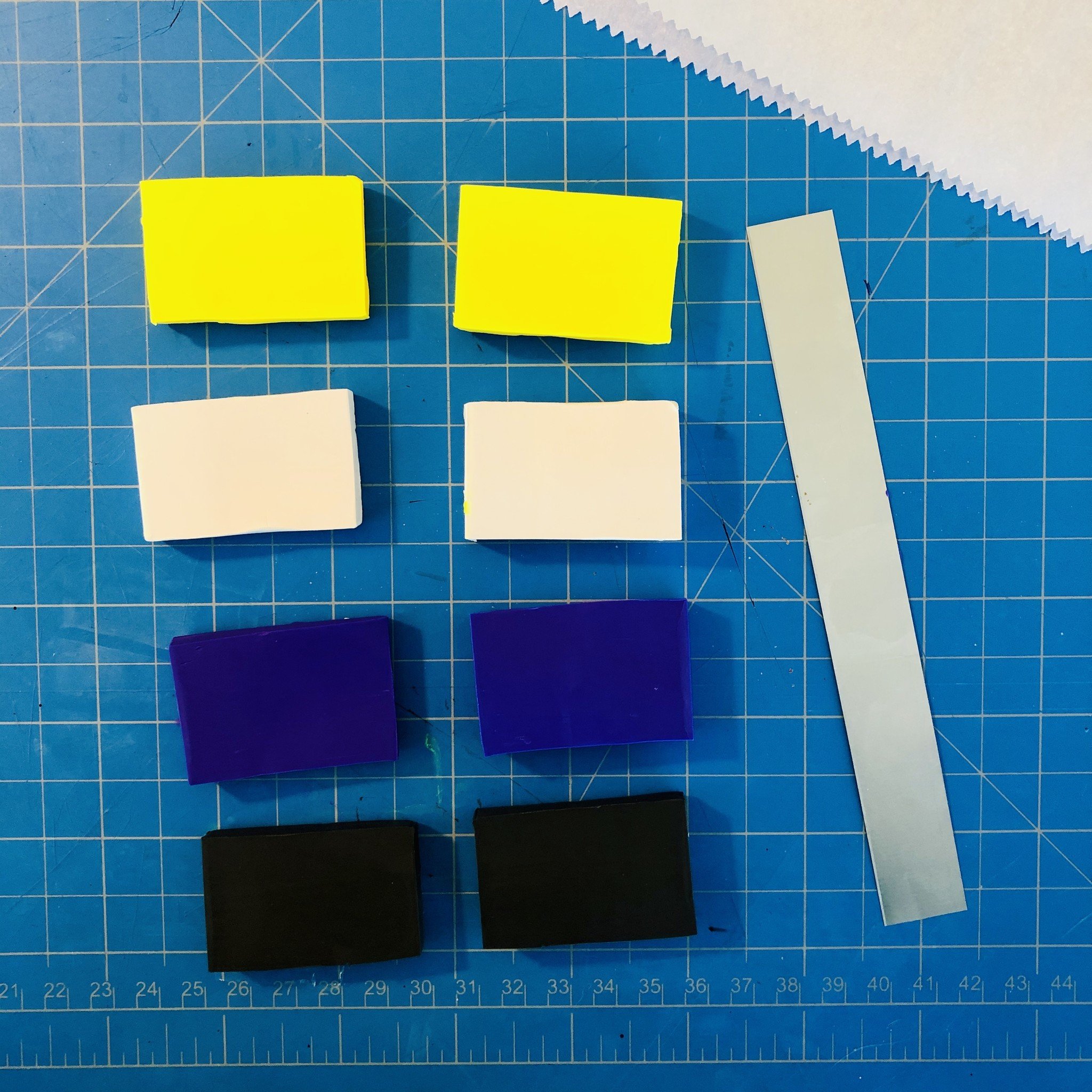 Keep your colors in order!
2. Make a sandwich. 
What's better than a sandwich? A Pride sandwich! Take your slices and layer them neatly and in order so you have two stacks. (If you're making mini-beads, cut each stack in half widthwise, like an actual sandwich.) You can trim the sides, if you want it extra-tidy. Then, gently press each sandwich together, one side at a time. Use the table and your fingers to flatten and compress the stack until it is an even block with no gaps, and a little smaller than before.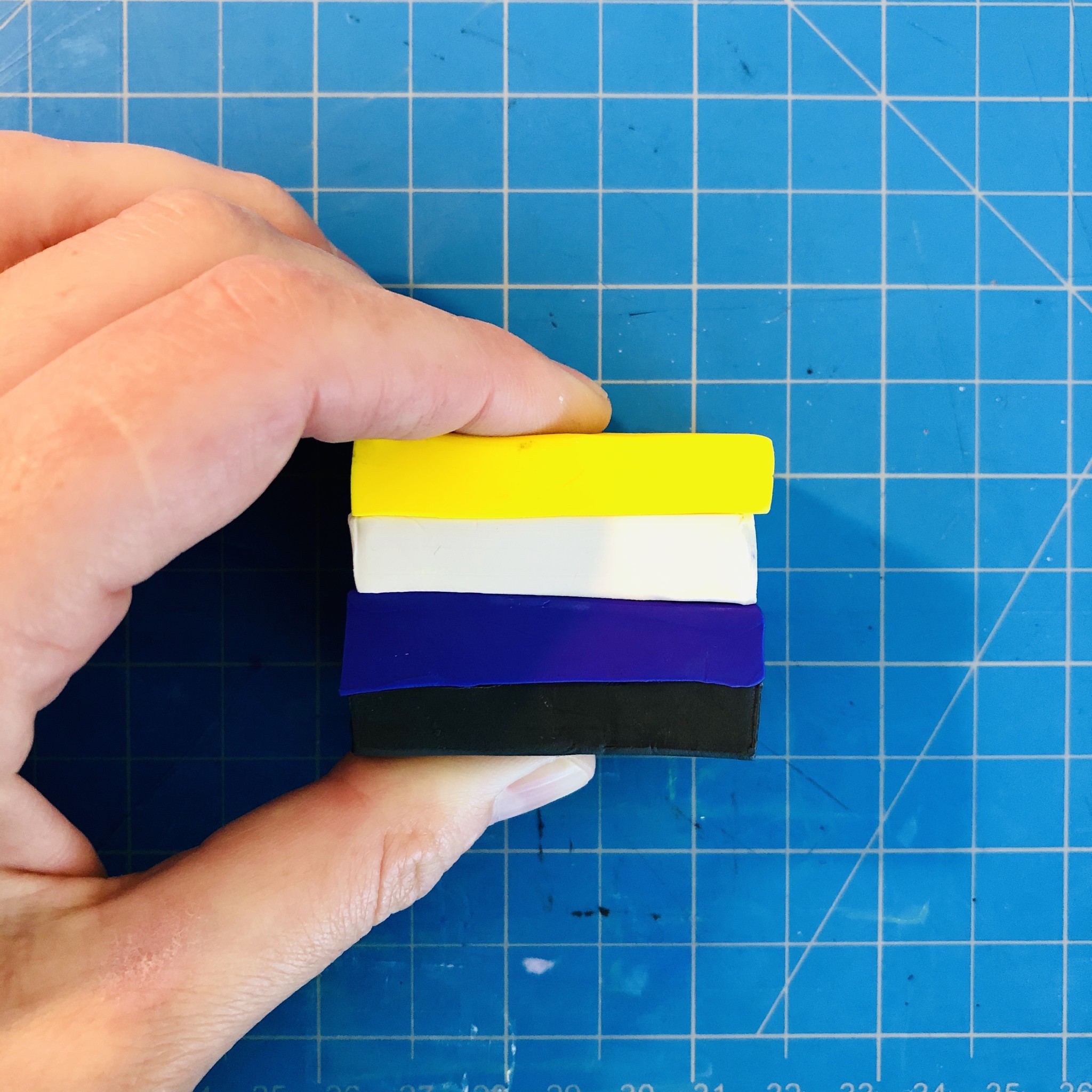 A clay sandwich.
3. Roll the wrap.
Cut 3/4ths (or 1.5 ounces) of the clay you set aside to use as your border or wrap color. (Use ½ block, or 1 ounce, for mini beads.) This will be the color that borders your finished bead. (We used white for our first cane, purple for our second, and black for the mini beads. You may also use a different color from the ones in your flag.)
After softening the 3/4ths piece in your hands for a minute, put it between two sheets of waxed or parchment paper and roll it flat. This will take a few minutes, and you will have to separate the paper sheets a couple of times and reposition the clay to avoid wrinkling and bending. Use your clay roller or rolling pin to flatten the clay; roll from the center to the edge to get it as even as possible. Roll until it is about 1/16" thick.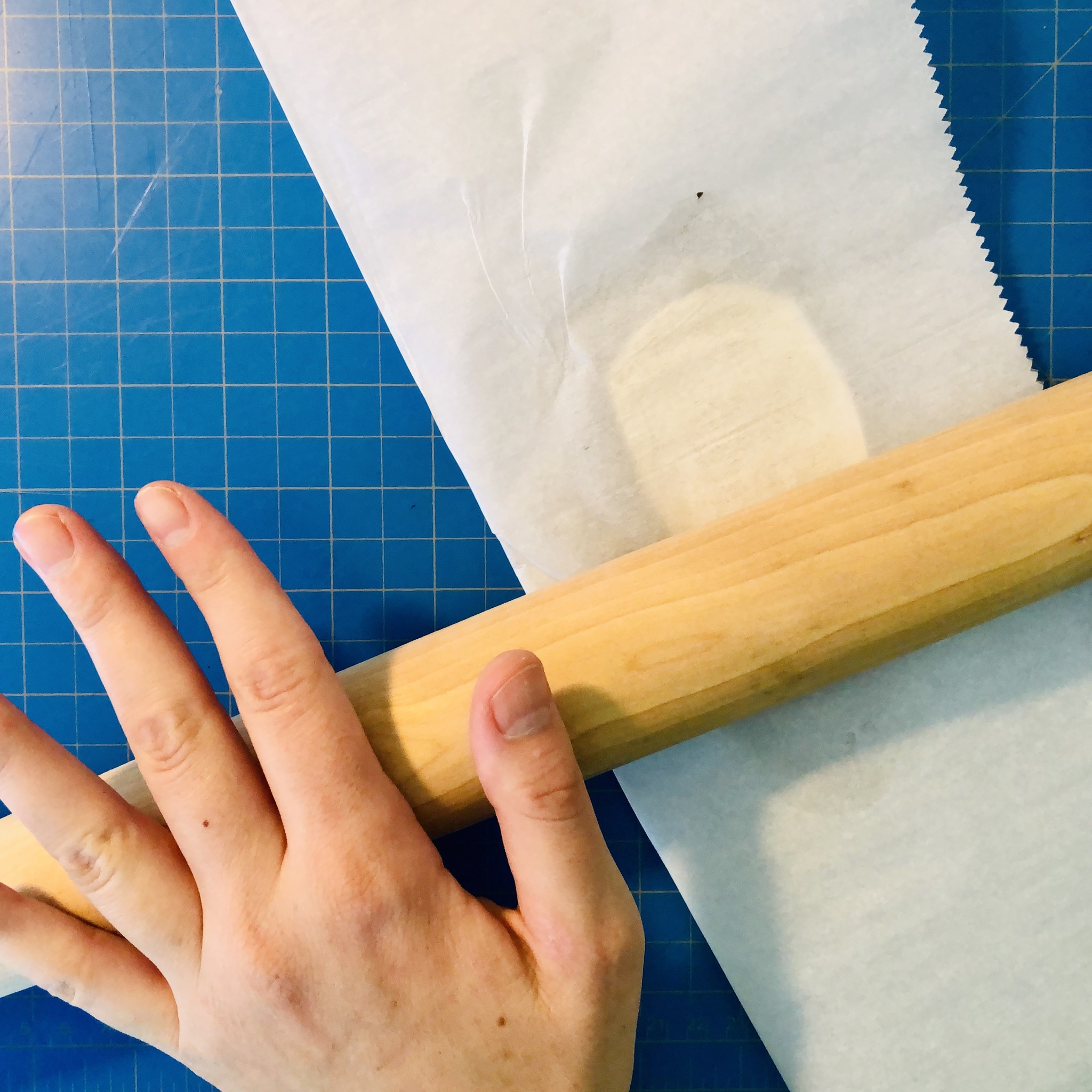 Rolling out the cane wrap.
4. Wrap your cane.
Put one of your sandwiches in the center of your wrap, and tightly wrap one side; use your cutter to trim the excess at the corner. Tightly wrap the other side, and trim. If you have a little gap or your wrap is very thin at the meeting point, cut a strip to patch over the area and smooth it in with your fingers.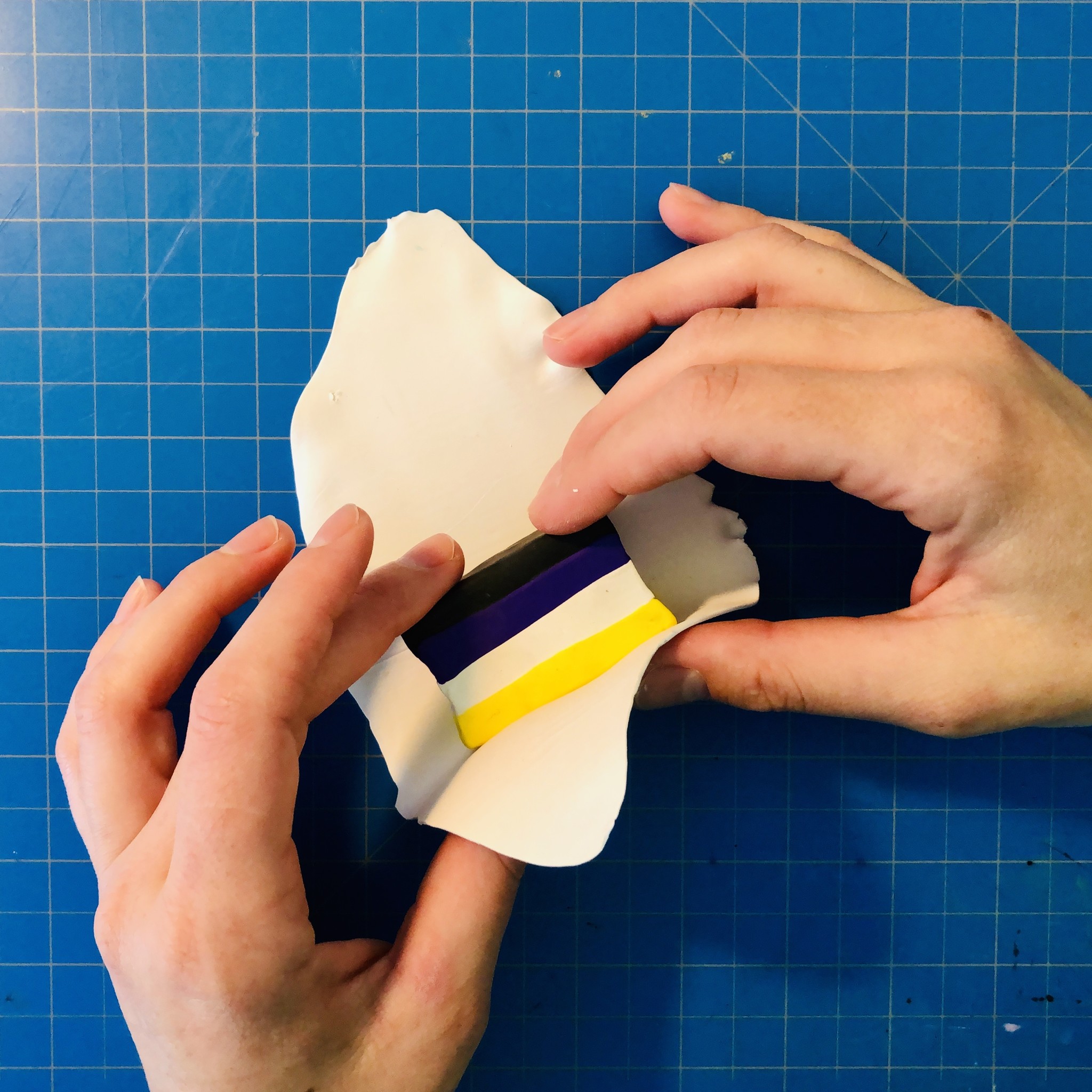 Wrapping the sandwich in a layer of white.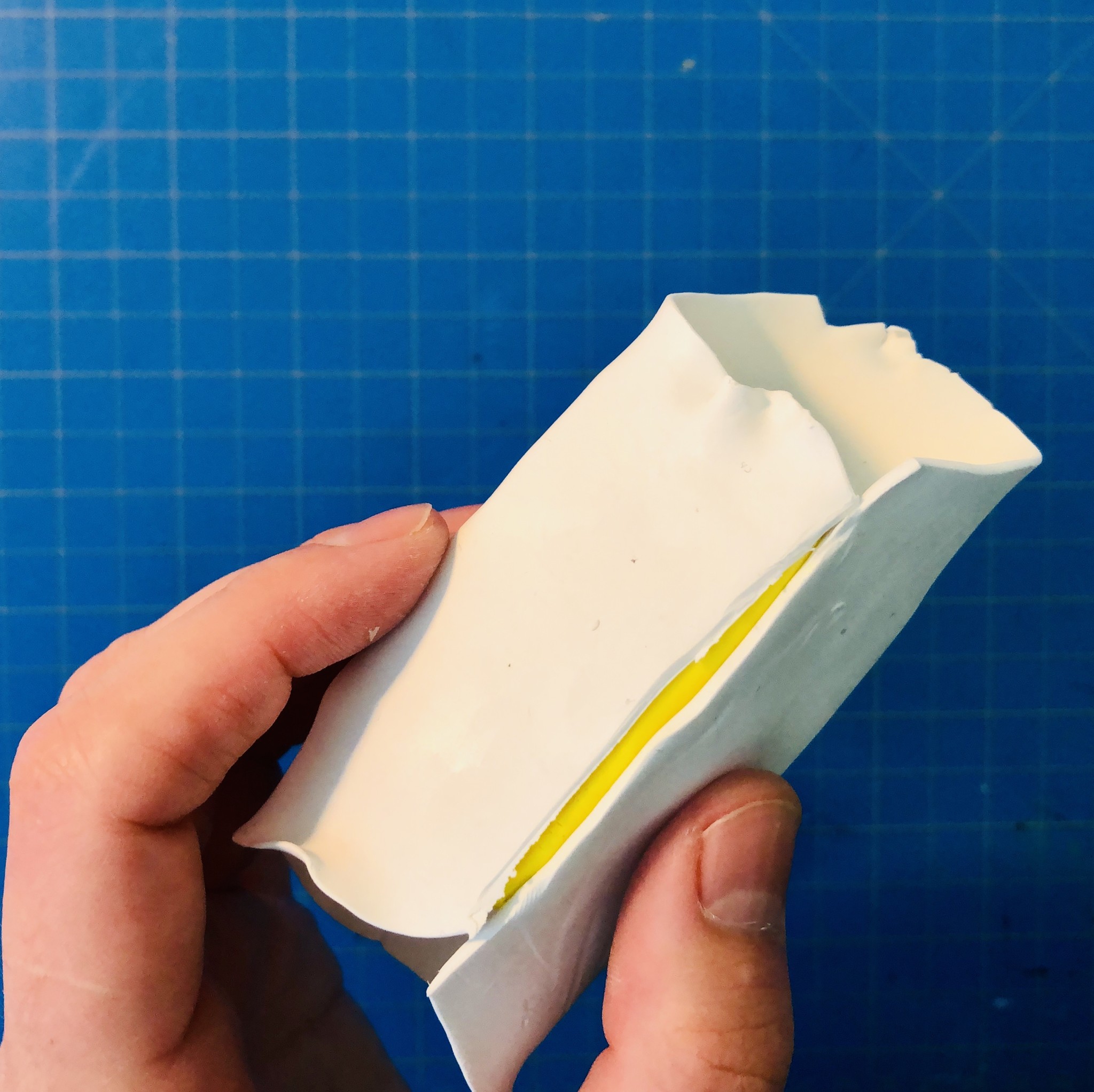 There was a little gap here; a small strip cut from the
excess wrap was used to patch it up.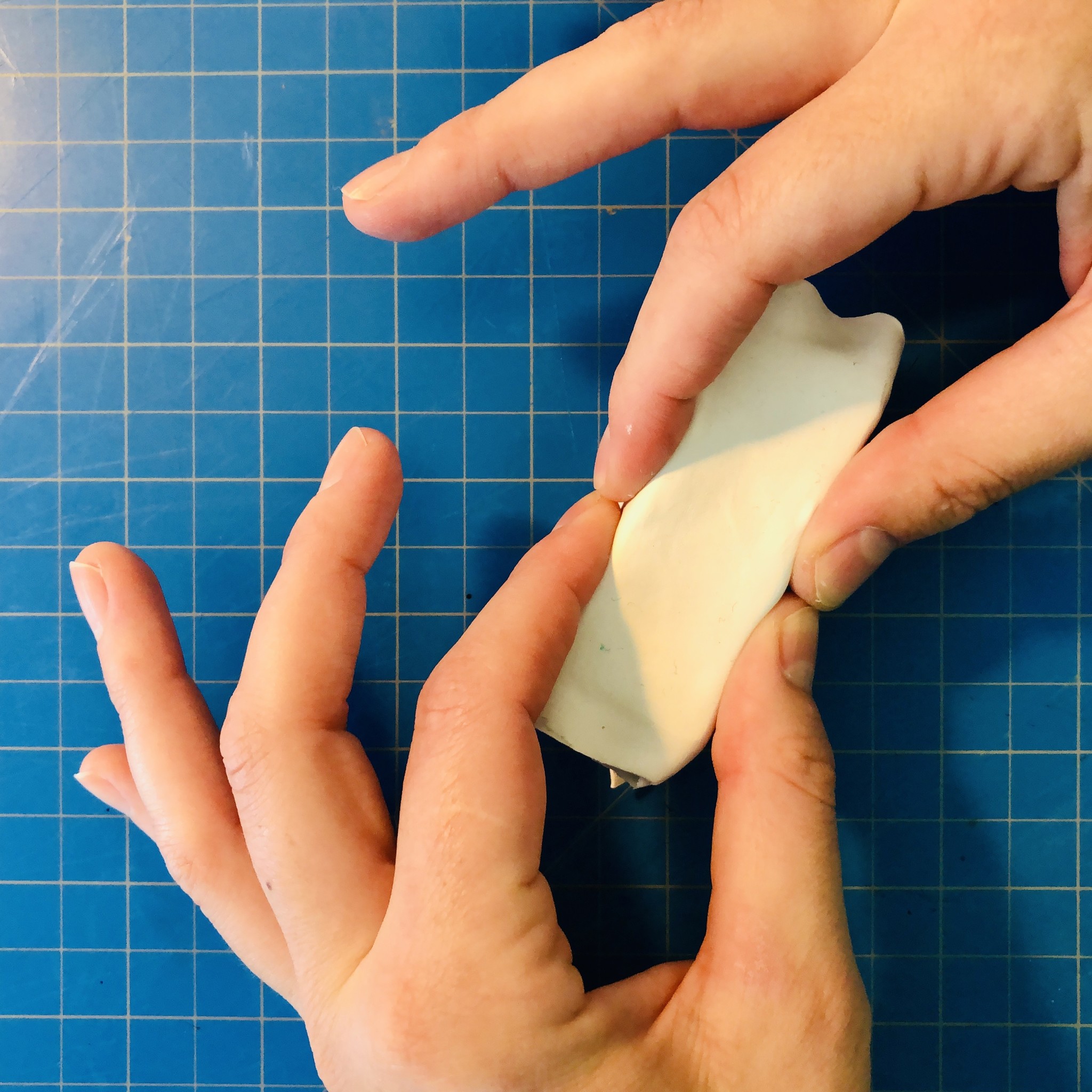 Use even pressure from your thumbs and forefingers.
Press the wrap together on all sides to squeeze out any air or flatten folds, and use your cutter to trim off wrap at either end, leaving a little extra. 
5. Reduce, reduce, reduce!
Now you have your cane! The next step is a workout for your fingers. Since we want to transform this blocky cube into a much smaller, tighter, and thinner version of itself, we are going to start reducing: slowly flattening and stretching the cane. There are several reducing techniques, but most involve just your hands and the table. Start by pressing your thumbs and forefingers into the sides of the clay, using the table as a support. You can also use your finger, pressing along the top of the cane to slowly squish it. Rotate the cane as you press, keeping the square shape intact and your touch firm but even. Try to keep the cane flat on each side and symmetrical. Don't use the rolling pin yet, as it is more difficult to control the pressure.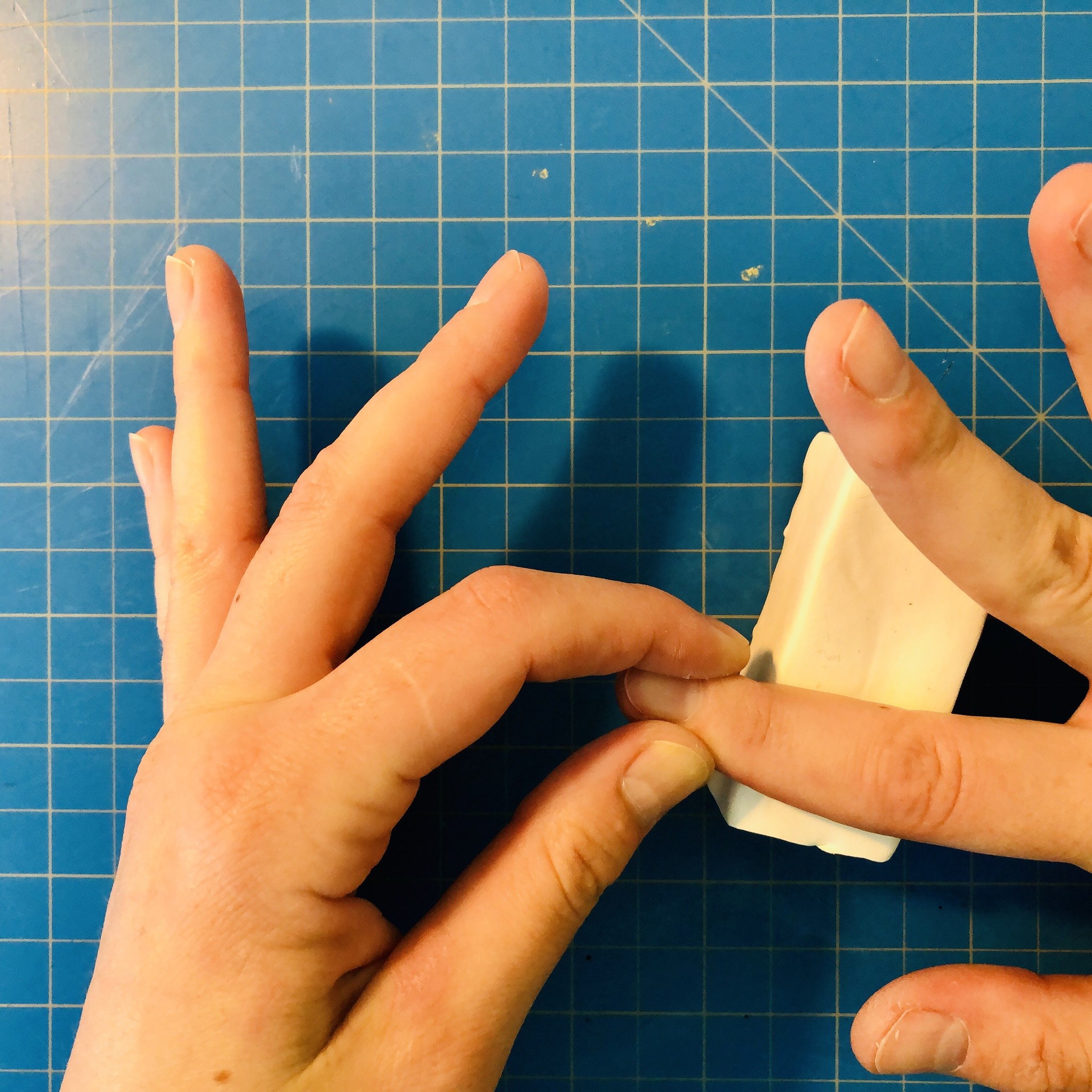 You can use your finger to press along the sides of the cane to reduce it. 
Keep reducing until the cane is longer and skinnier, about 1" in diameter. If you encounter air bubbles inside the cane, use a needle or the corner of your cutting blade to release them. This process can take some time, so feel free to stop and take breaks. It is also good to let the clay cool off periodically, so it doesn't get too soft. (If you cut your cane when the clay is too soft, it might blur the colors and lose shape; that's what happened with our non-binary canes, and why they're a little bit wobbly-looking.) When you've finished reducing your cane, let it sit for at least 30 minutes so it will harden before you cut it. (Or, pop it in the fridge for about 10 minutes.) You can go back to Step 3 while you're waiting and wrap your second sandwich in another color. 
6. Cut your beads!

Use a quick stroke with the sharp side of the blade, moving from the top of the design to the bottom. You will have to cut the ends off before the design becomes visible.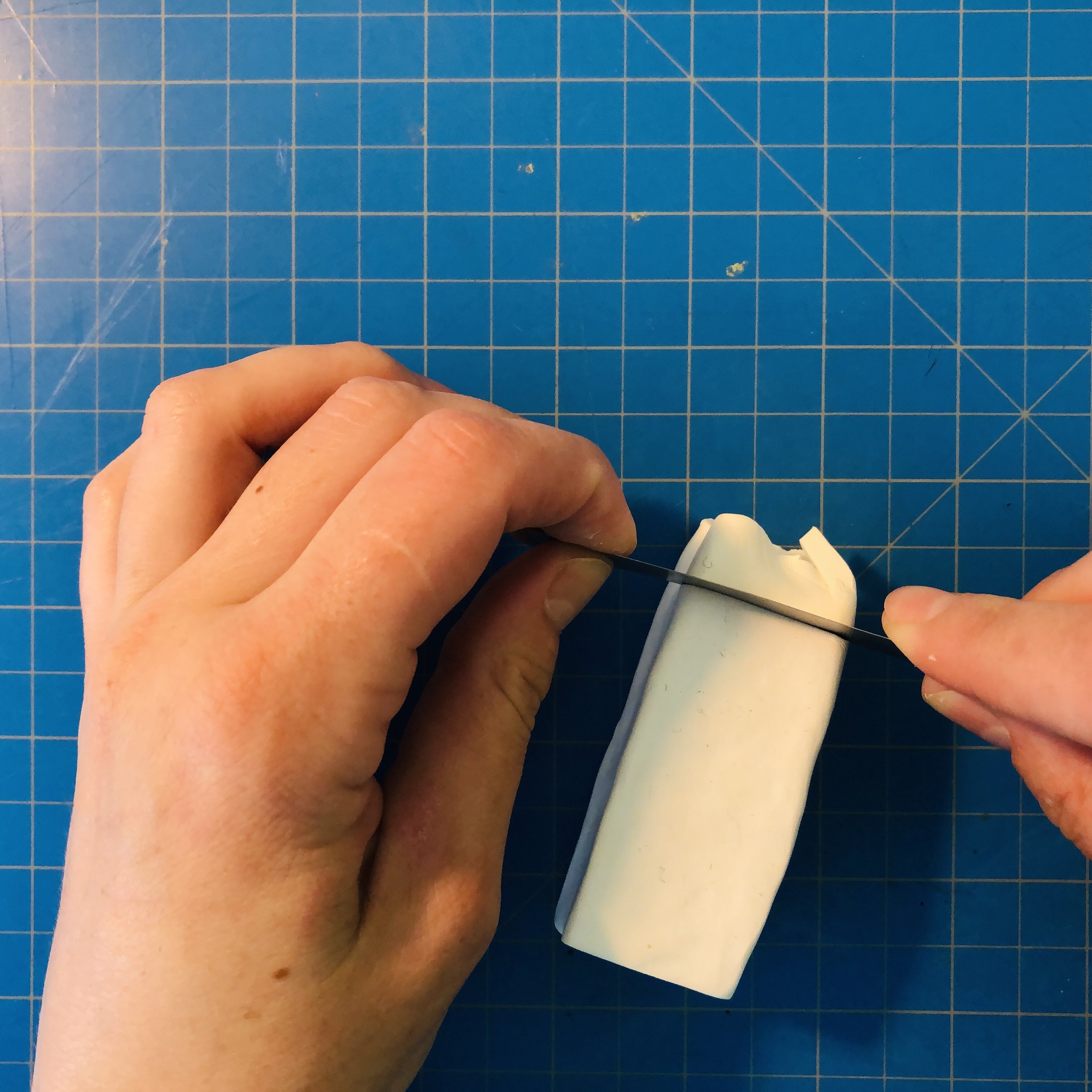 The most rewarding part of the project!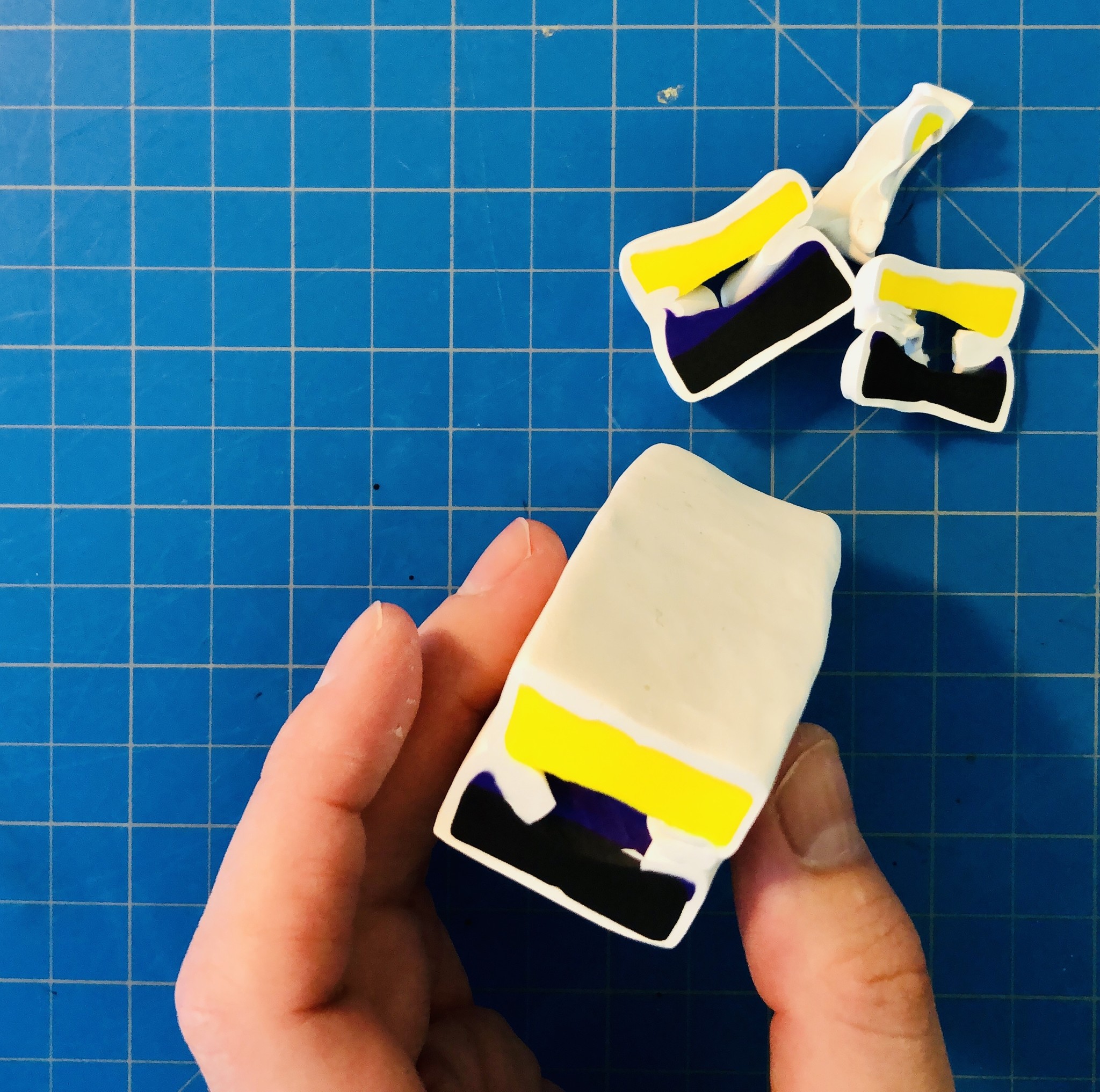 The end of the cane; starting to see the design!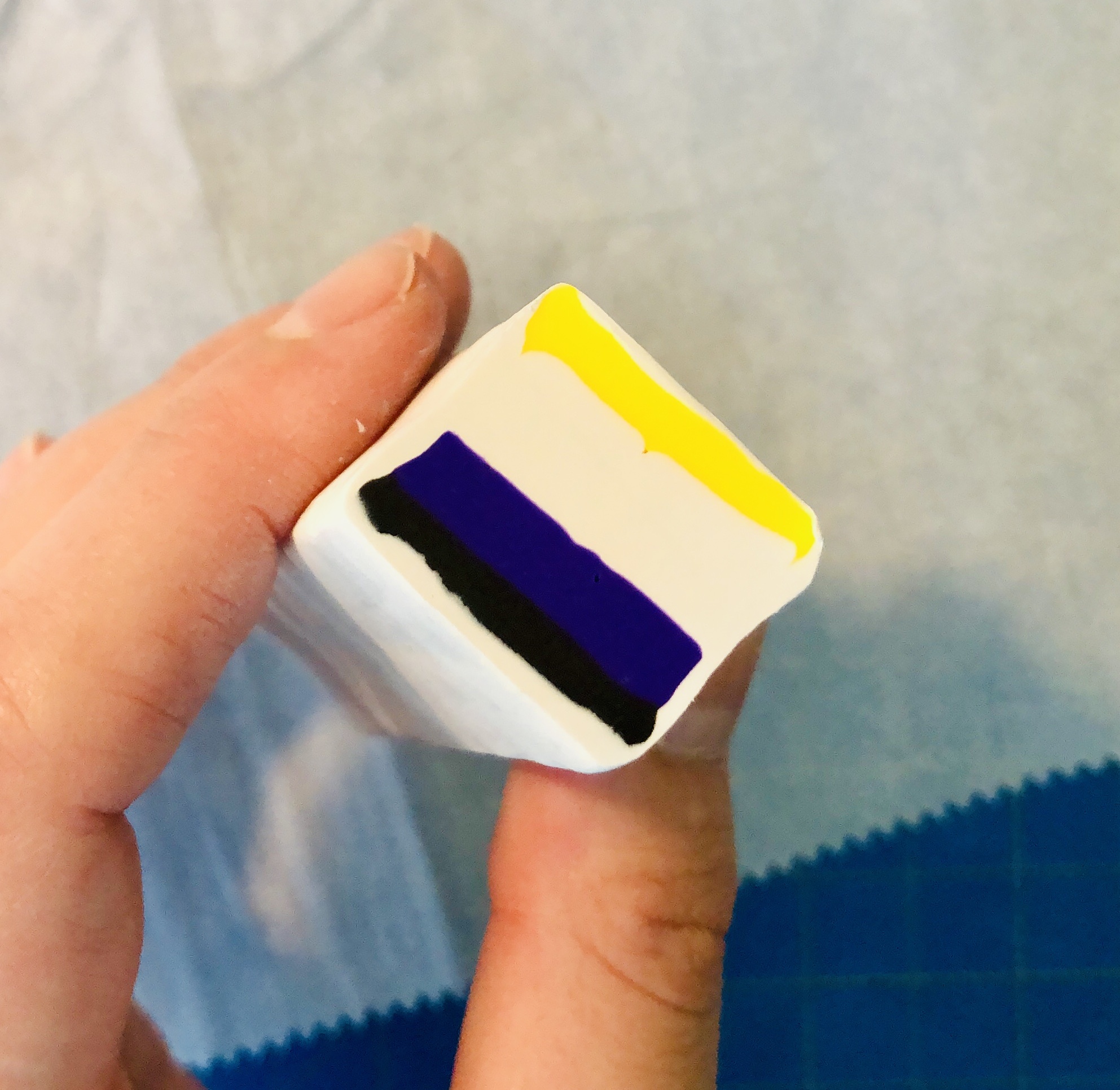 The inside of the cane.
Cut as many slices as you want, making sure to cut them no less than ¼" thick. The pattern may change slightly along the length of the cane. Throw the clay scraps into a scrap pile that we'll use later.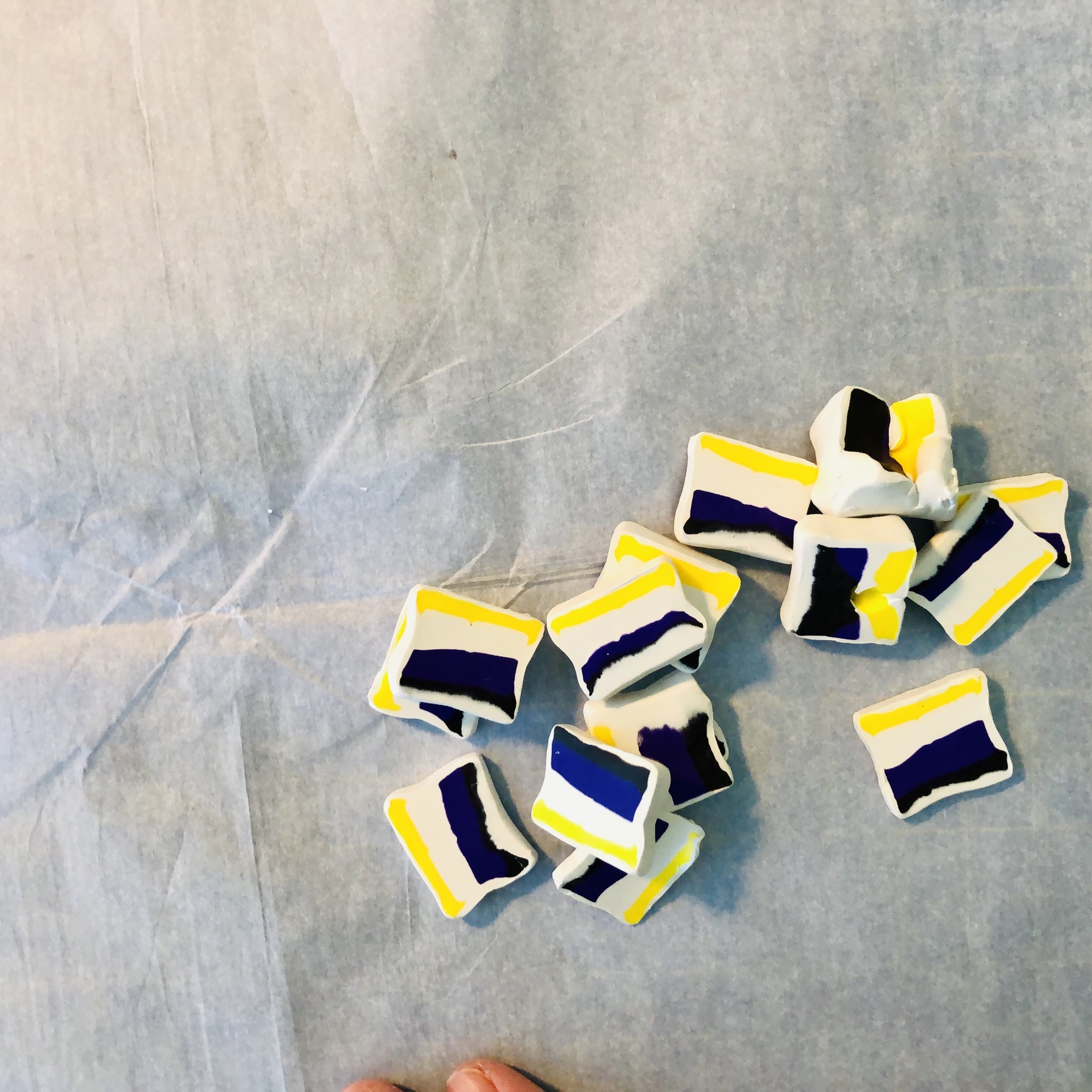 A bunch of slices! You can see how the pattern and quality changes as you move from end to end.
7. Make the beads. 
Choose your favorite slices, and smooth them out under a piece of waxed paper. (Throw the rest into the scrap pile for roll-up beads.) Use a thick embroidery or sewing needle to poke a hole through each bead. Like the above step, you'll want to do this when the clay is cool and firm so you don't damage your pattern. Side-to-side holes are best for bracelets, and a vertical hole or a double hole on the top works best for a necklace. Move the needle around in the hole to make it large enough to fit the embroidery thread through, about 1/16". (You should be able to see through the hole.) If you get fingerprints on your clay, or it starts to feel sticky, you can smooth it out under a piece of parchment or waxed paper.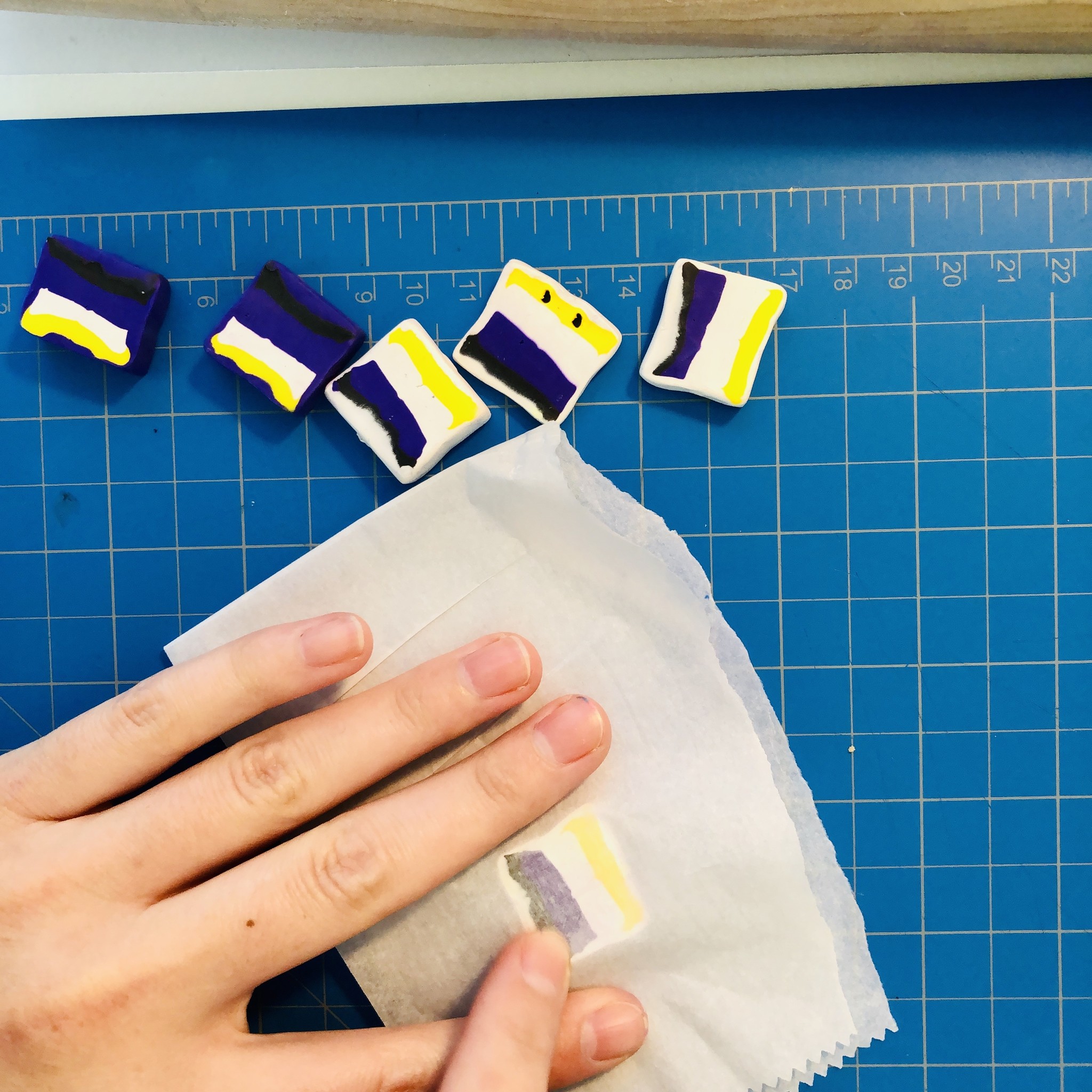 Smoothing beads under parchment paper.
At this point, can you also roll your clay scraps into different sizes and shapes to make roll-up beads. Use the same process for piercing a hole.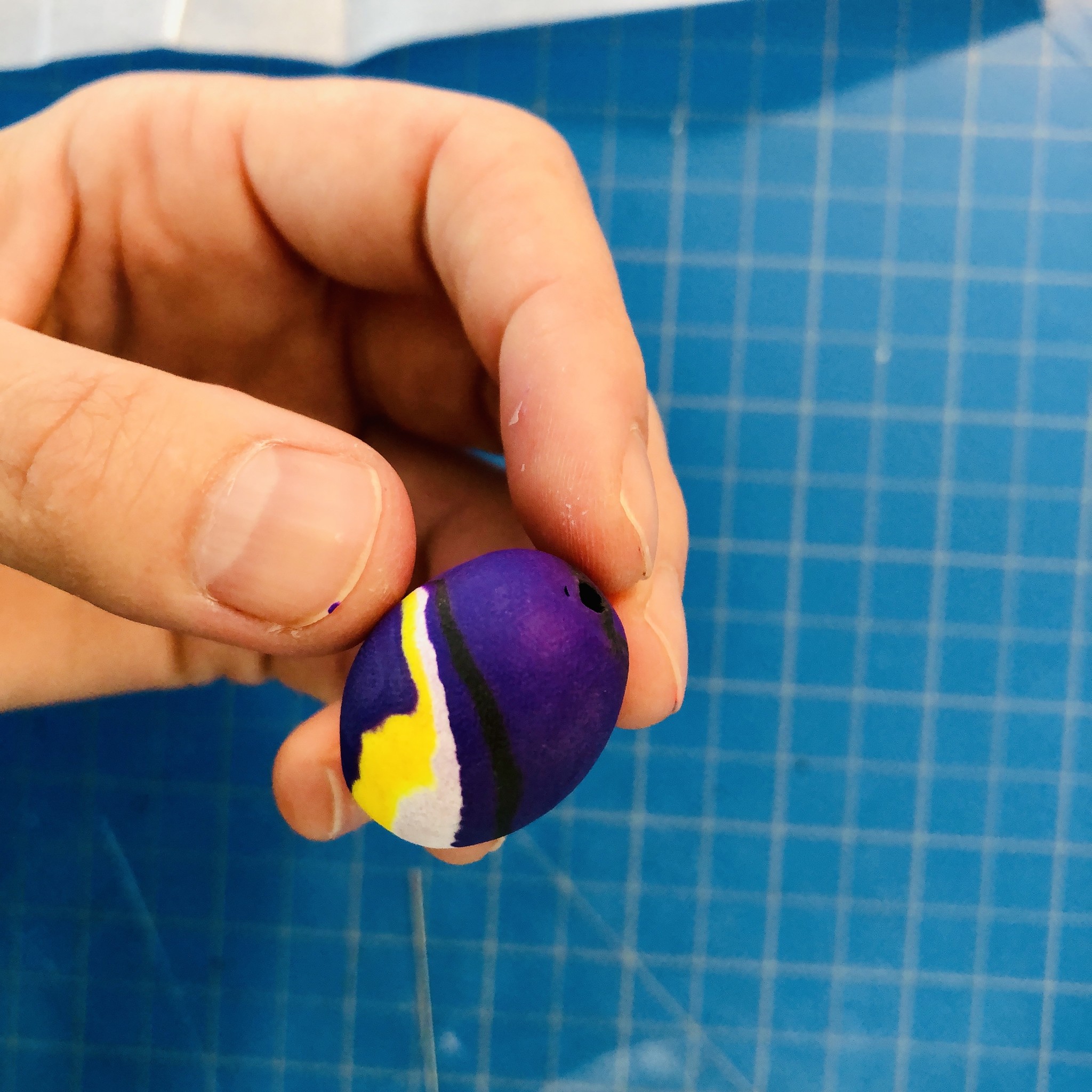 A roll-up bead made with scrap clay.
8. Bake and make!
Preheat your oven to 275°, and place all your beads on a baking sheet. You may line it with parchment paper or aluminum foil, but it isn't necessary. Bake the beads 15 minutes per ¼" of clay. (If you can still indent the beads with a knife, put them back in for a few minutes.) Be careful not to over-bake them, because Sculpey will burn. It's better to take them out when slightly soft and let them finish hardening outside the oven. Once cool (10-15 minutes), you can get a needle and your embroidery thread and start making jewelry! Try different pairings of flag beads and roll-up beads, or make a simple statement with a single bead.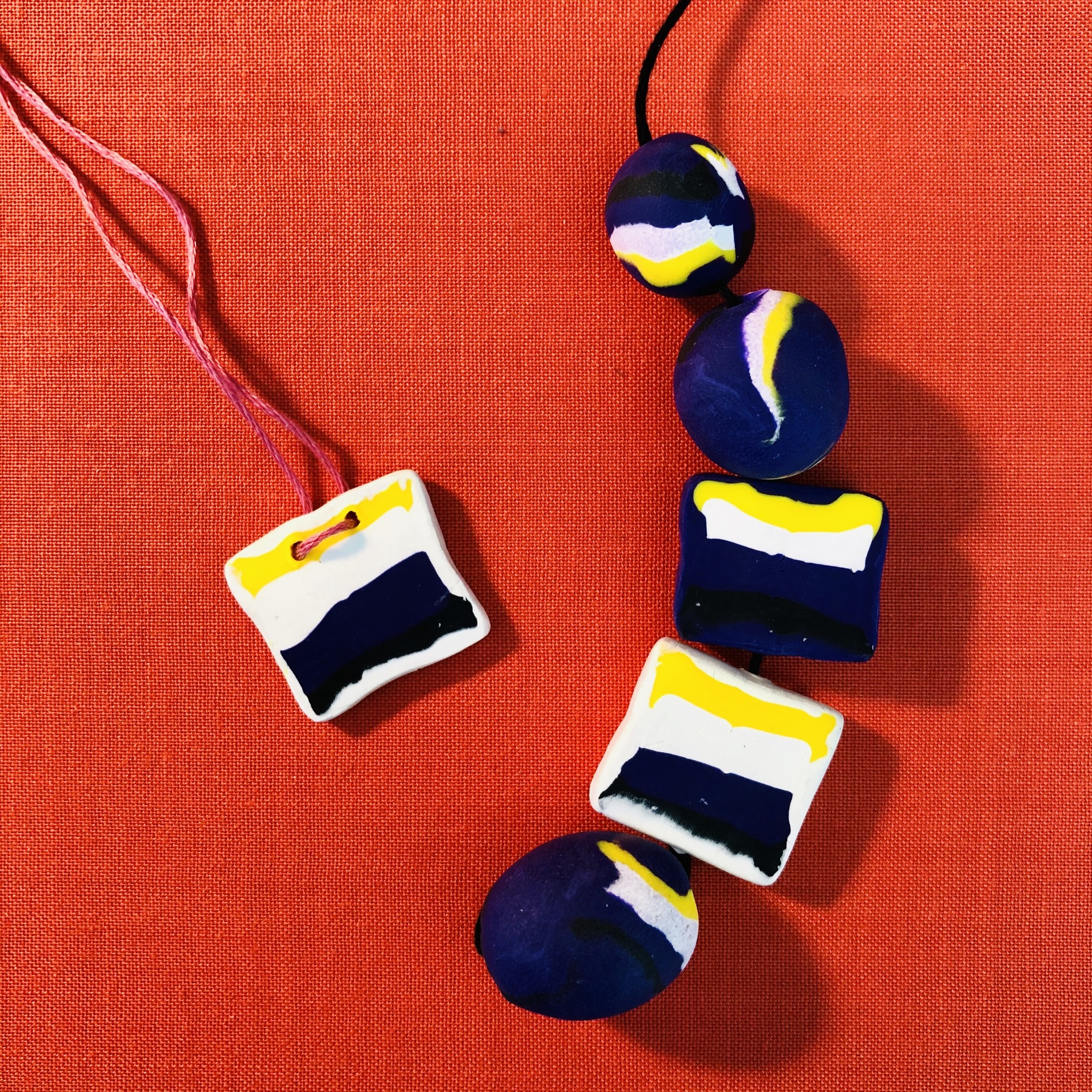 A necklace and a garland of roll-up and caned beads in the non-binary flag colors.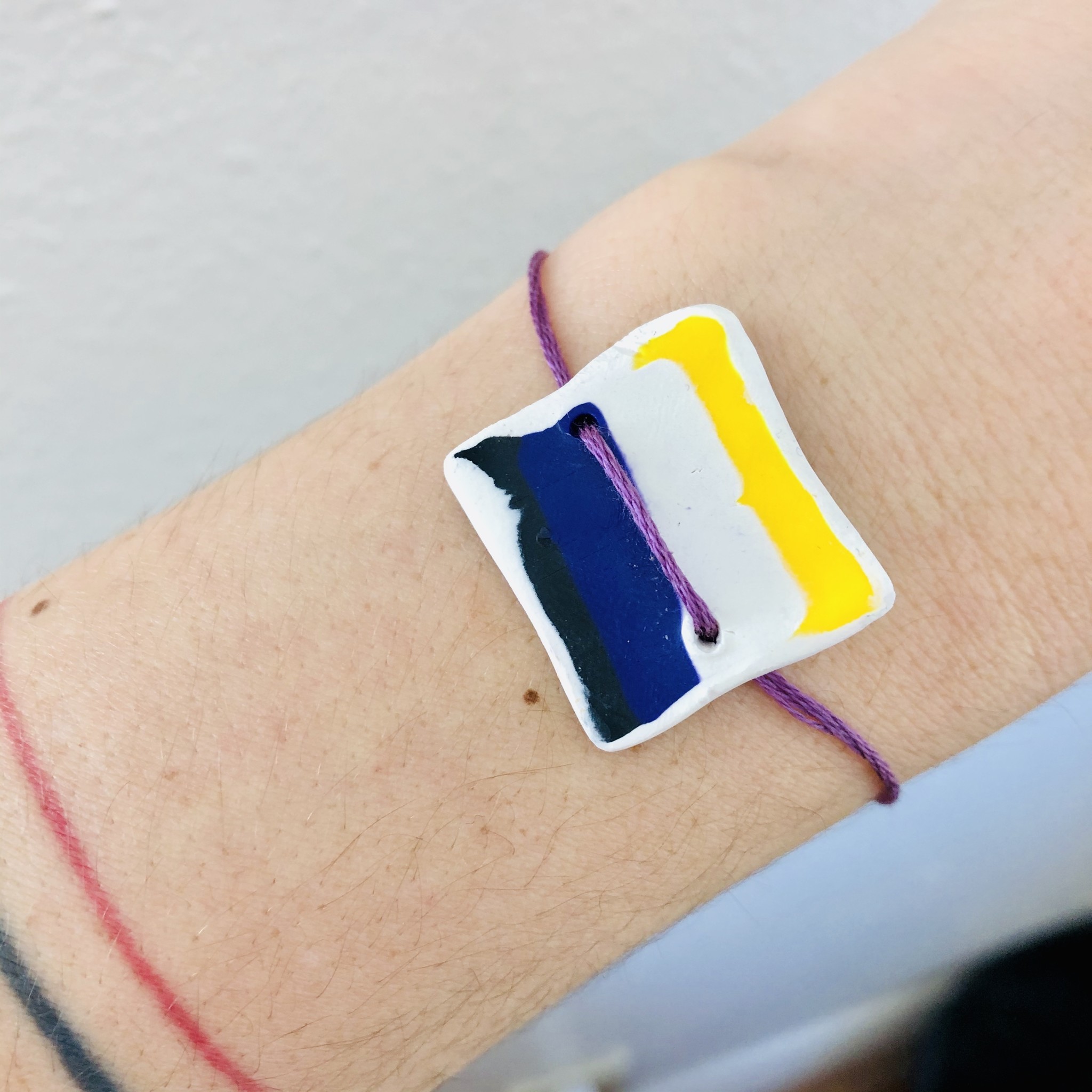 A simple bracelet.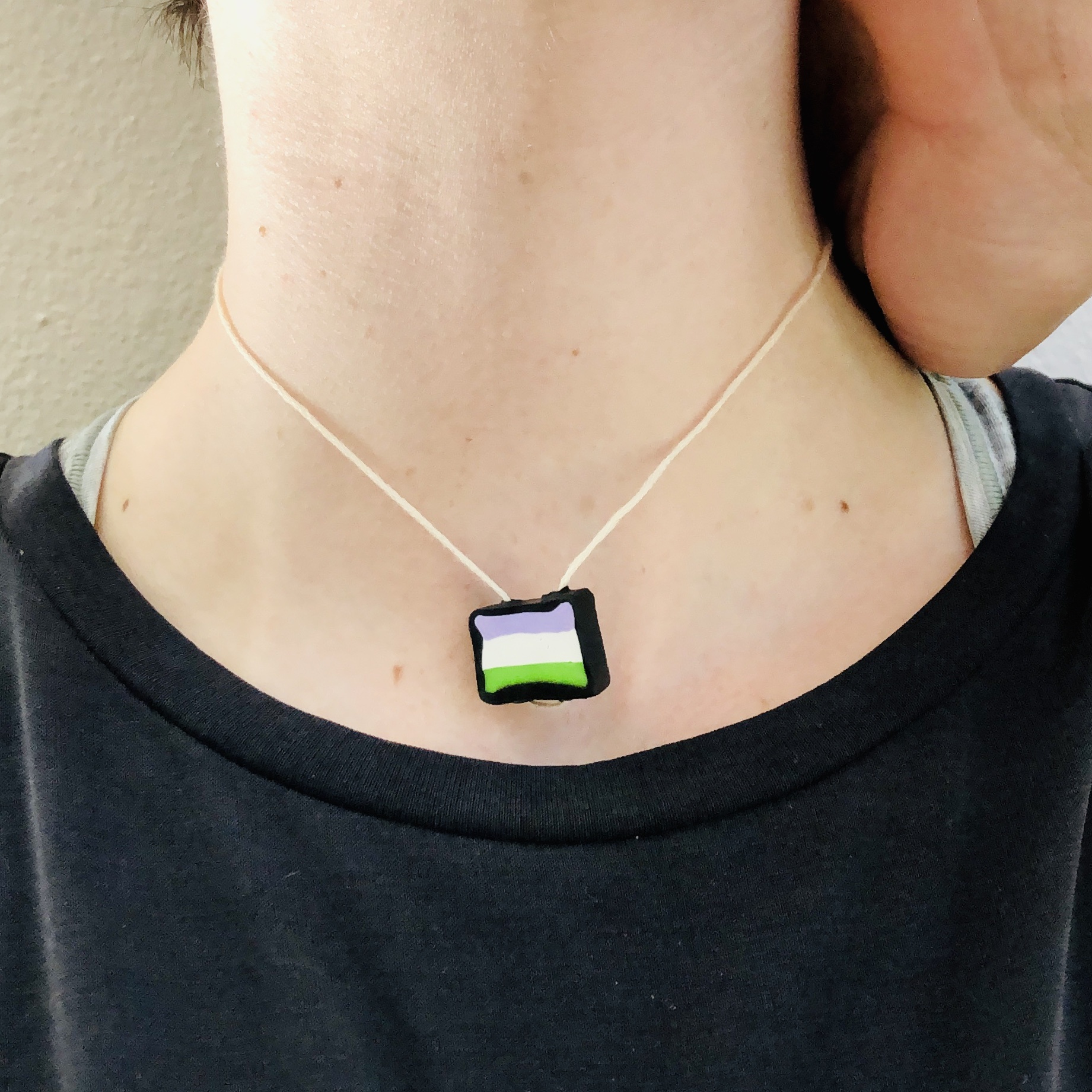 Purple, white, and green genderqueer flag mini bead necklace.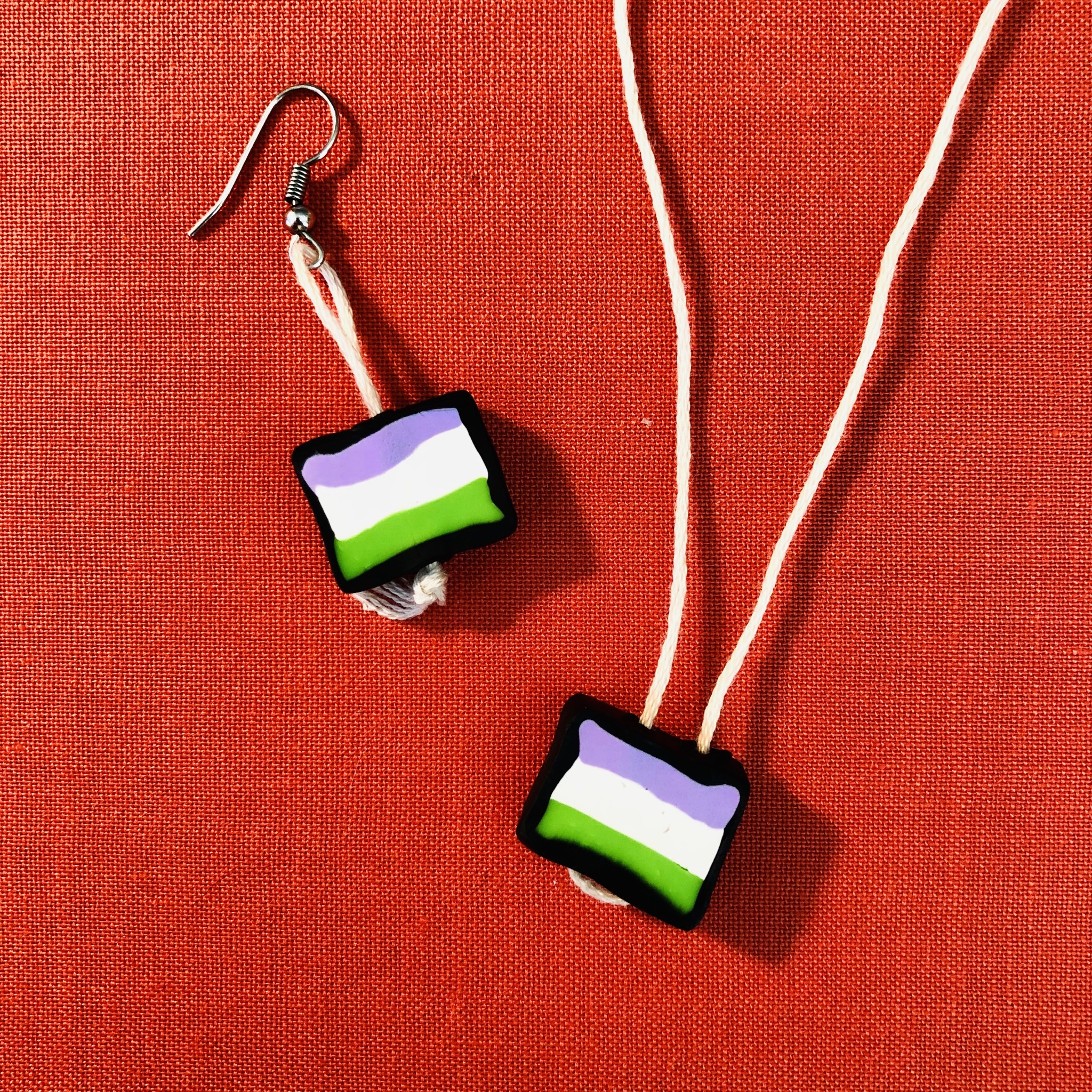 A genderqueer earring and necklace set.
Celebrate Pride Month with us by tagging #collagepdxprojects and @collagepdx on Instagram with pics of your creations and to be entered into our monthly $50 gift card drawing. Thanks for reading!