To see step-by-step instructions for these Alternative Easter Egg DIYs, read below!
Gilded Craft Eggs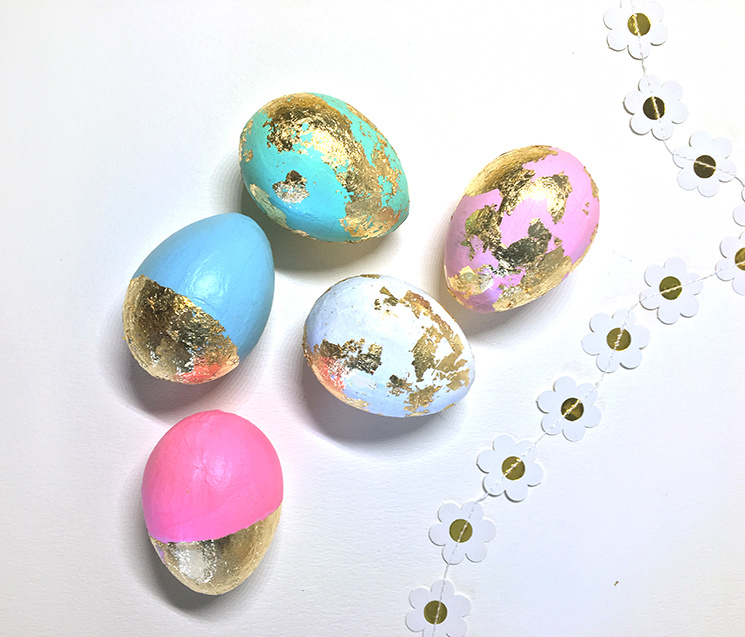 These eggs are fun and colorful, and the metallic pop makes them a little more eye-catching than your standard Easter egg.

Supplies:


* Wood or paper mache eggs > Shop Here
* Craft Paint > Shop Here
* 1 Metal leaf Kit > Shop Here
* Paint brushes > Shop Here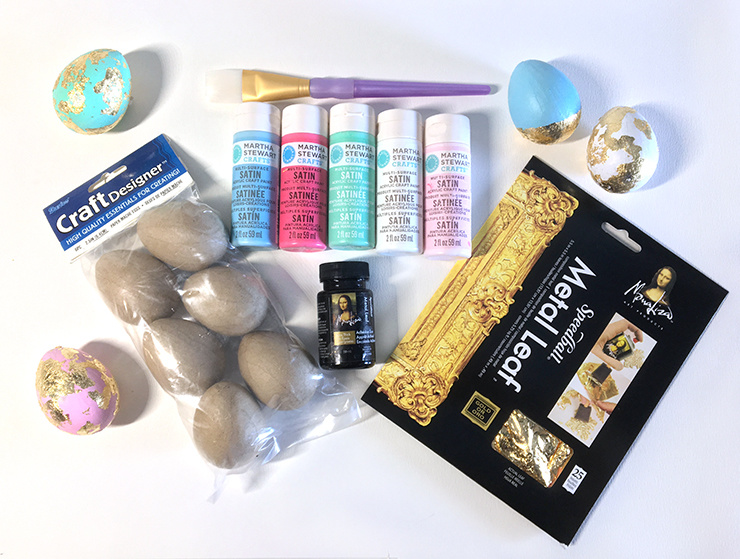 Steps: 
Begin by painting your egg. We chose pastel colors. Wait for your egg to dry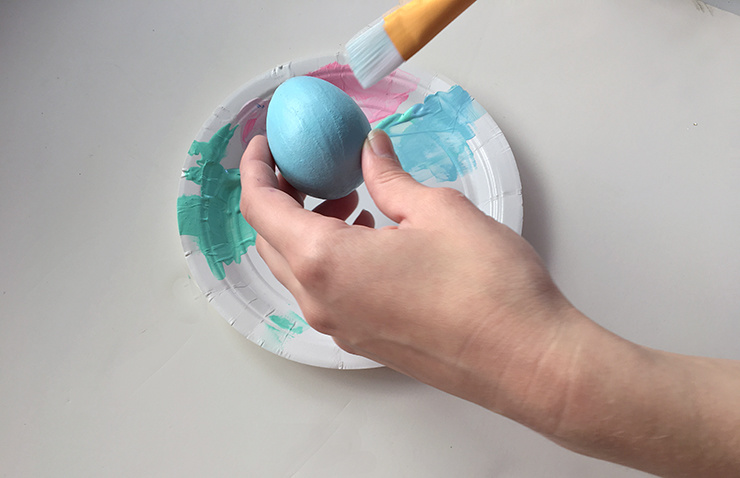 Once your paint is dry to the touch, apply the adhesive size. With some of our eggs, we applied the adhesive at random, to give the eggs a mottled look. With other eggs we used artists tape to block off areas, and apply the adhesive to specific areas.

3. Wait for the adhesive to become tacky, between 15-60 minutes. This may be counterintuitive, but you need to wait before you can apply the gold leaf to the adhesive. Once the adhesive is ready, it will no longer appear white. Instead you'll just see a transparent gloss where the adhesive is. Once the adhesive is ready, gently apply the leafing to the object. Be sure to wash your hands before this step, and handle the leafing as little as possible (it will want to stick to your hands). 

Enjoy your adorable eggs!
Marbled Wooden Eggs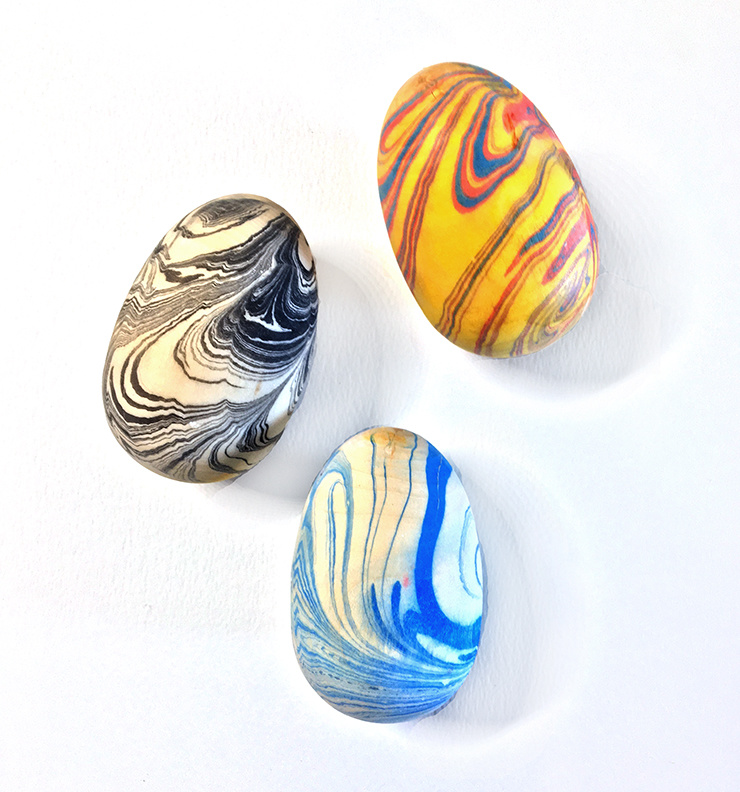 We love playing with marbling effects, and we were excited to realize that our Jacquard marbling kit works with the wooden eggs that we have in the store. There's an infinite amount of experimentation you could do with this. We recommend marbling with high contrast colors, like black and white, or primary colors, in order to achieve the most distinct, brightest look.


Supplies:

* Jacquard marbling kit > Shop here
* Wooden eggs > Shop Here
* a couple household items, such as: a shallow plastic tub, a measuring cup, a tablespoon, and water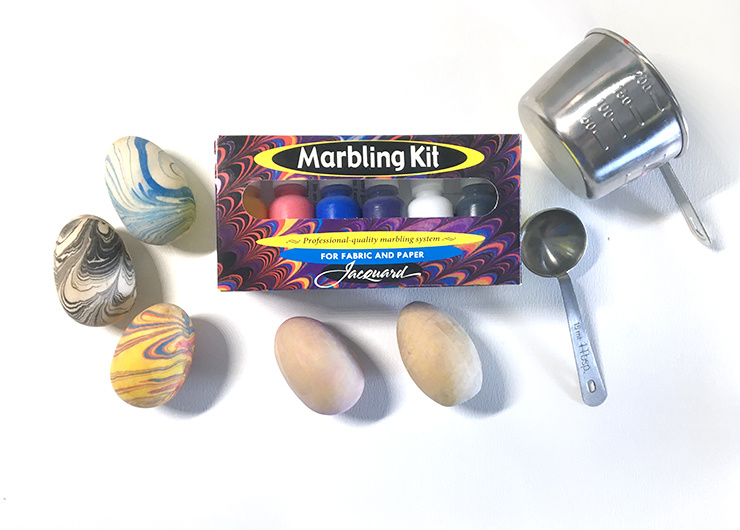 Steps:

1. Following the instructions in the Jacquard marbling kit, mix your water and carrageenan together. We created about ¼ gallon of solution.

2. Create your design in the solution you've mixed, by using the colors that come in the kit. To watch the process in action, check out this cool video by Jacquard, here.

3. Dip your egg. You have to dip one side at a time. Dip the egg, and quickly turn over the egg, and dip it again. Keep in mind that the egg will not take the marbling if it is already wet in an area, so avoid dripping any of the solution on the egg, and keep in mind where you place your fingers when you are dipping the egg.


4. Enjoy your lovely egg! We think these would make great ornaments. A screw eye and ribbon would jazz them up perfectly.






Woodburned Eggs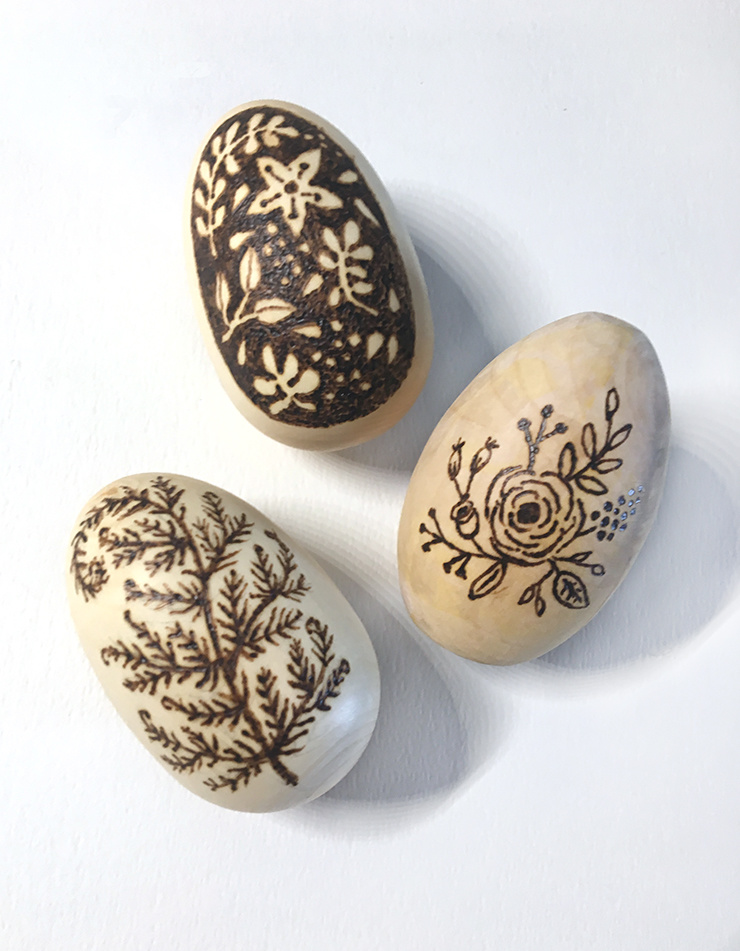 We love this project because it is so simple, but it could easily be made fancy, adding paint to create accent areas, etc.
Supplies:


* Woodburner tool by Walnut Hollow, includes different tips > Shop here
* wooden eggs > Shop here
* pencil (for sketching your design)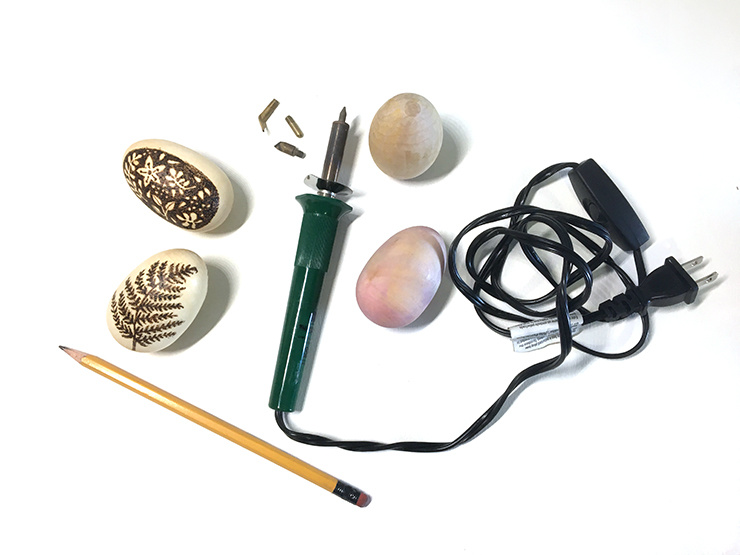 Steps:


Decide on a design (nature-inspired designs look great here), and sketch it onto the egg. If you happen to have any embroidery patterns or stencils they would translate well to a woodburning.


Begin woodburning. It may take a little while to get used to this tool: timing is everything. Notice how quickly and how slowly the wood will burn, and experiment with trying to make a line with even thickness.


And that's all it takes! These eggs would also be great to turn into an ornament, using a screw eye and threading it with ribbon! You could also think about using DecoArt craft paint to add color accents to different areas of the egg.



*Fun option: Varnish them with a natural walnut oil / beeswax sealer to make them waterproof.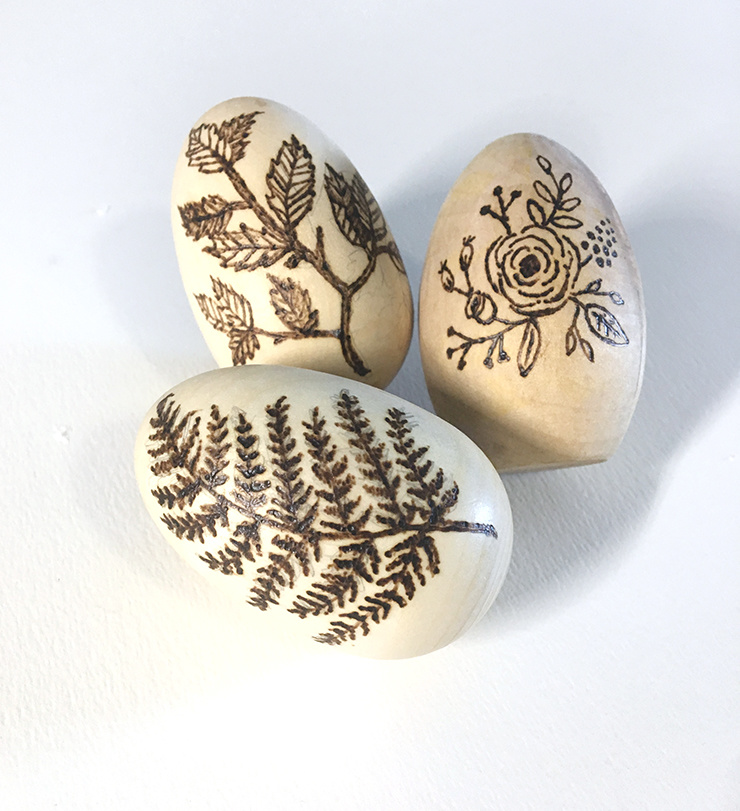 Easy Eco-Friendly & Natural Egg Kits!
1. Wooden Egg + Natural Dye Kit > Shop Here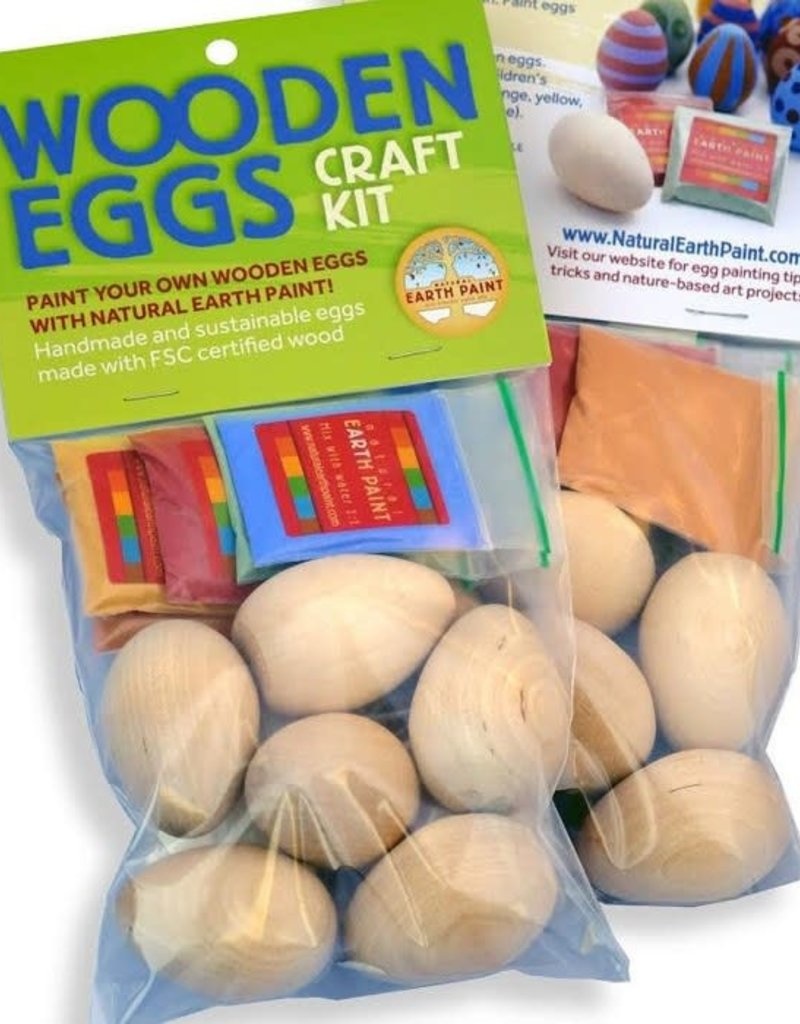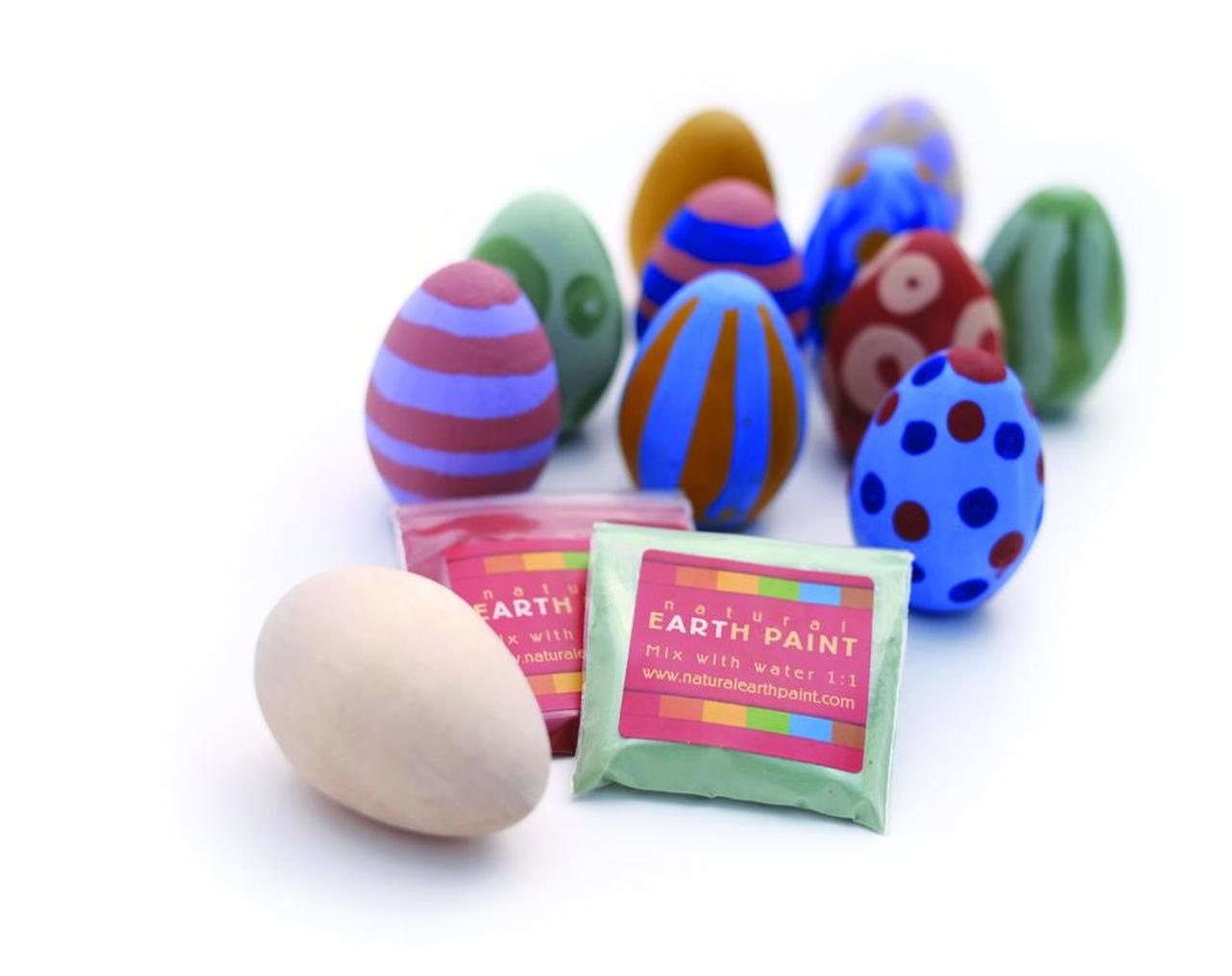 Kids and adults love painting these wooden eggs with earth paint for Easter or any other craft activity. Even better, they're sustainably, hand-crafted in the USA. Start a new Easter tradition with reusable eco eggs!

This kit contains:
6 - 2" wooden eggs
6 colors of the Children's Earth Paint: red, orange, yellow, green, blue, and white. These colors mix well to create a variety of other beautiful hues.
1 Bamboo Paint brush
Ages 2+
*Fun option: Varnish them with a natural walnut oil / beeswax sealer to make them waterproof.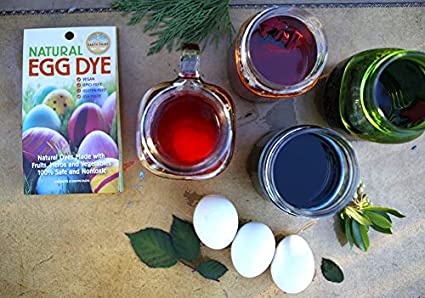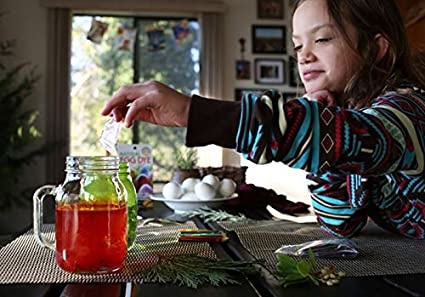 BEAUTIFUL PLANT-BASED DYES: safe, natural egg dyes made from fruits, herbs, and veggies.

CONTENTS: 4 color packets that make 5 - 6 colors. An instruction sheet with Creative Egg Art Ideas and Dye Tricks.

QUICK & EASY: Simply pour dye in hot water and place eggs in - no vinegar or extra steps needed.

TRULY WORRY FREE: Artificial Dye Free, Vegan, GMO Free, Gluten Free, and Kid Safe

PLANET FRIENDLY: Our Green Business uses recycled and biodegradable packaging and vegetable-based inks. Made in the USA Gluten-free, Vegan, and GMO-free!
Easter Egg Miniature Fillers!
collage is famous for our collection of miniature finds. Here are some recommended Easter Egg Stuffers:
1. Mini Creatures!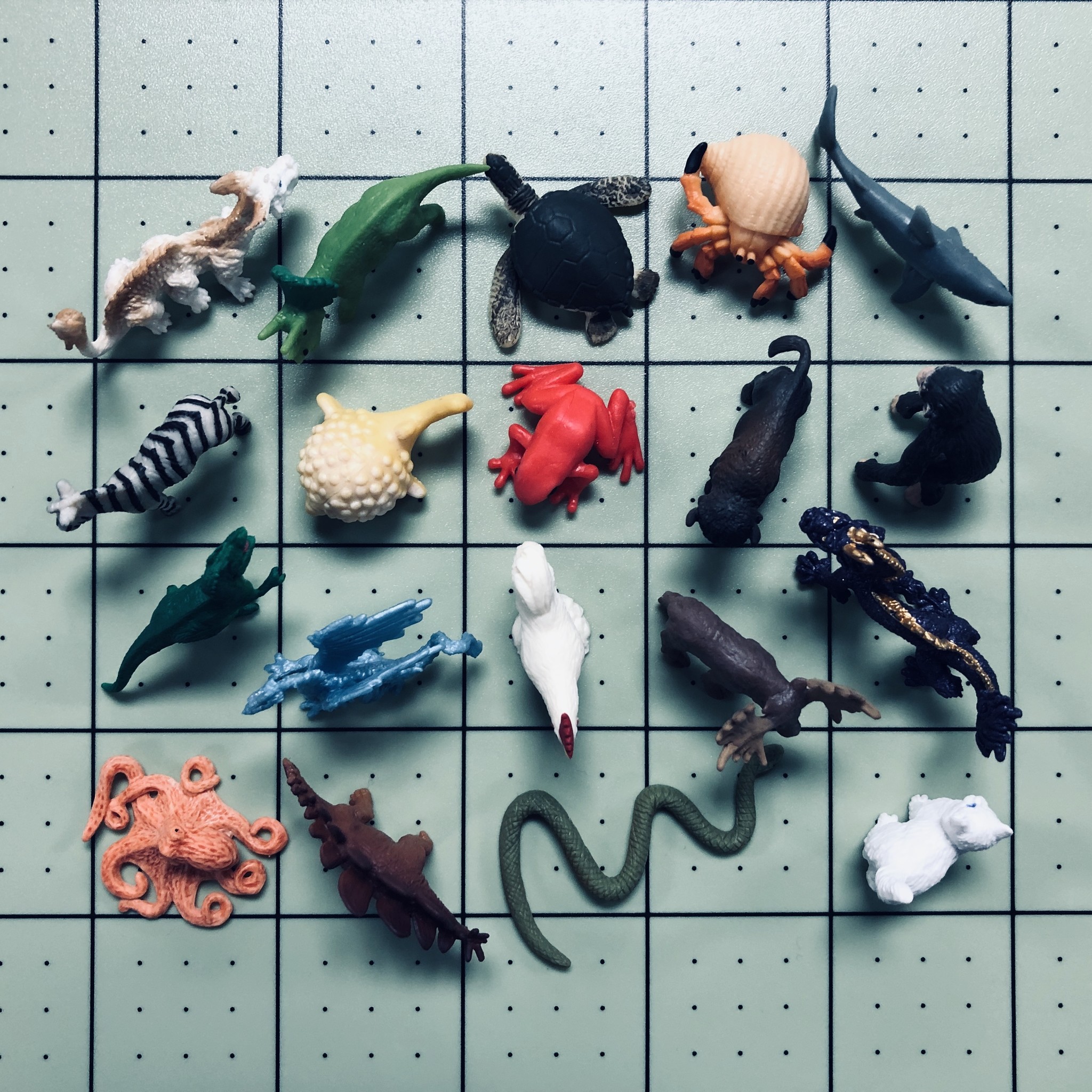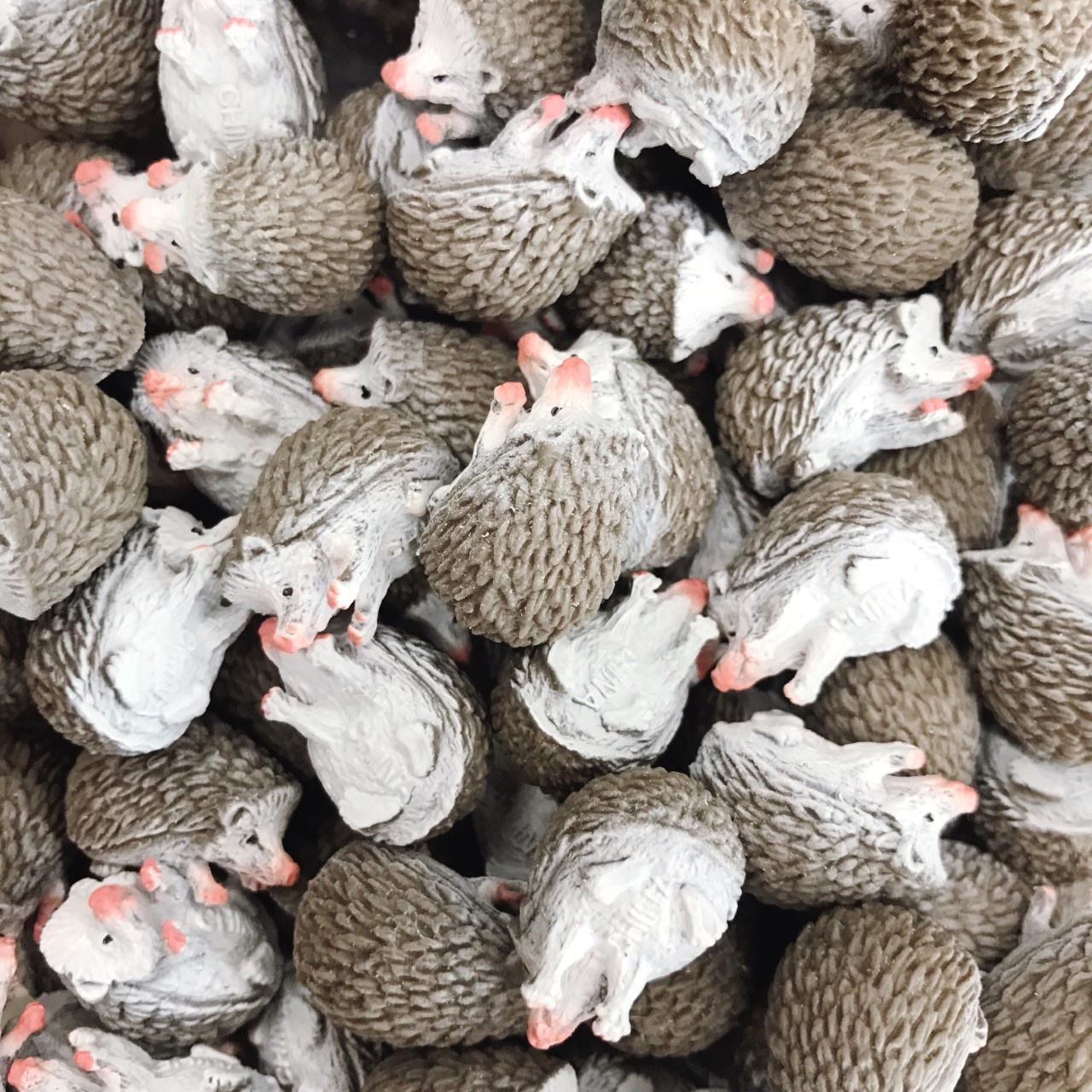 2. Small Gems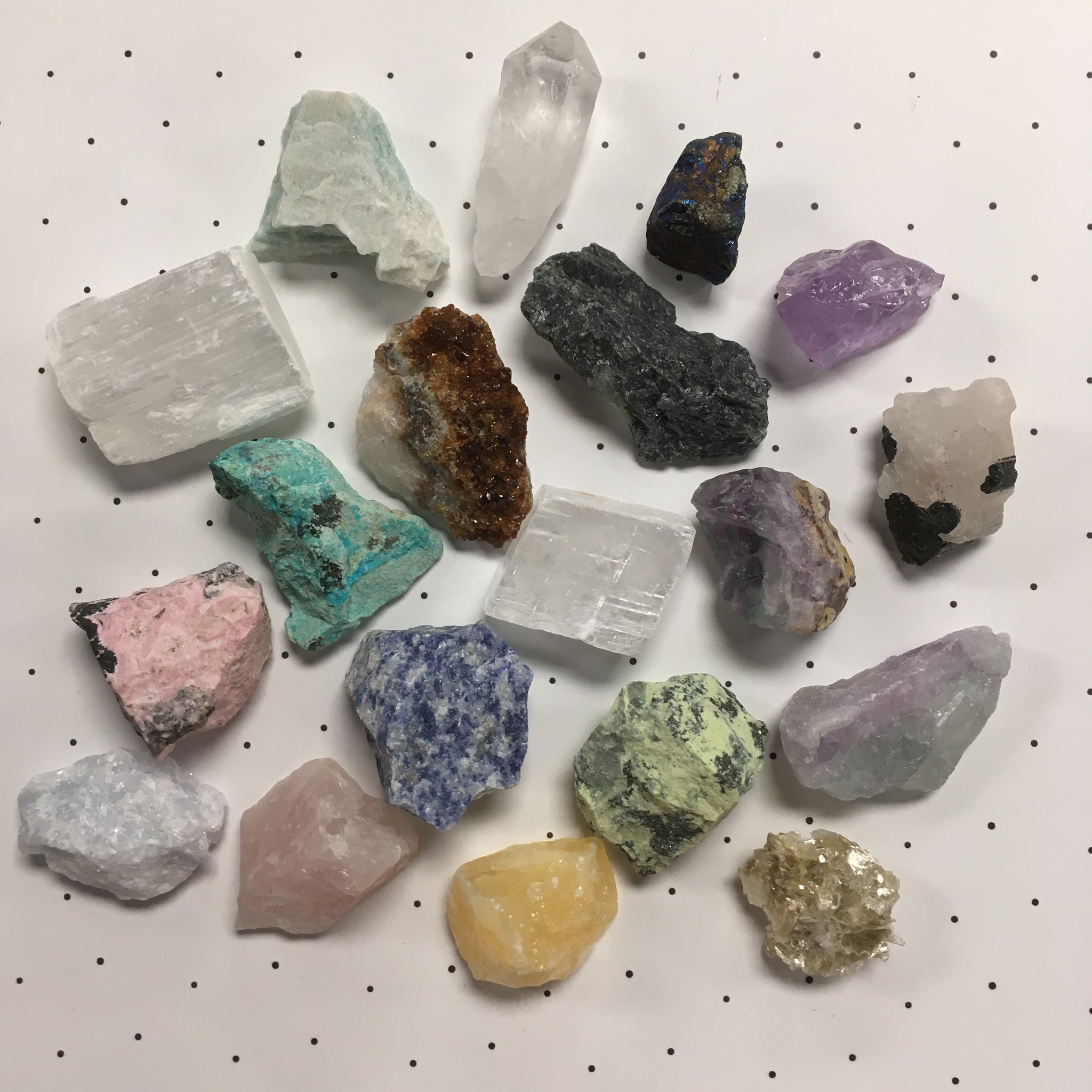 3. Mood Rings
4. Cute Kawaii Minis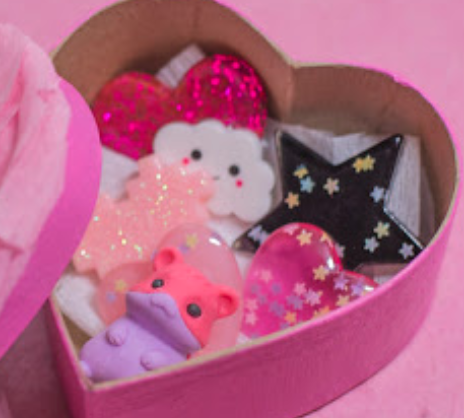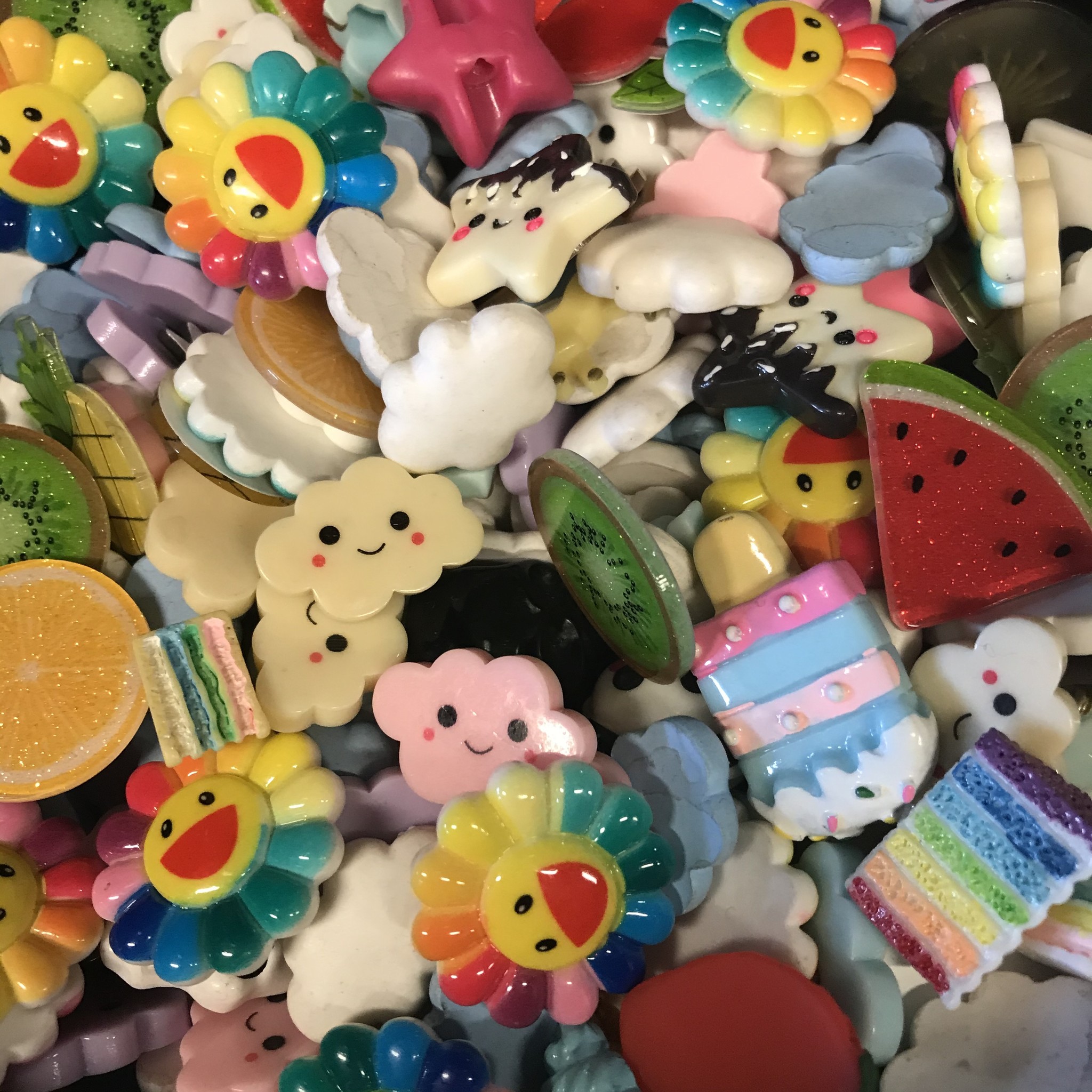 5. Finger Puppets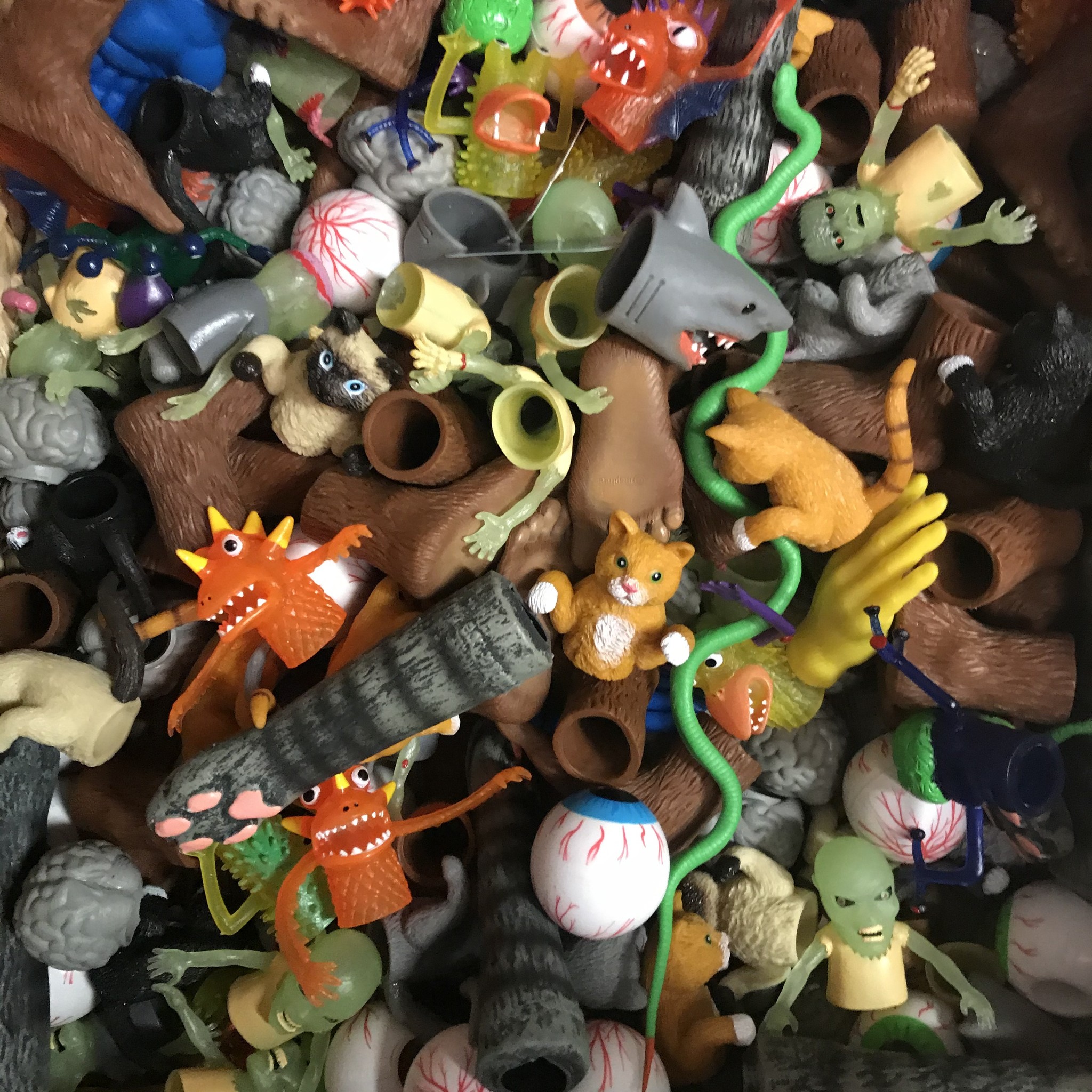 6. Mini Colored Pencils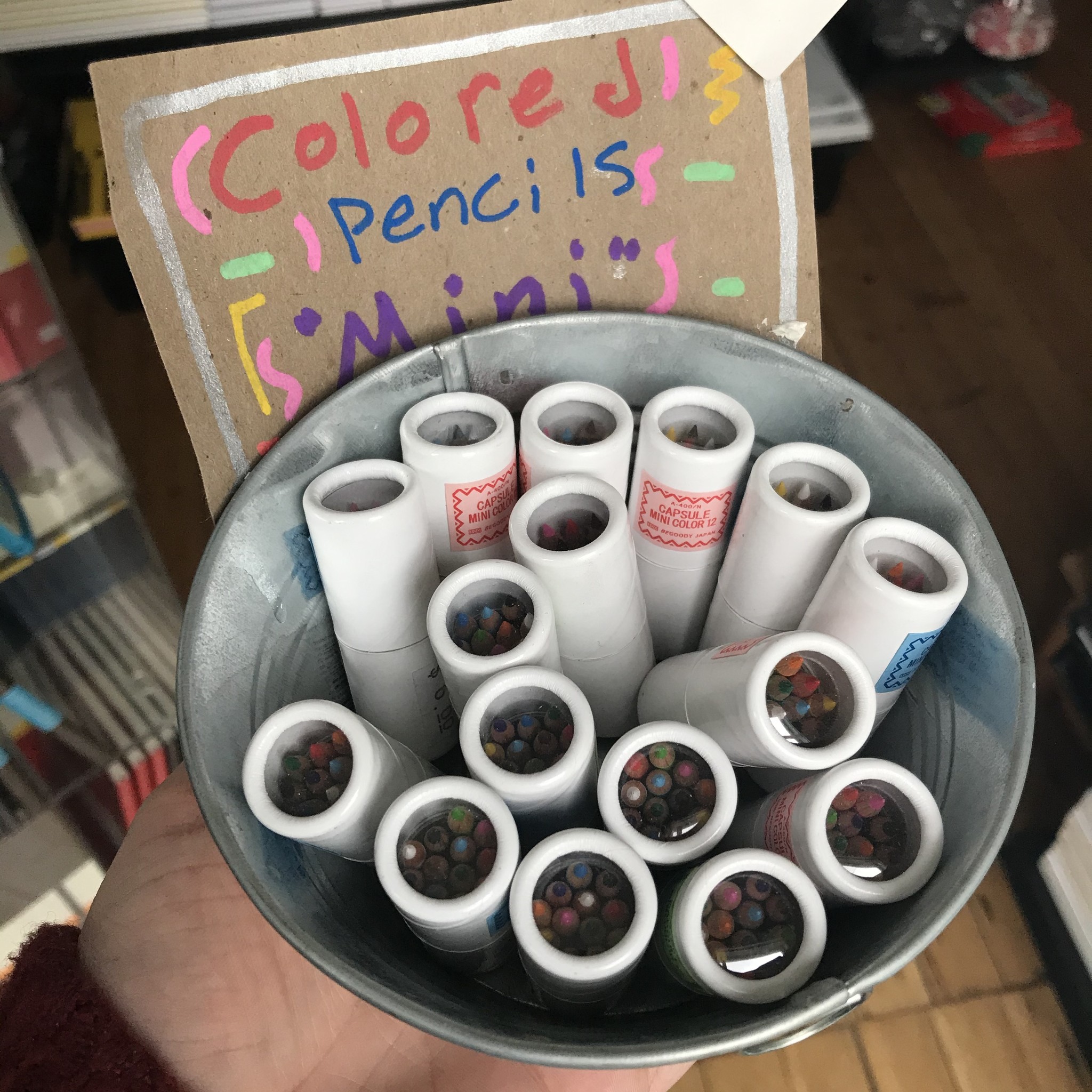 7. Buttons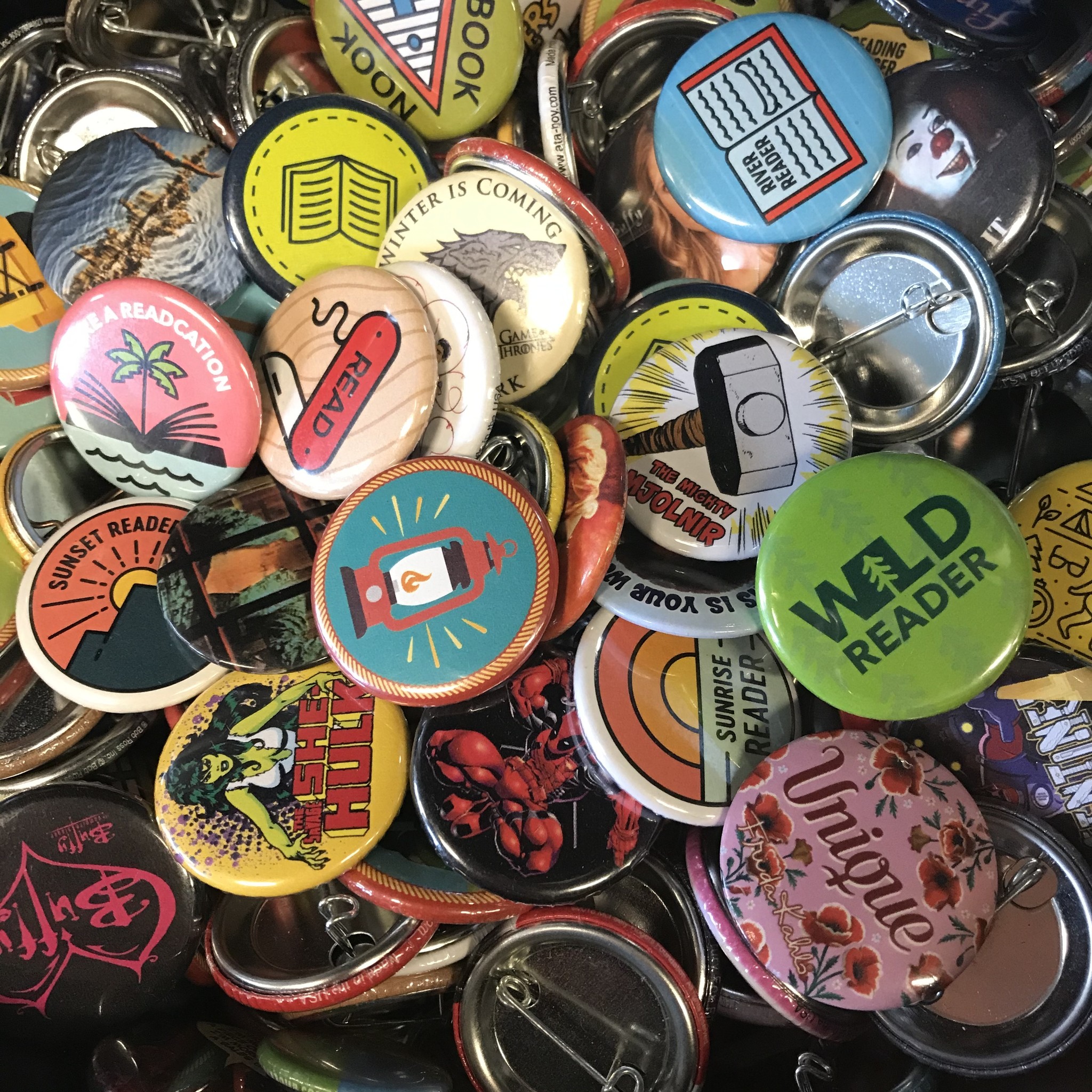 8. Cut up Sticker Sheets
Cut Out small stickers from our sticker sheets to fit multiple inside eggs!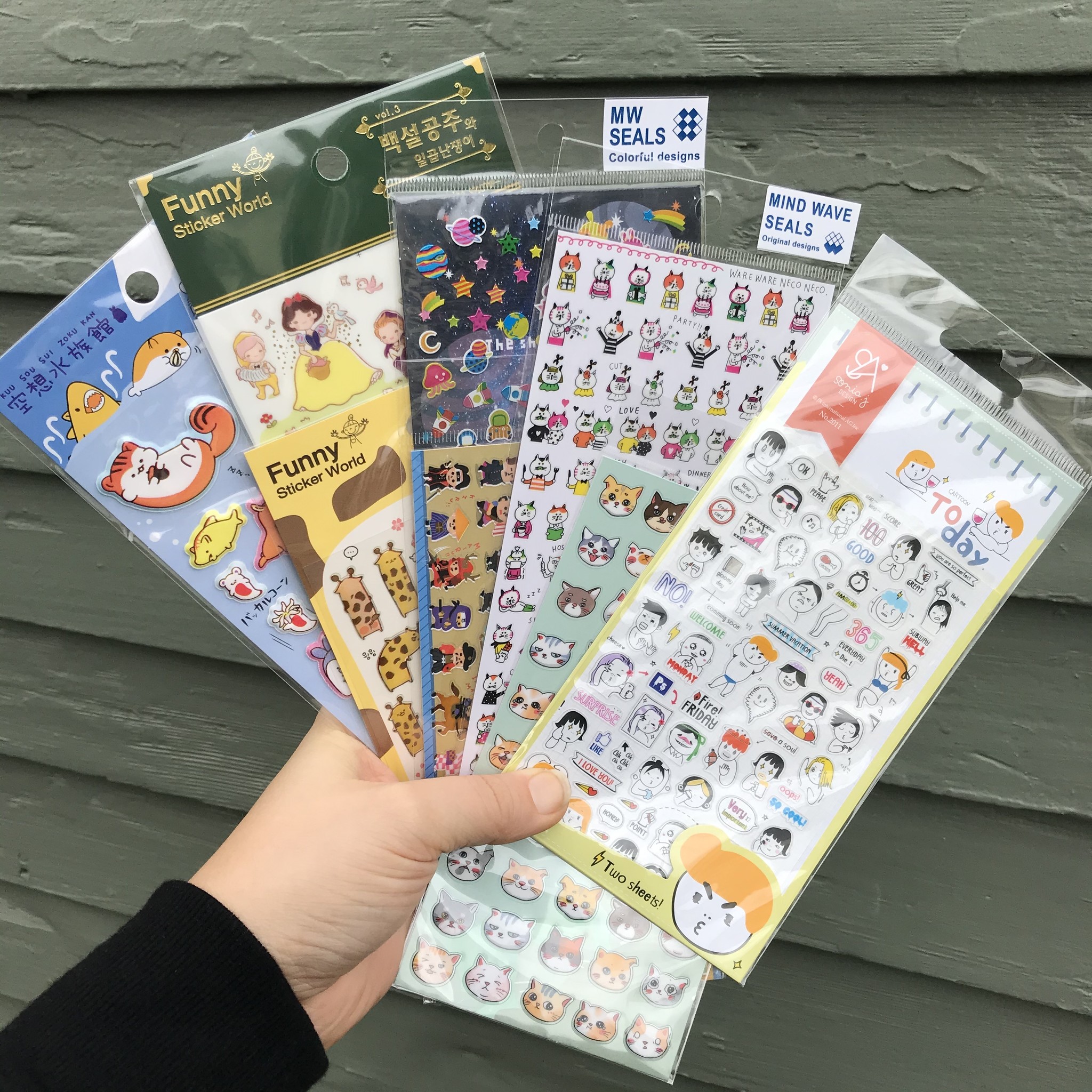 Stickers Sheets are available online here
For orders of minis, rings, or gems please email [email protected]
as we currently do not sell these online!
xoxo
collage