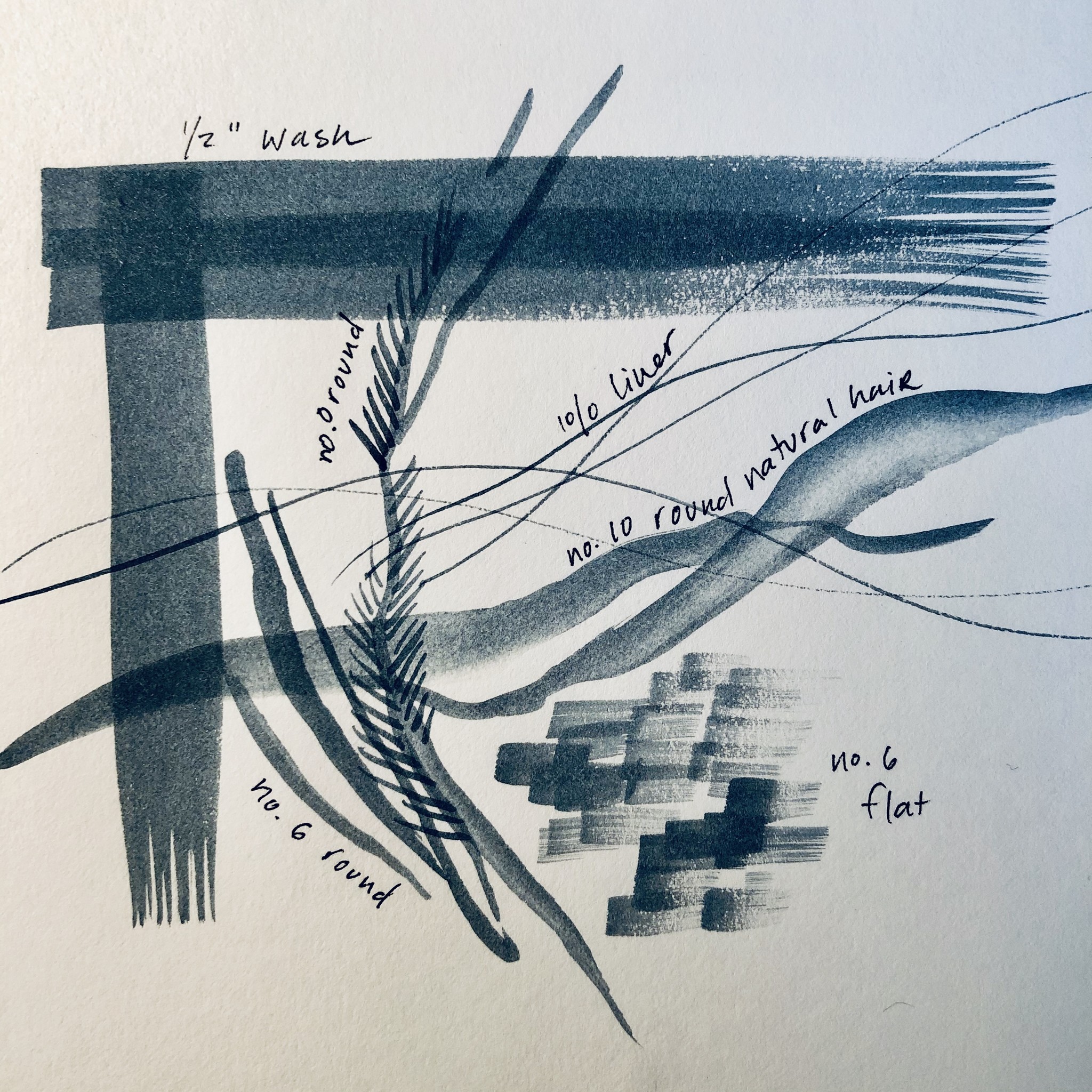 Different strokes for different... brushes!
Brushes can be broken down into three categories: size, shape, and type of bristles. Brush size relates to the width of the bristles and the length of the belly (the area between the brush tip and where the bristles meet the brush handle). Brush shape is generally flat or round. And brush material can be synthetic, natural, or a blend. Read on, and we'll break down each of these categories further.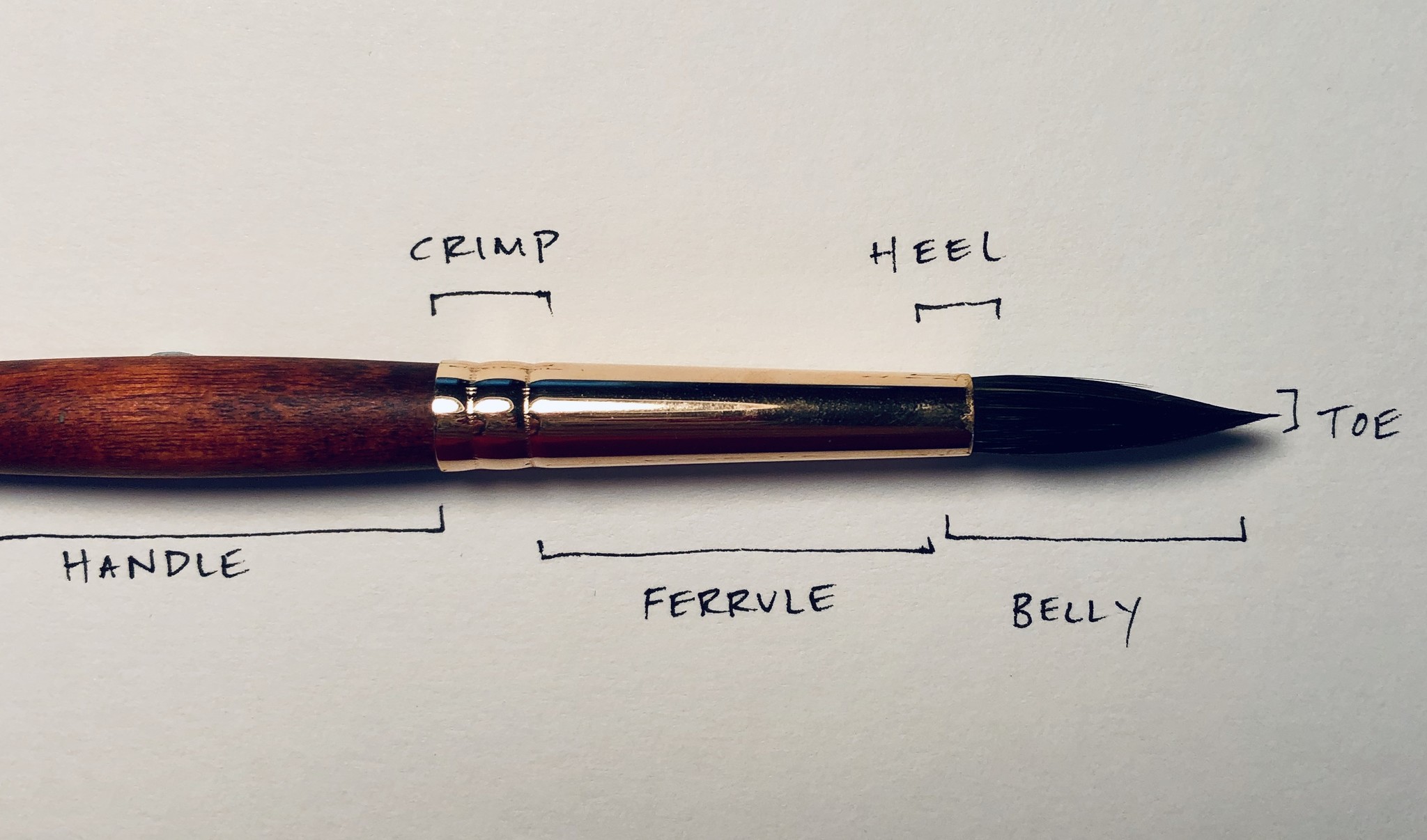 Parts of a brush.
Size
Brushes can be as wide as 5" (or more, designed to cover an expanse of wall or canvas) to a single hair's width (for the most minute details). Most artist brushes sold at collage fall into the medium to smaller range, optimal for tabletop-scale projects. Each brush will create a stroke that is generally the same size as it's bristles (that is, a large brush will lay down a large stroke). However, brush bristles are not rigid and even a large-looking brush is capable of making a narrow stroke. A great example of this is the Japanese sumi brush (below), which can look bushy when dry, but tapers down to an extremely fine tip when wet. A brush can also have a very fine tip, but have very long bristles (such as a rigger brush). Generally, though, the finer the tip (or toe), the thinner the stroke of the brush.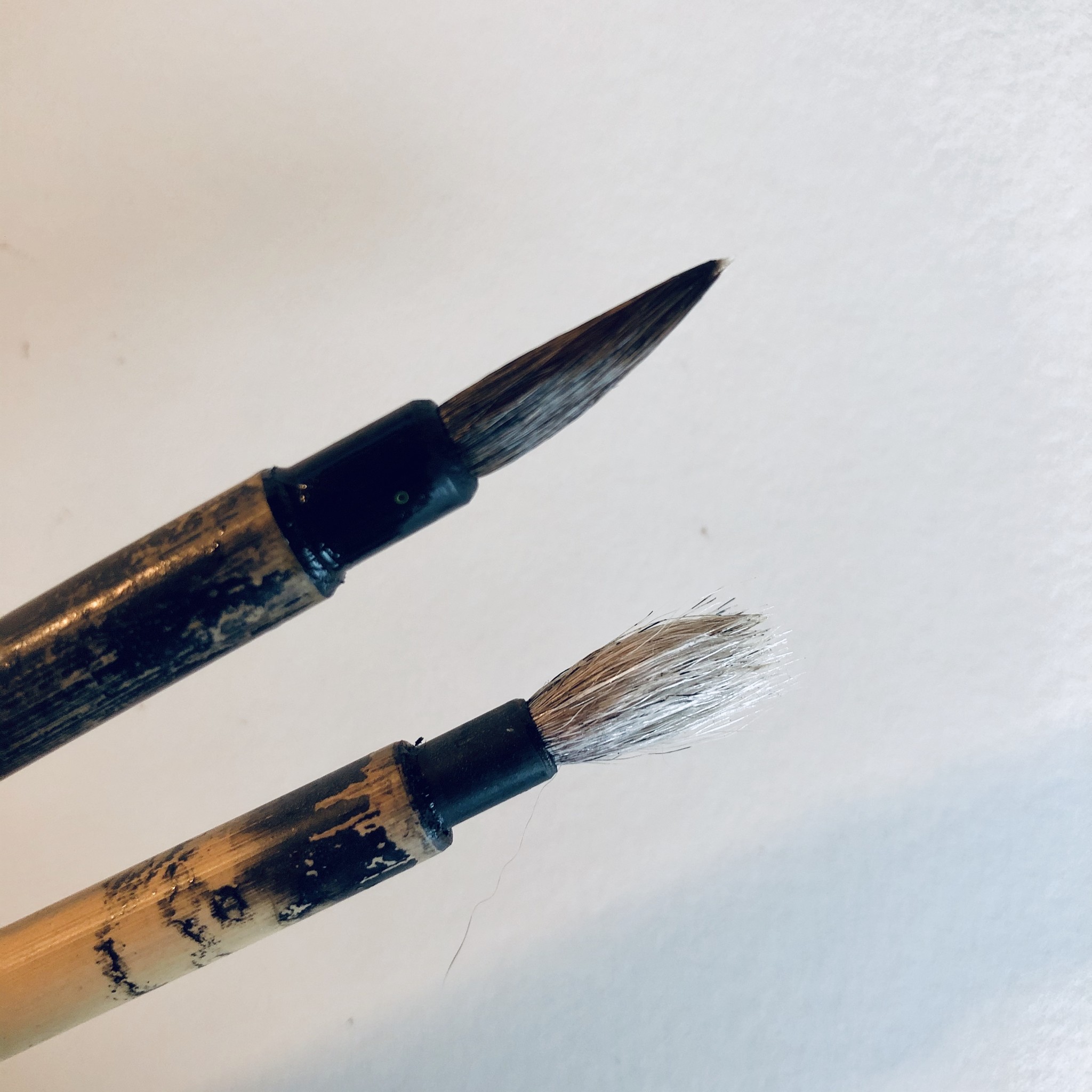 A wet and dry sumi brush.
Brushes are sized either by a single number (usually a few increments below 0 through 20), or by the actual width of the toe (which usually only applies to larger brushes than can be measured in inches or centimeters). There isn't a universal brush sizing system, so buying a brush sight-unseen can be tricky. A size 2 brush, for example, will always be pretty small; the smallest brushes will sometimes be sized 10/0, or 5/0, to indicate a size smaller than 0. Some super-tiny detailing brushes can go as small as 30/0! 
Brushes also have differently sized (and shaped) handles. The main difference in handles is length; long brushes are better for painting from a distance, or standing up, and shorter handles are better for close-up or seated painting. Other variations in handle shape are for comfort and grip.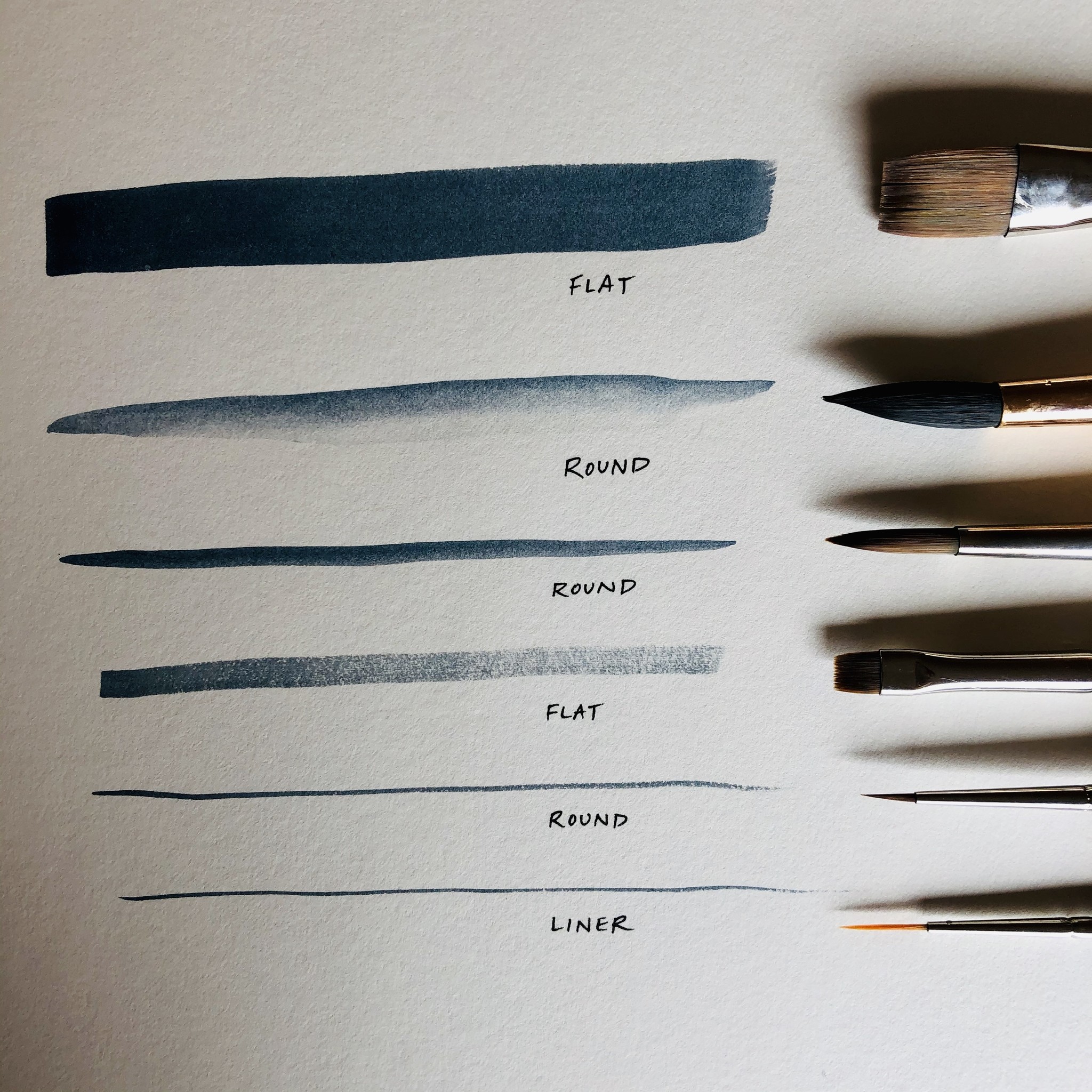 Some examples of brush strokes. 
Shape
The fundamental shapes are round and flat, and all brushes fall into one of these two categories (or a combination of the two), regardless of size. There is a huge variety of brush shapes, each with a different use. Below are the most common brush shapes and their uses.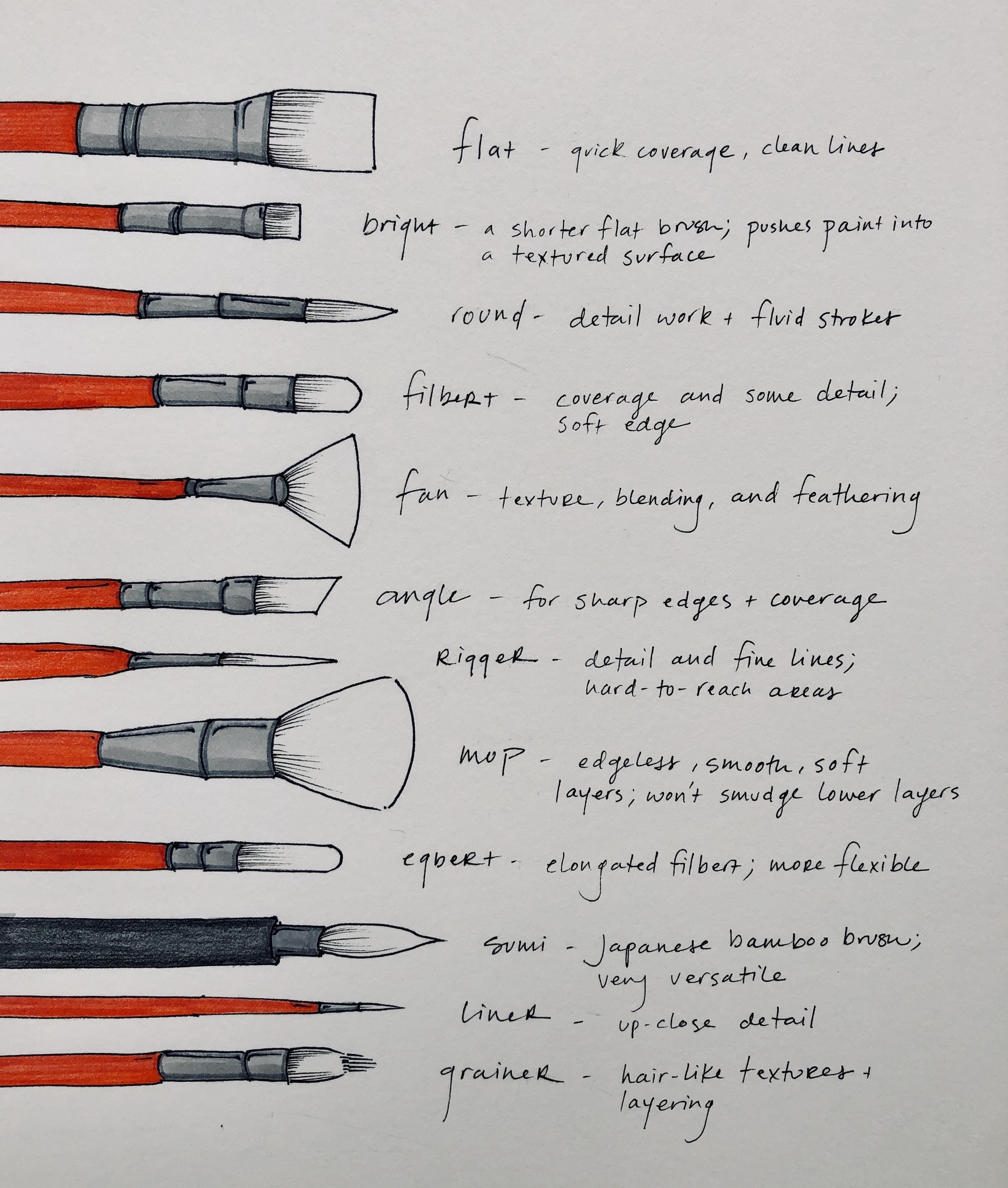 Brush styles and their uses.
Bristles
You may have touched brush bristles and noticed that they have different textures. Some are firm and coarse, some are soft and flexible. They are also different colors, from bright white to brown to black. Brushes can be made of natural hair, synthetic bristles, or a combination of both.
Synthetic bristles are easier to clean, usually firmer, and have more 'snap' (meaning they bounce back into shape easily). They are made from nylon, polyester filaments or Taklon and are best for use with acrylic paints. Synthetic brushes are less expensive, easy to take care of, and hold their shape. They are also the choice of those opposed to animal cruelty frequently associated with the natural bristle industry. There are many high-performing synthetic versions of natural bristles available. Synthetic brushes usually have bright white or orange bristles, and blends are often light brown or black.
Natural bristles are more pliant than synthetic, and they are made of hair from an animal. This is usually sable, ox, hog, squirrel, mongoose, pony, goat, or "camel" (which is actually made of other natural hairs, usually ox; real camel hair is more like wool, and is therefore unsuitable for painting). Notable among these is sable, which is loved by watercolorists for its supple, naturally-tapering bristles. Hog bristle is stiff and coarse, best for rough texturing and working paint into a canvas. Pony and goat hairs are used in Chinese and Japanese calligraphy and sumi brushes. Squirrel is sometimes substituted for sable, though it is not as fine. Natural bristles are best for use with watercolor because the microscopic barbs on the hair shaft hold onto water. They are usually the first choice for watercolorists and oil painters who want a softer or more traditional brush, or value the bristly quality of hog brushes. Sable brushes are light brown, hog brushes are off-white, and other hairs can be any shade of brown, black, or white.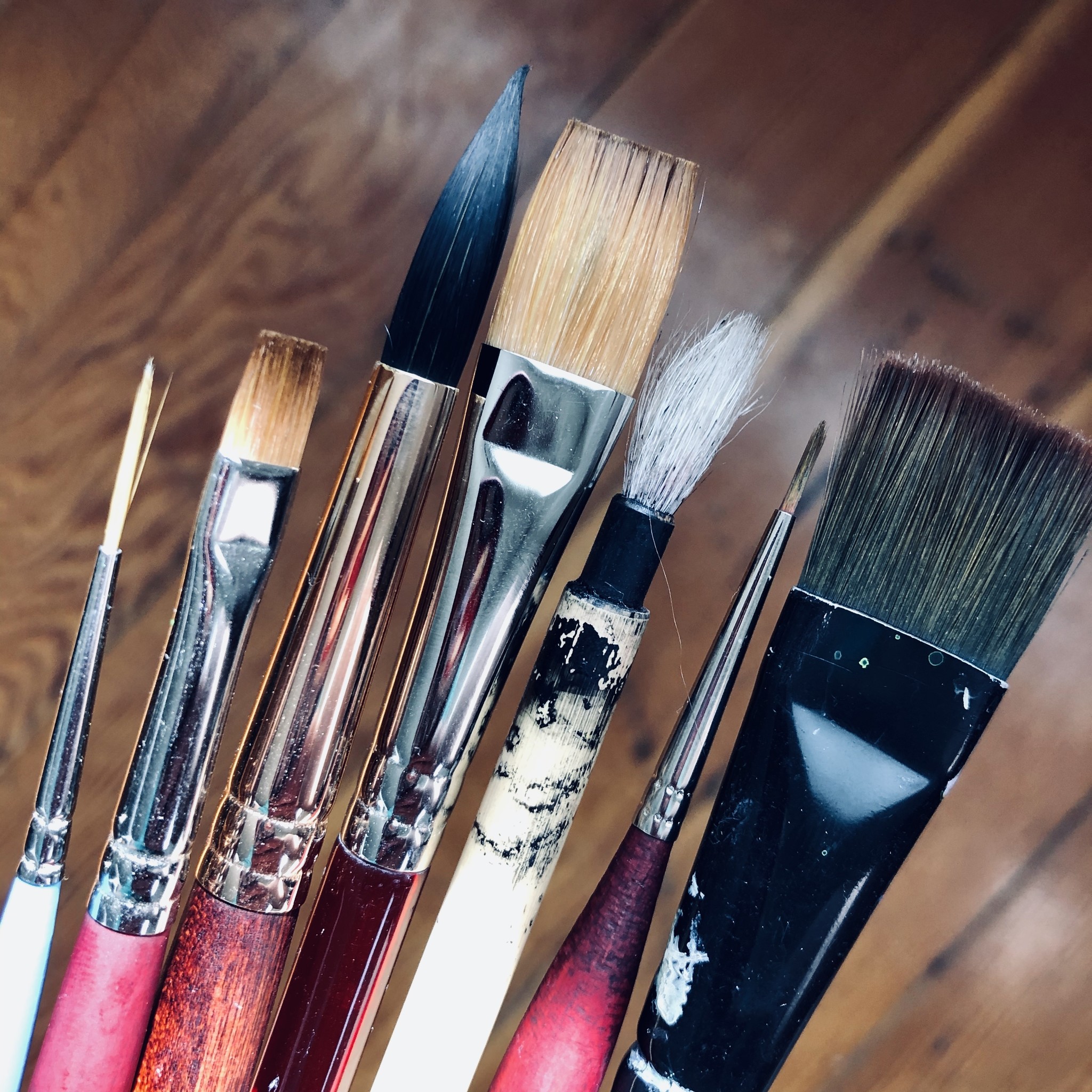 Left to right: 10/0 rigger, size 6 flat, size 10 round, 1/2" flat brush, sumi brush, size 0 liner, 3/4" wash
The best strategy to determine the proper brush for your project is a simple one: touch it! If you're working in watercolors and you know you need a dense, soft mop brush, you'll want to feel the bristles of each brush available. Or maybe you're an oil painter and you need a good, stiff bristle brush to create texture and cover a large canvas; you're going to want to touch your options! It is perfectly acceptable to gently test out brush bristles against the back of your hand or on your arm. But when touching isn't an option, the following holds true:
Coarse and stiff bristles are made from hog or synthetic hog, also known as 'bristle' brushes. They are used for working paint into canvas, dry brushing to create texture and brush marks, and for rough application of paint. Often used by oil painters. 
Coarse and flexible bristles are usually pony or goat hair, and are seen most often in sumi brushes. They are used to create long, thick strokes, good for a loose, sinuous, line-heavy style, such as calligraphy. 
Smooth and stiff bristles are made of synthetic nylon or polyester. They are great for smooth, controlled application of paint and even, lineless blending. Best for use with acrylic and oil paints. 
Soft and flexible bristles are usually sable, synthetic sable, or natural blends. These brushes are thick and fine, sometimes even fluffy. They hold a lot of water, don't leave bristle marks, and are favored by watercolor painters. 
Natural hair brushes are time-tested and often of a superior quality, but more expensive, harder to care for, and not always ethical. Synthetics or synthetic blends have a reputation for lower quality, but there are lots of options on the market for watercolorists and oil painters who want the flexibility and softness of a natural brush without the cost and concern. In other words, there are lots of options out there! Need more guidance? Try our flow chart to help you decide!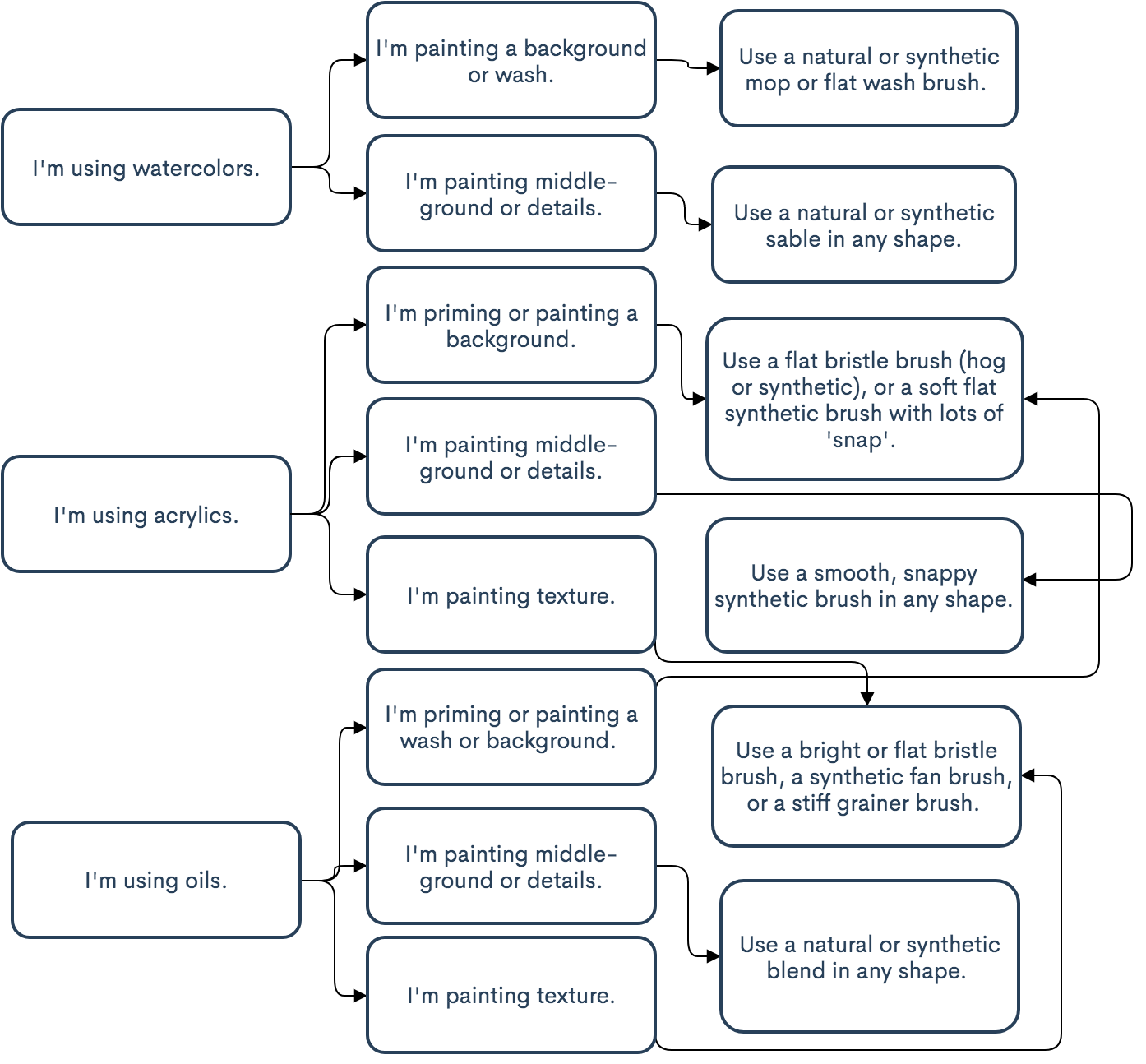 Brush Care
All brushes need to be cleaned after use. Though watercolor and gouache paints will still rinse out when dry, crusty dried paint damages a brush's bristles. Acrylic is especially important to clean, because it will permanently harden a brush if acrylic paint is allowed to dry in the bristles. Oil paints take far more time to dry, but it is still important to clean them out with turpenoid or a solvent (not water!) to keep them in good shape. You can buy multipurpose brush cleaner and odorless solvent at collage. If you paint with both oils and water-based paints, remember that once you use a brush for oils, you can't use it again with other paints; the oil will always leave a residue in the bristles. 
Brushes are happiest stored with the bristles upright in a jar, resting flat, or stored in a travel box or roll, never bristle-side down or in water! In fact, refrain from putting direct pressure on brush bristles, unless you're using a very coarse bristle or stencil brush that is designed to be used in a stabbing, direct stroke. More delicate natural brushes are meant to be used in the direction of the bristle in a dragging motion. Careful use and storage of brushes gives them a longer life and better functionality.  
We hope this has been helpful in demystifying the language of the artist's brush! It all comes down to personal preference and experience, so if you're curious about a brush, give it a try! You can shop all brushes here, or give us a call to help you decide. Thanks for reading!