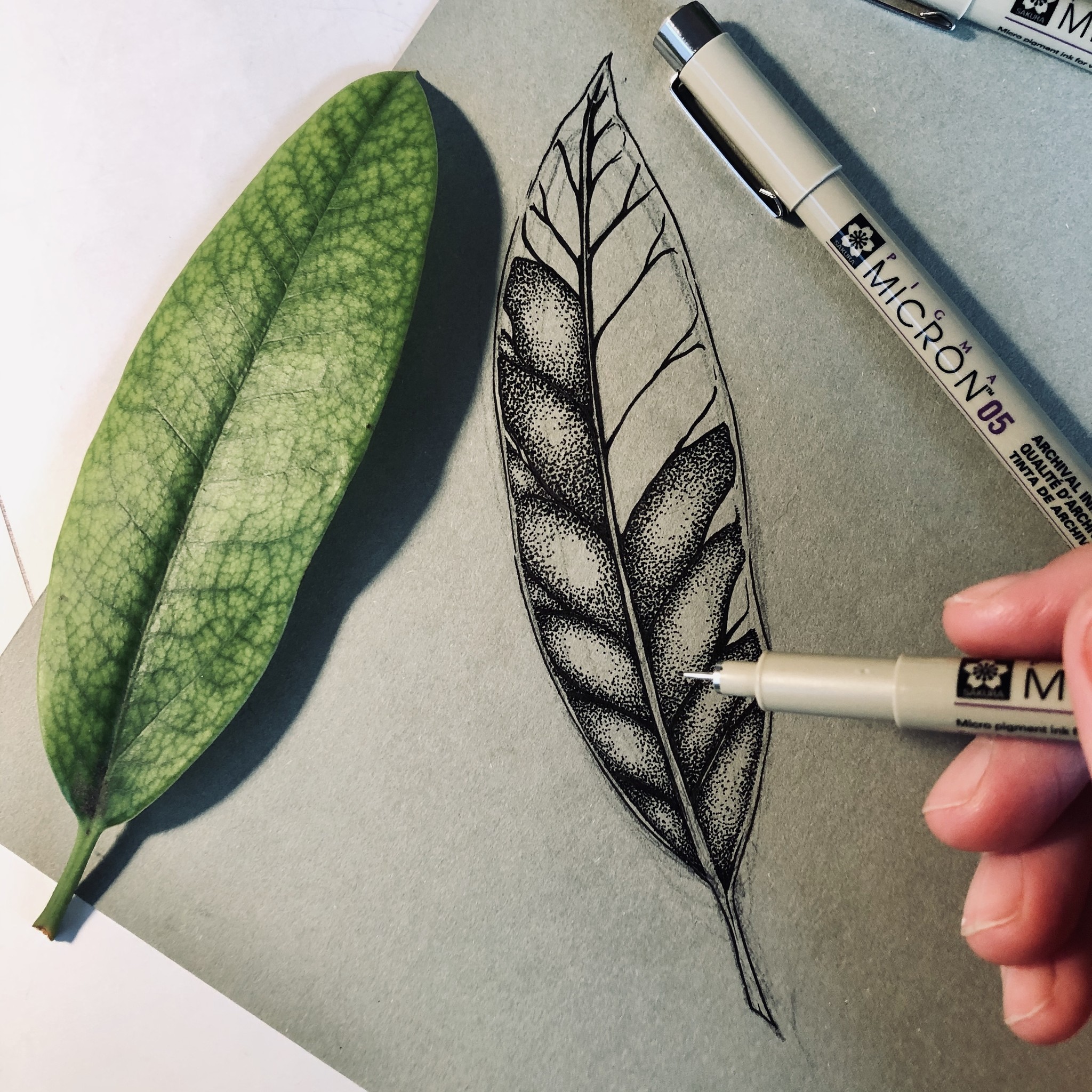 These days, when we see something beautiful or interesting, our first impulse is usually to take a picture. How else will we remember what we saw, or have proof of our being there? We can go back to the picture later, as many times as we want, when we want to see it again or look at it more closely. But before pictures were so easy to take (and before they even existed), the best way of creating a visual record was to draw a picture. This is what botanists (or, plant scientists) did when researching plants. When they wanted to share a new discovery, or publish images of a particular plant, they would create a highly detailed and accurate drawing or painting of it. Scientific illustration is still used today; an illustrator can capture and highlight the details of plants, medical subjects, or microscopic elements that a camera can't capture.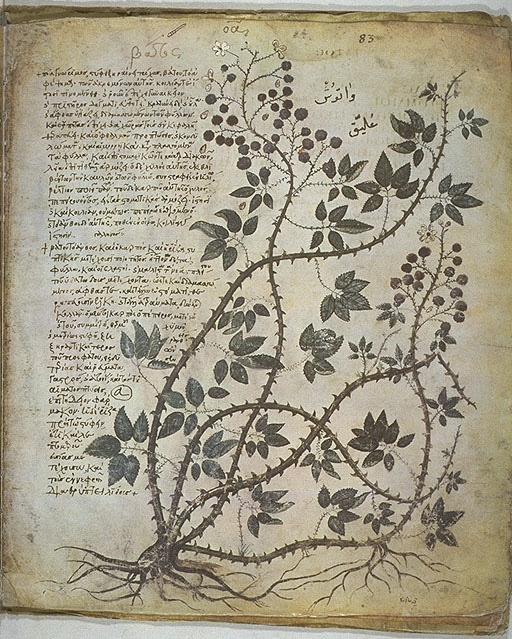 Illustration from the
Vienna Dioscurides
, early sixth century.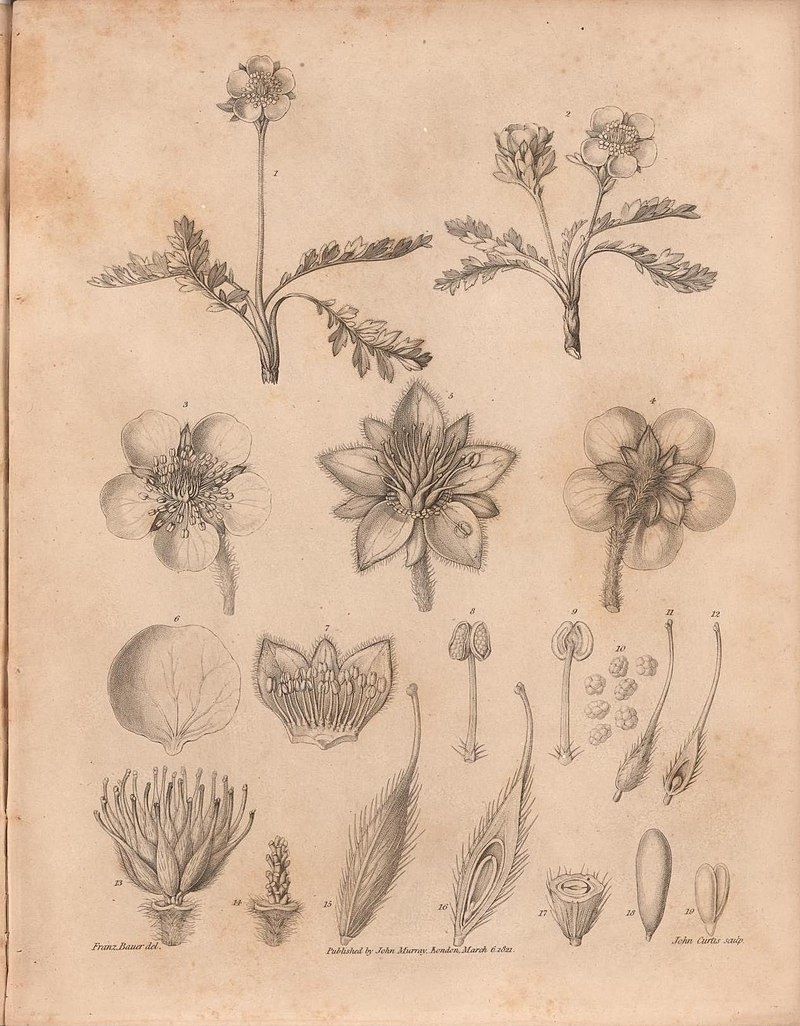 Ink on paper illustration depicting all parts of an arctic flower by Franz Andreas Bauer, 1821.
Though you're most likely not a botanist or a scientific illustrator, you can still create an original botanical illustration with some basic drawing supplies and a few hours to spare. This is a fun project to do with children, too; you can even incorporate a little bit of science! Your main tool, however, is your ability to observe. What patterns can you see in a leaf? What does the stem look like? Are some parts bigger or smaller than others? Let your eyes show you what your camera can't.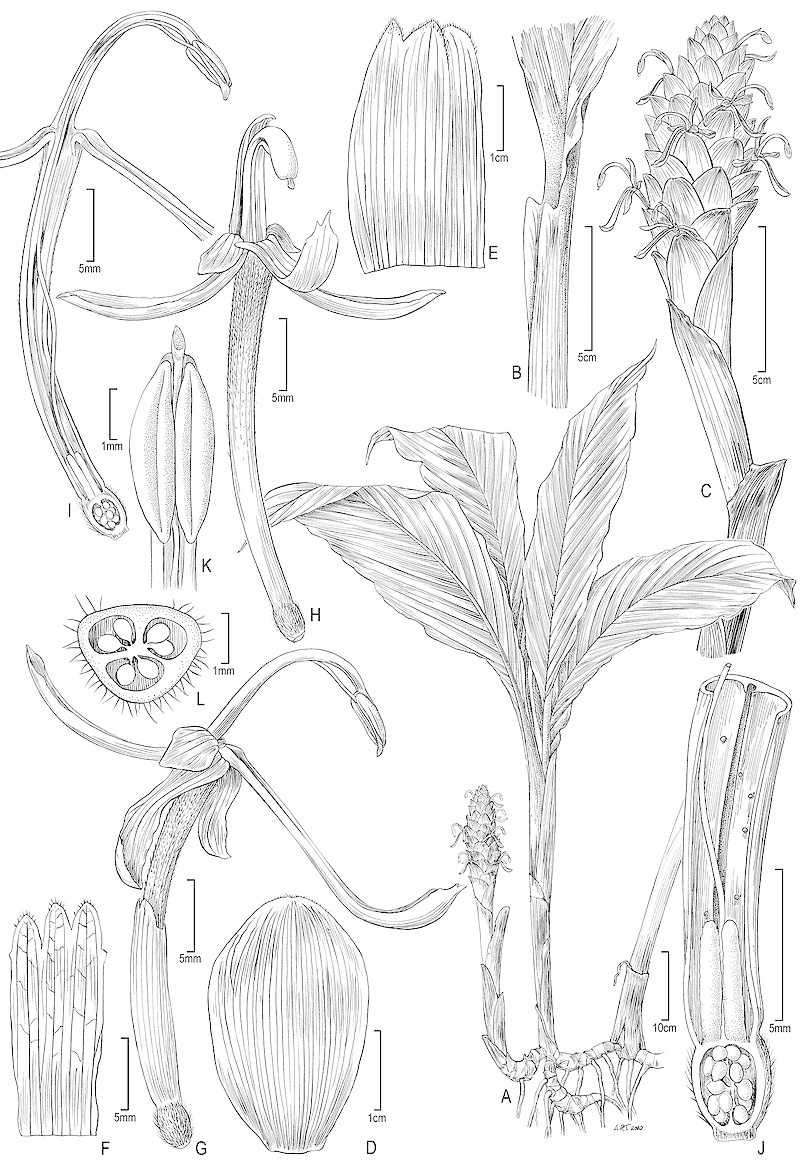 Larsenianthus wardianus as illustrated by Alice Tangerini, contemporary.
You will need:
- 01, 03, and 05 Sakura Micron drawing pens (for adults and older children/teens) or colored pencils or a felt tip pen (for children 8-10)
- drawing paper (for adults/older children we used Fabriano Moss toned drawing paper)
- a drawing pencil and eraser (we used a Staedtler Mars Lumograph pencil in B and a Prismacolor Magic Rub eraser)
- leaves or flowers from your backyard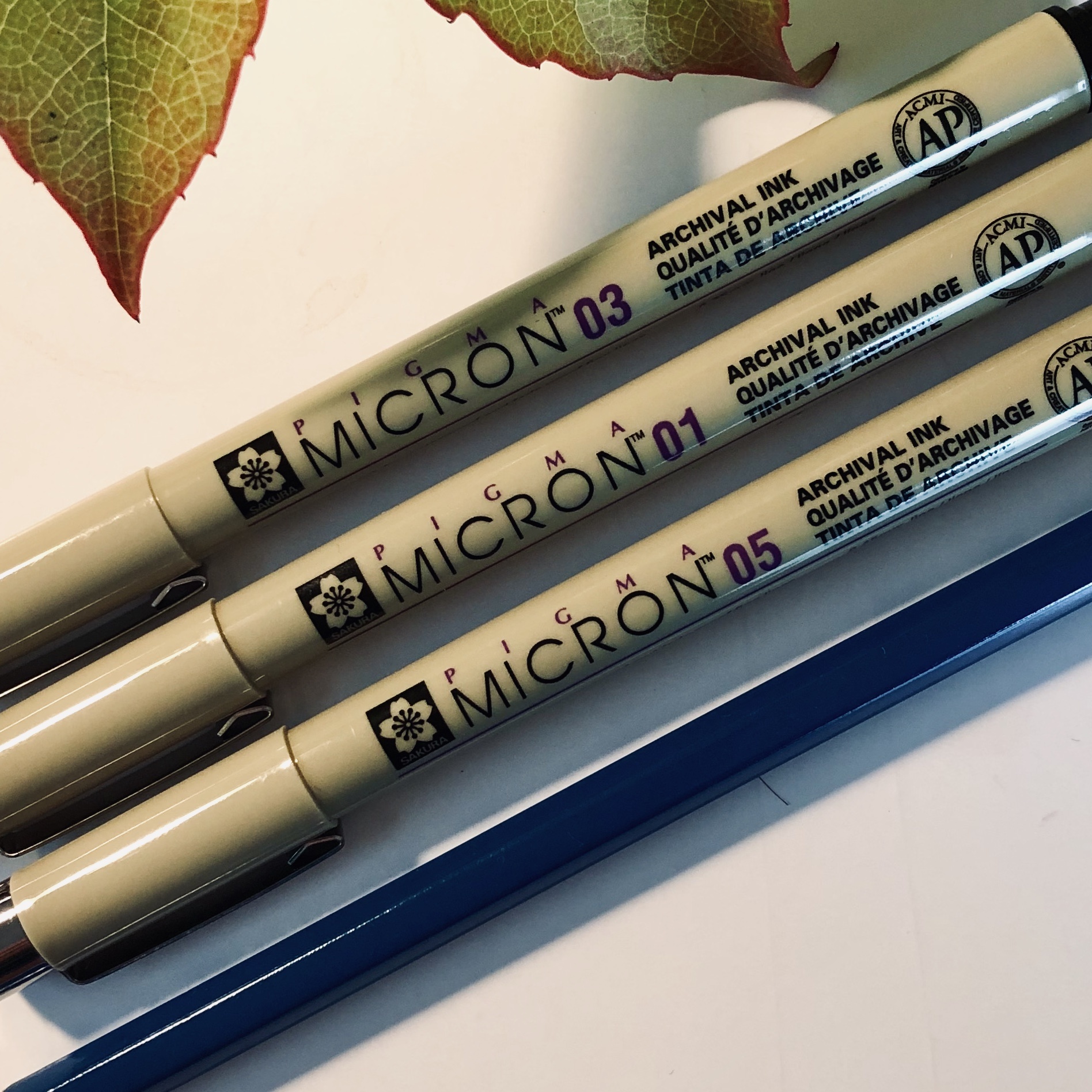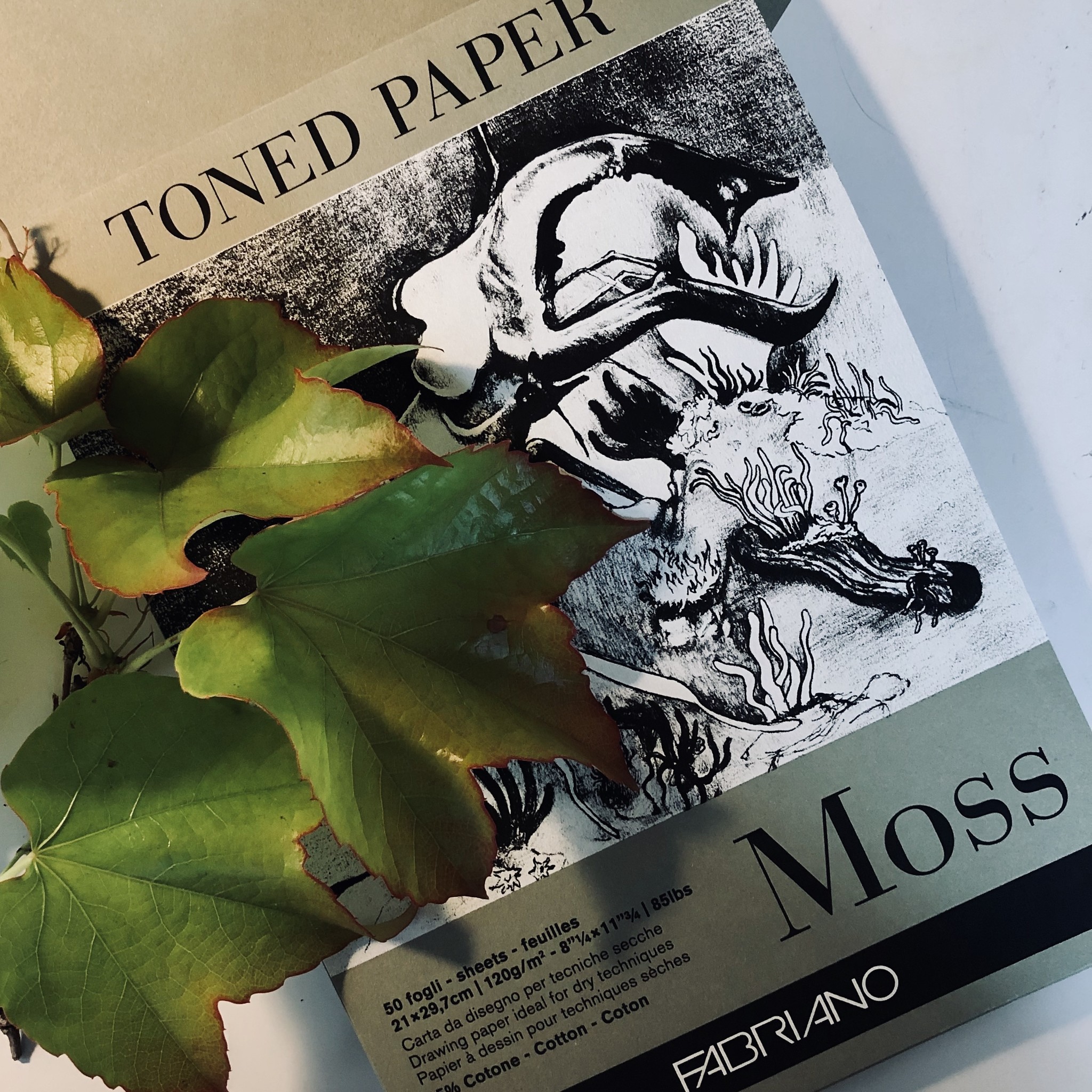 1. Examine your findings. 
Take a close look at the plants you have selected. Think about why you chose them. Does one have a particularly interesting shape? Are the flowers your favorite color? Did you grab whatever was easiest to reach? Before you start, you want to make sure that you've chosen something that will be fun to draw. If you have chosen something for its color alone, remember that we're using pen and ink, not paint; it may be better to choose something that has interesting shapes and patterns instead. (Drawing tip: flowers with lots of petals are very difficult to draw, so if you're a newbie, start with a simple one!) If you've chosen a random fistful of leaves, consider if you are really interested in the plant itself. If it doesn't look appealing to you, don't draw it! You also may select any part of the plant, not just the parts that seem obvious: the roots, the stem, or an unopened flower bud are all good subjects. You may also choose to draw the entire plant or only a small part of it. For beginners, though, we suggest starting small with a single leaf.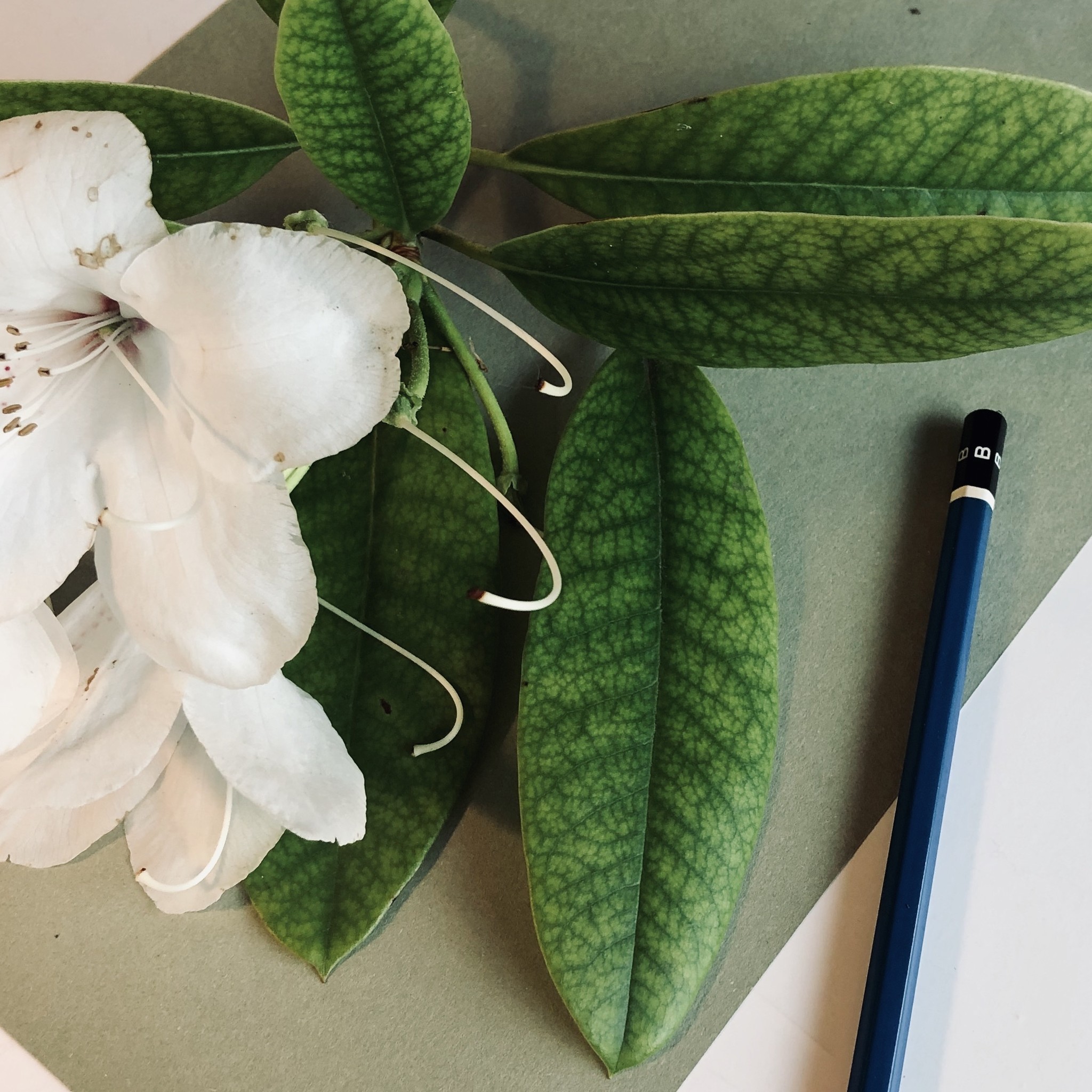 Once you've narrowed it down, take your leaf or plant part and examine it closely. Spend at least two minutes looking closely at all parts: back and front, edges and stem, details and overall shape. 
2. Sketch it out.
After you've placed your leaf in the position you want, you can start sketching. Before you start, consider the scale and composition of your drawing. Do you want to keep it the same size? Make it smaller or bigger than life? Do you want it to take up the whole page, or only a small part of it? Capture the basic shape with a pencil, and some of the larger details. Don't spend more than a couple of minutes sketching, since you'll be working on details with a pen. We're drawing a rhododendron leaf, which has an oblong shape, a central vein, and some clear smaller veins that extend from the center.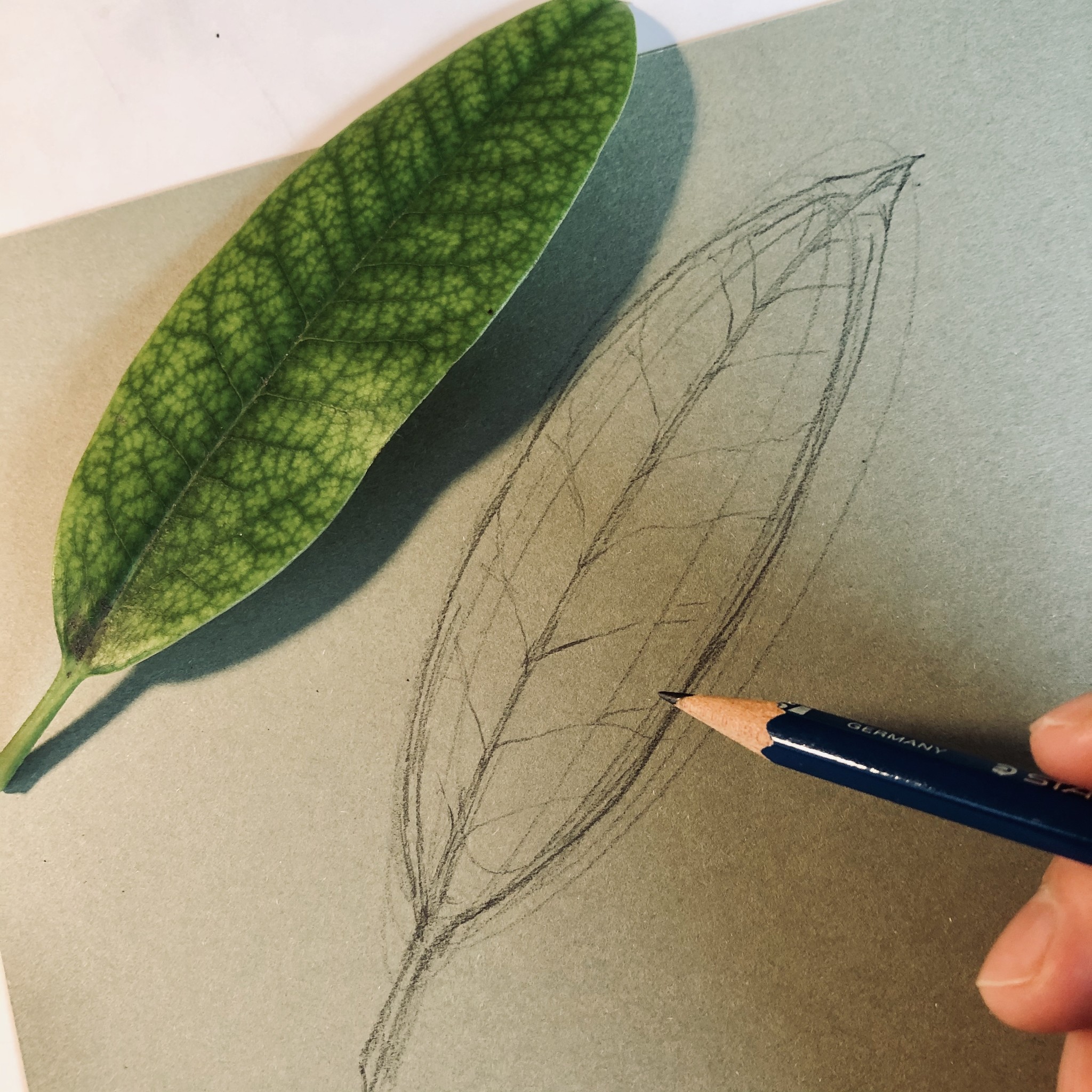 3. Draw the outlines.
Using your 05 pen (the biggest size nib), trace over your pencil outline and some of the more prominent details. You can thicken the lines in places if you need to; we'll be building off of these darker lines later.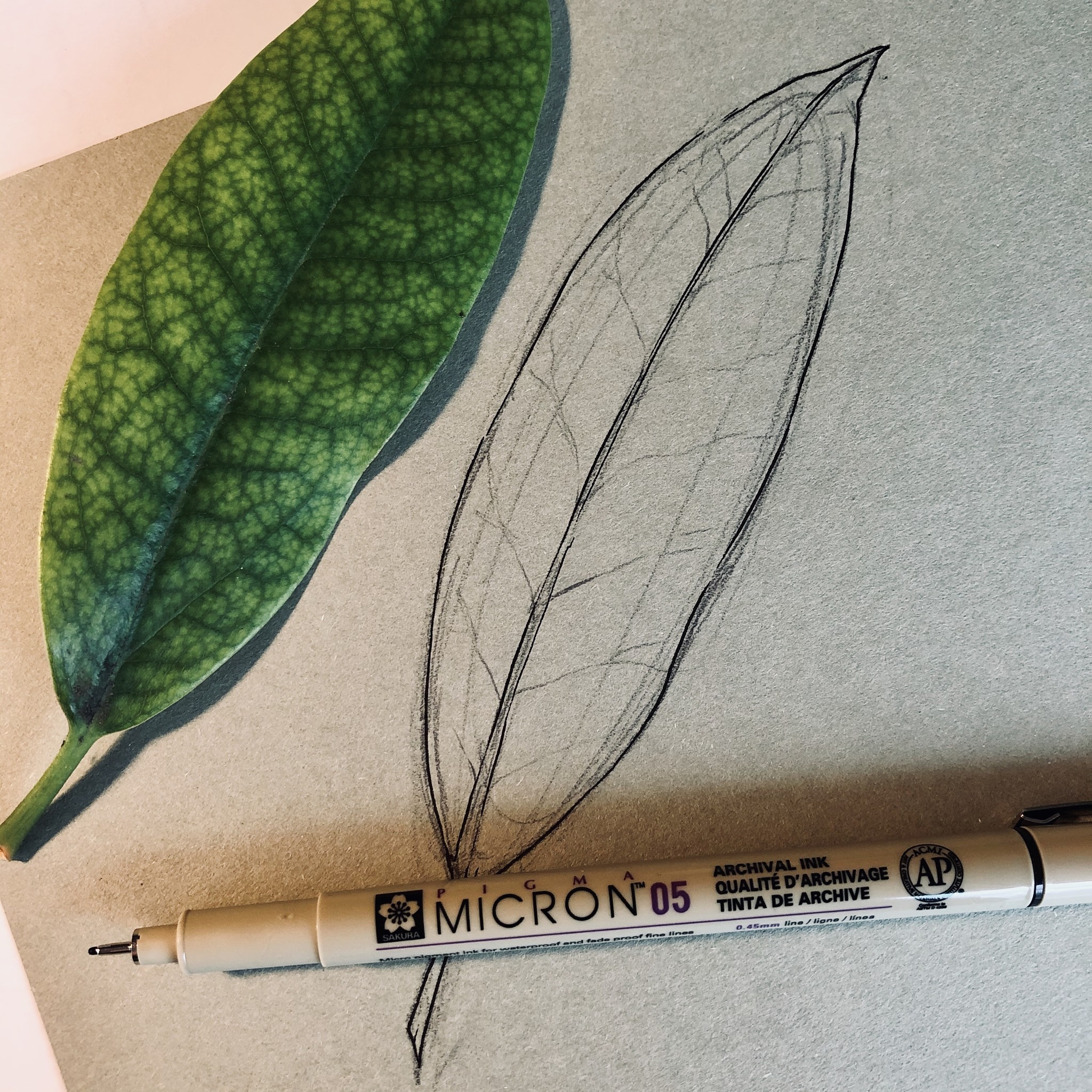 4. Start shading.

We're using a pen and ink shading technique called stippling. Stippling can be used by itself, or alongside line drawing or hatching (a criss-cross drawing technique) to create lifelike texture and shadows in ink. 
To stipple, use the tip of the pen to make lots of tiny dots. The closer together you put the dots, the darker a shadow you'll create. As you space them apart, you'll start to create a gradient from darker to lighter, giving dimension and realism to your drawing. You can start with the 05 or the 03 pen (a size smaller than the 05). Stipple close together in darker areas, and farther apart in lighter areas. (Drawing tip: don't press too hard when you are stippling!) This rhododendron leaf is darkerst along the veins, so the stippling is most concentrated in these areas.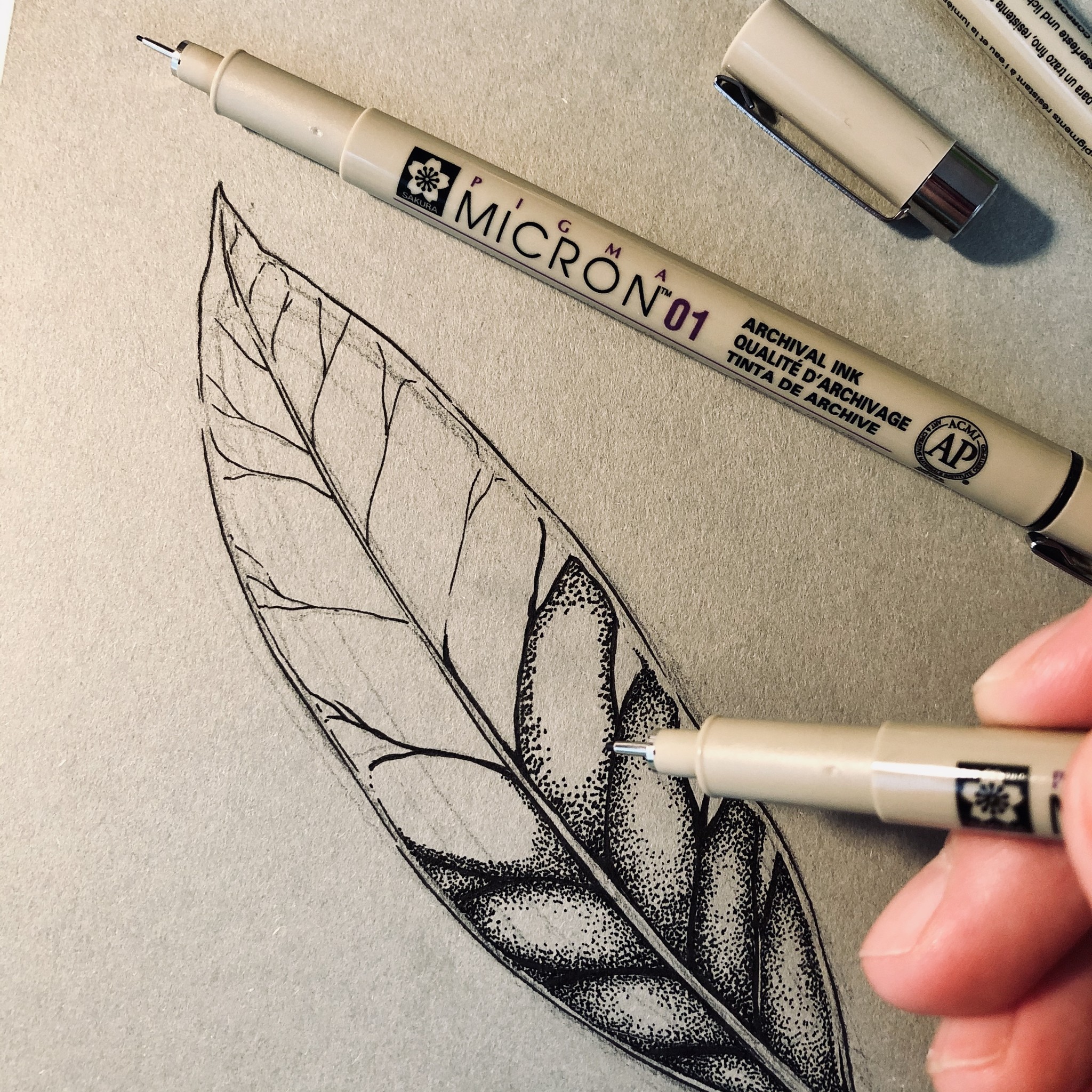 As you work your way out to the lighter areas, switch to your 01 pen (the finest) for the most detail. This phase of the drawing takes the longest, so feel free to take breaks. You may even choose to leave part of your drawing unfinished, which is ok, too!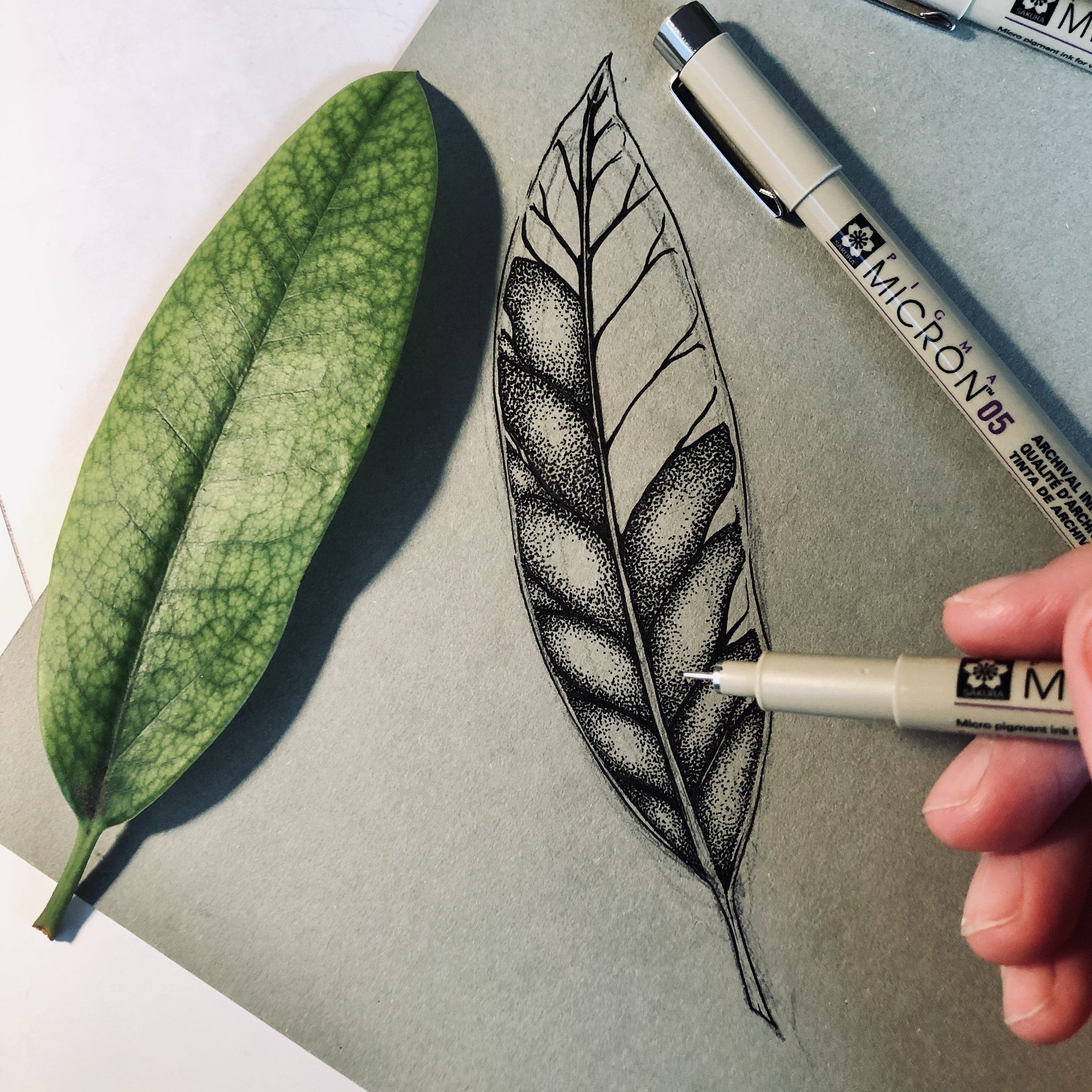 5. Final details and additions.
When you're satisfied with your shadowing and the ink has fully dried, go over your work with an eraser to remove the pencil lines from earlier. Take a few minutes to compare your drawing to your subject; are there any details you missed? Any areas that need a little extra shadow? You may also choose to add another element to your drawing, such as a different plant part or another perspective. The rhododendron leaf by itself looked a little lonely, so we drew another small leaf next to it. We also captured some of the intricate vein details with an 01 pen.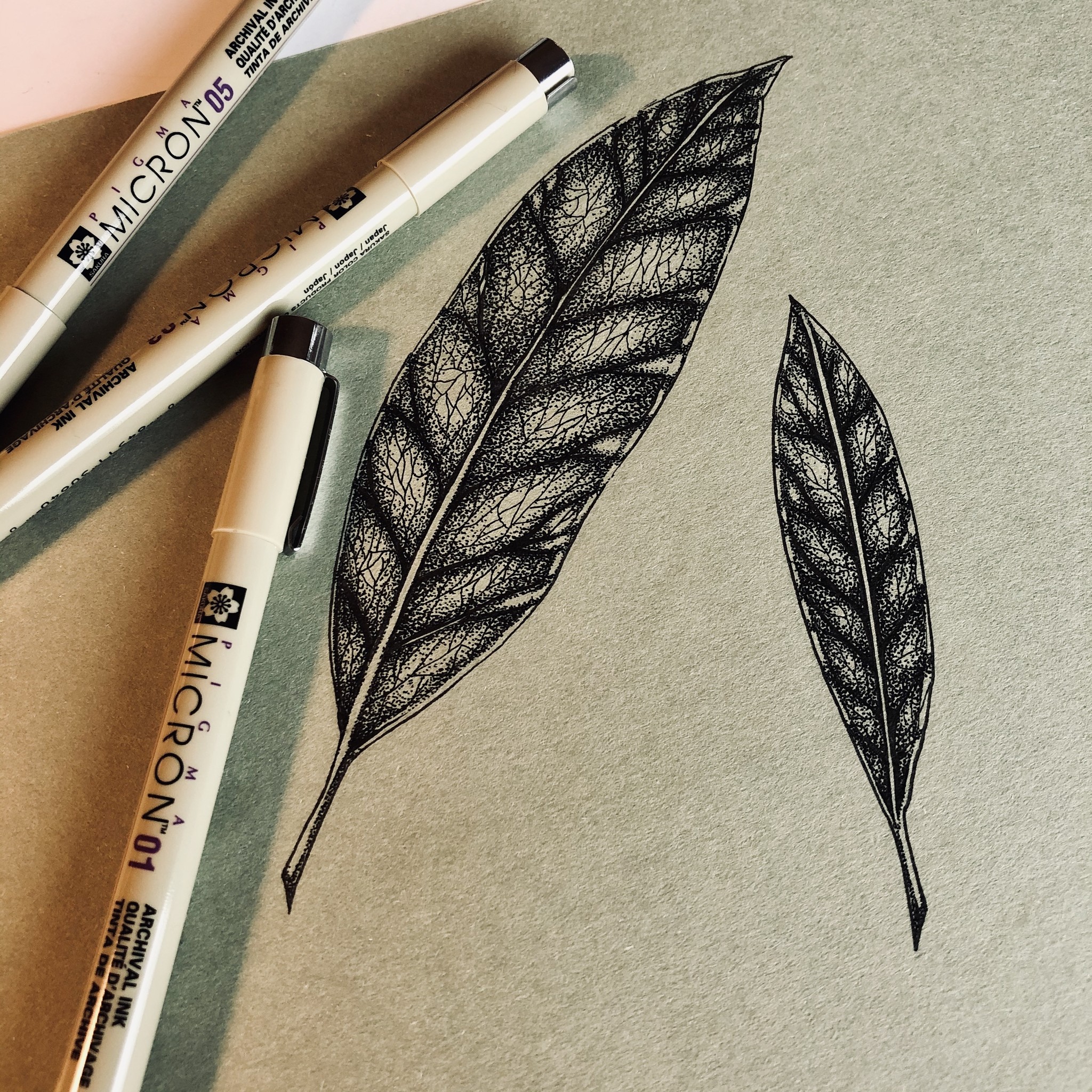 6. Trim, frame, and label your work.
To polish it off, you can trim down your drawing and mount it or frame it. If you haven't already, you can do some research on the plant you drew and write the botanical or common name on your drawing for a truly scientific touch!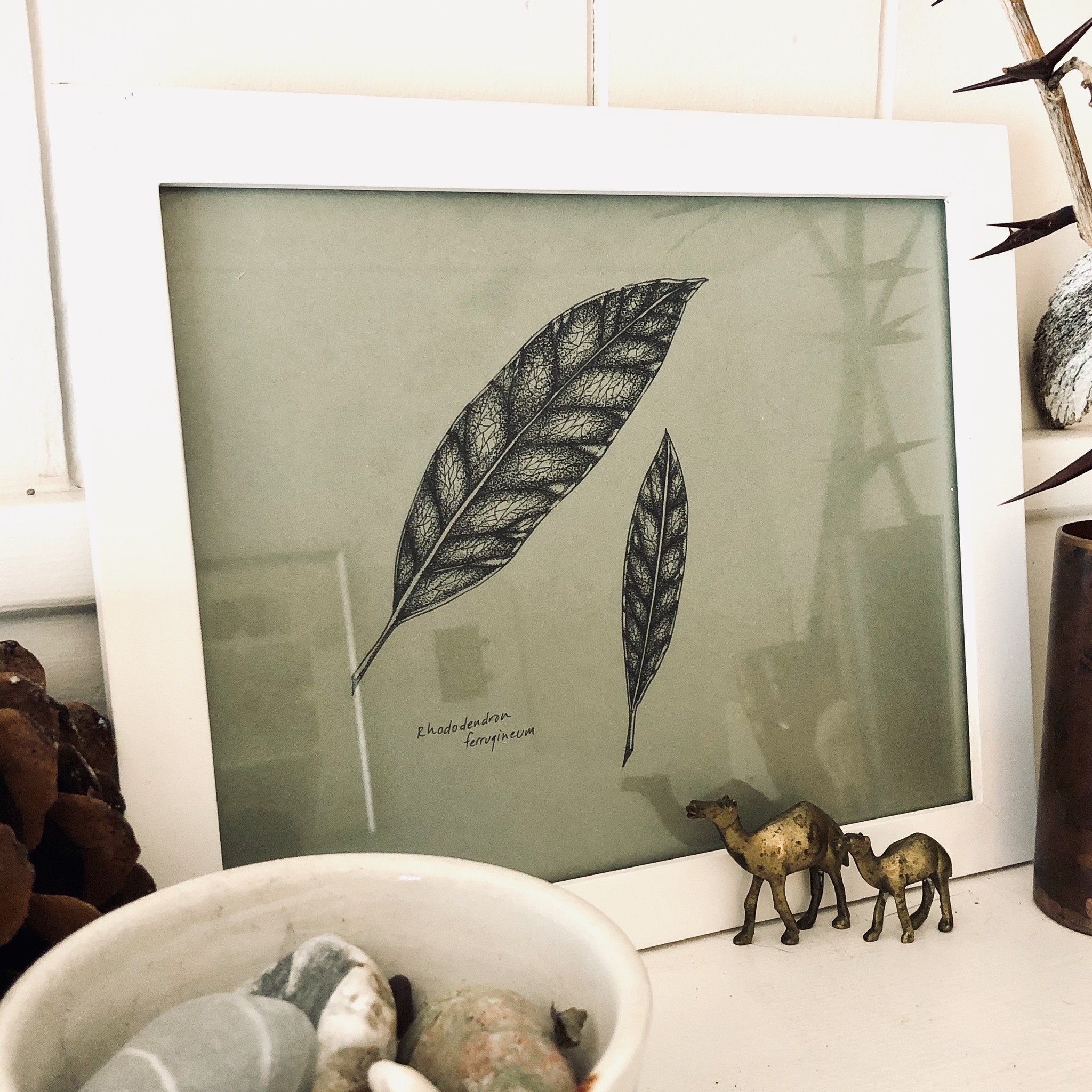 Thanks for reading our blog, and happy drawing!
Be sure to share your work with us Instagram Art Contest for a chance to win a $50 gift card giveaway every month. We'll see you next week!