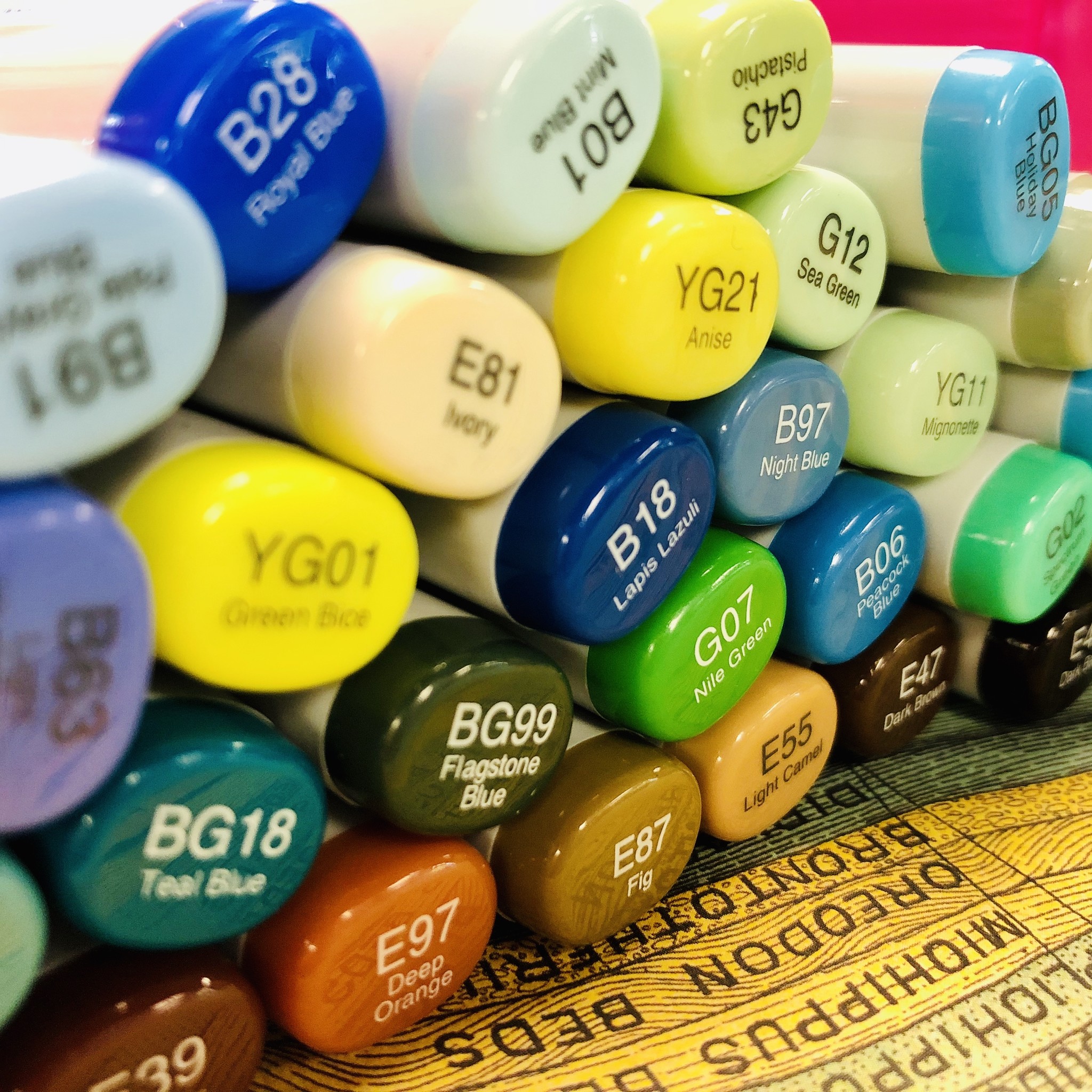 Hundreds of colors!
Copic markers are one of collage's most beloved items. Versatile, vibrant, and in a wide spectrum of colors, they are popular with all sorts of illustrators and designers. Manga artists, crafters, fine artists, architects, and fashion designers love them for their smooth application and seamless blending. Their advanced color system spans 358 distinct colors! But did you know that design markers have been around since the 1960s? Have you ever wondered what the numbers on the cap actually mean? Did you realize that the colorless blender has multiple uses? Read on to learn more!
A Brief History of the Copic
1960s
The Speedry Marker is introduced in Japan by a company called Izumiya. In 1969, Magic Marker of Japan and the US Magic Marker company joined to launch the Speedry line in the states. With a 150-color range, the Speedry was the first marker developed specifically for designers. (At this stage, Izumiya design markers did not yet have the alcohol base of the modern Copic marker.)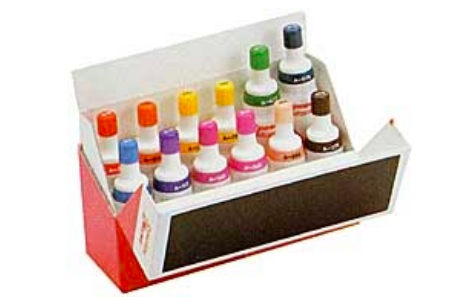 A box of Izumiya markers from the 1960s.
1987
The first Copic Classic marker is introduced in Japan! Designers and illustrators wanted a marker that would not smudge the toner on a photocopy, and the Copic marker was developed in response to this need. (Some say the the name 'Copic' comes from the word 'copies', but this isn't verified.)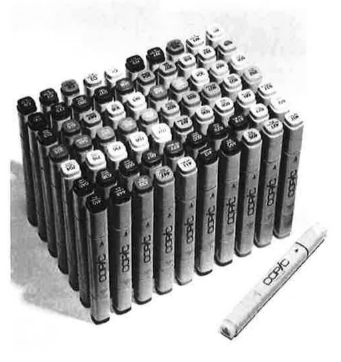 An early set of Copic Classic markers.
1989
Neutral colors and gray tones are added to the Copic line. These colors were added for use by architects and for figure drawing.                 
1991
New colors are added for use in environmental and fashion design.                             
1993
Copic Sketch is released in 144 colors! 
1994-1998
Multiliners and the Copic Ciao are released in 72 colors.
1999-2000
New colors are added to the Sketch line: purples, skin tones, fluorescents, more light colors and grayish blues at the request of manga fans.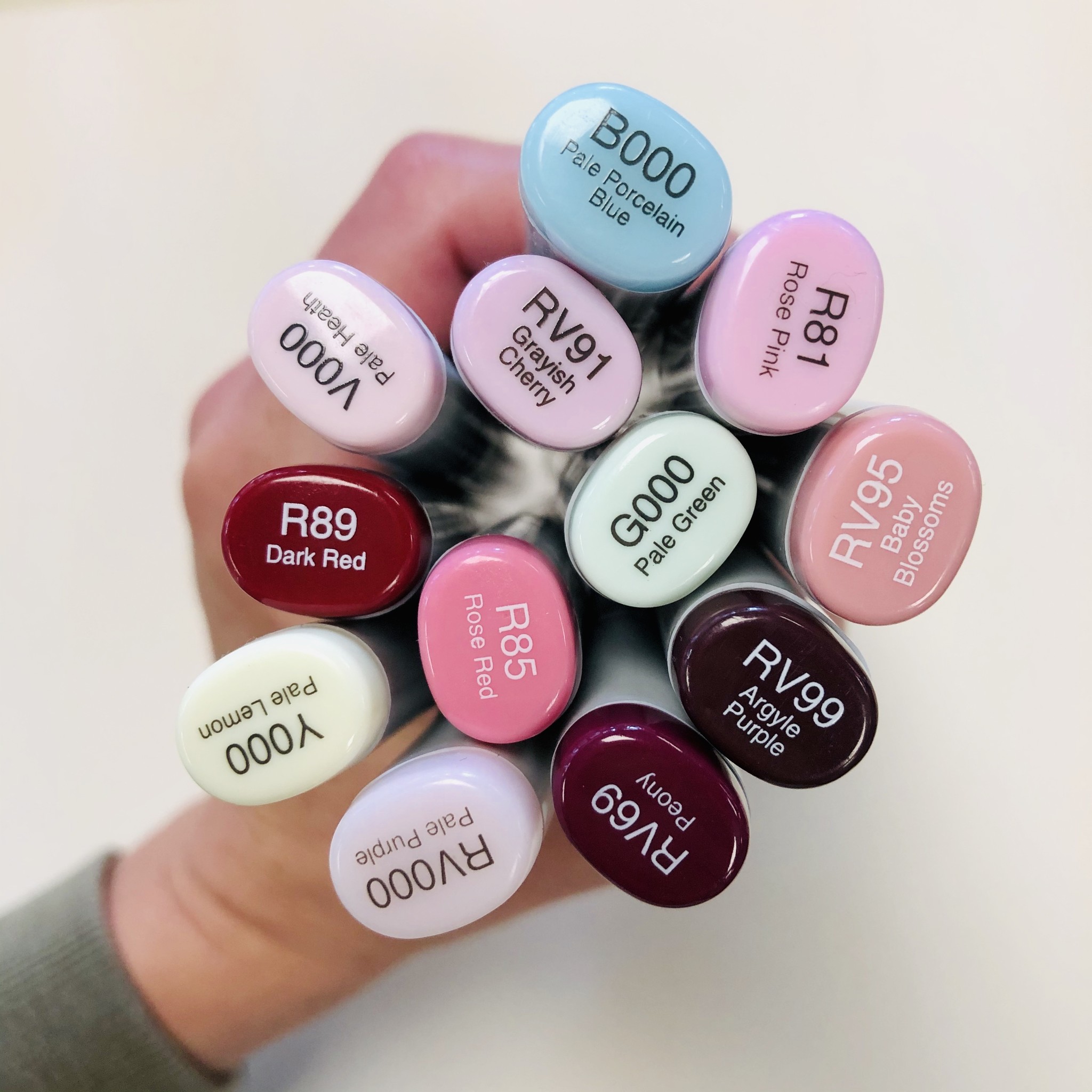 Warm wine and pale colors in the Ex-1 (Extra Color 1) Set, released in 2001.
2002
Copic Wides are released in 36 colors, in addition to 12 new Sketch colors.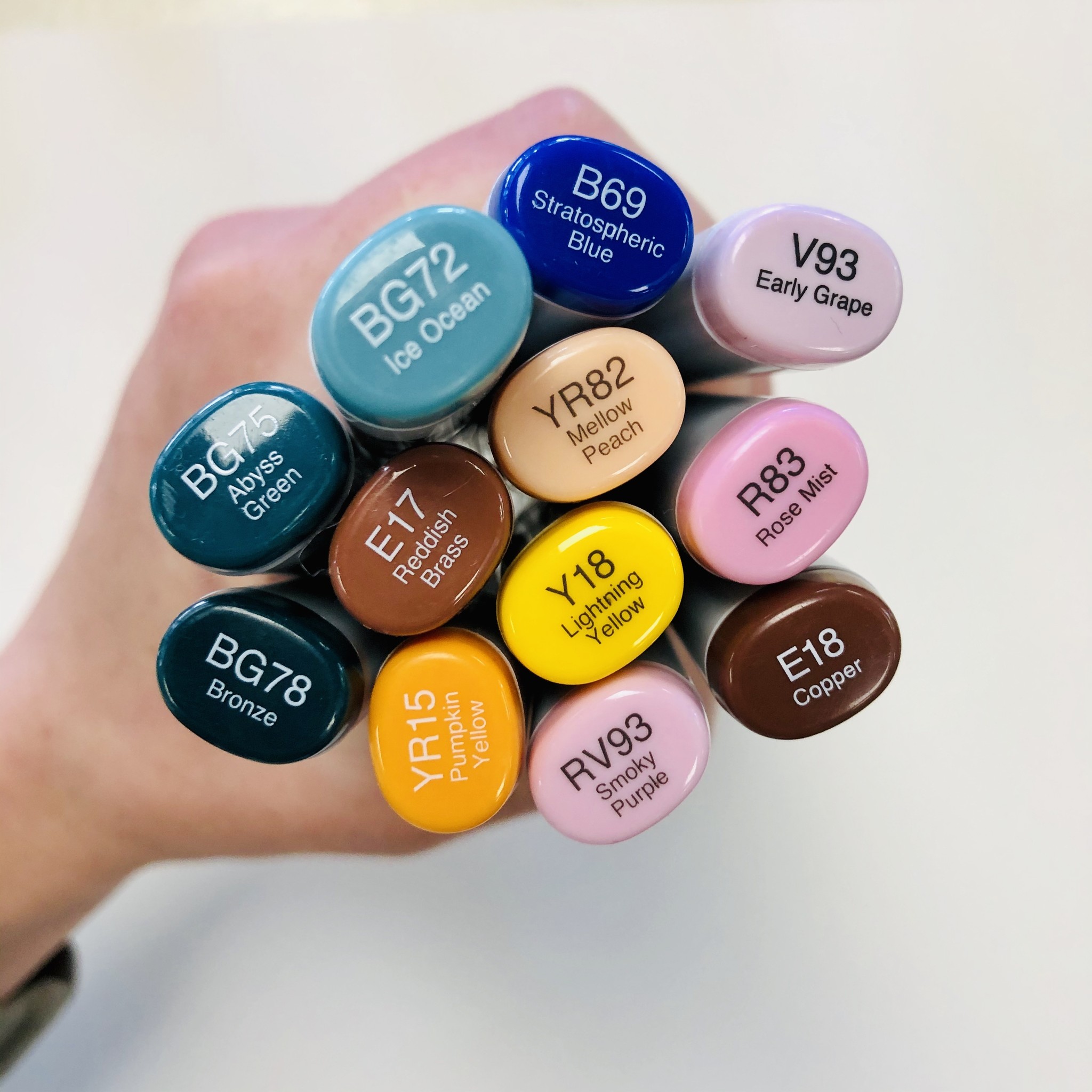 Rich colors in the Ex-2 Set, released in 2002.
2006-2012
More colors are added to the Sketch collection: ultra-light colors, vibrant reds, yellows, and greens, and more earth colors and grays.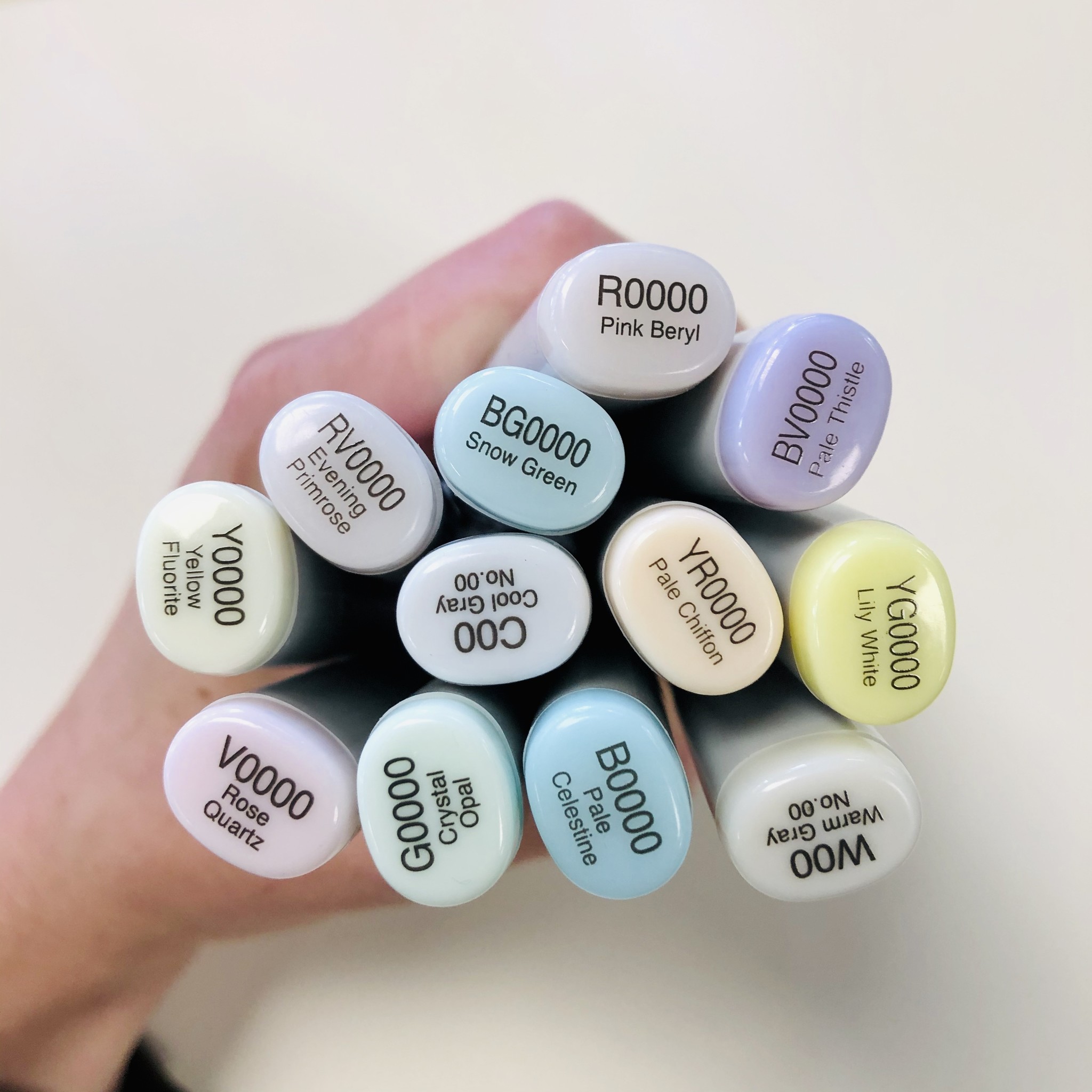 12 ultra-pale hypochromic colors, released in 2009.
2013
Copic Collection app is introduced to help artists keep track of their marker collections on-the-go. 
2014
The Sketch Manga Illustration Set is released. This 24-color pack contains a selection of colors chosen for the beginning manga illustrator. 
Types of Copic Markers and Pens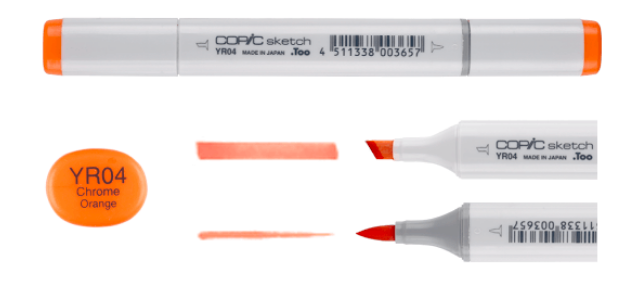 Sketch
Copic Sketch is the most popular type of marker. Sketches come in 358 colors, the widest range of all Copic marker types. They have one brush tip and one chisel tip, and an oval barrel and cap.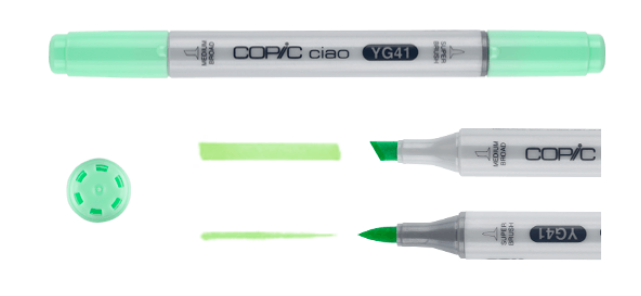 Ciao
Sketch's little sister! The Ciao is a smaller, thriftier marker with chisel and brush nibs. Comes in 180 colors.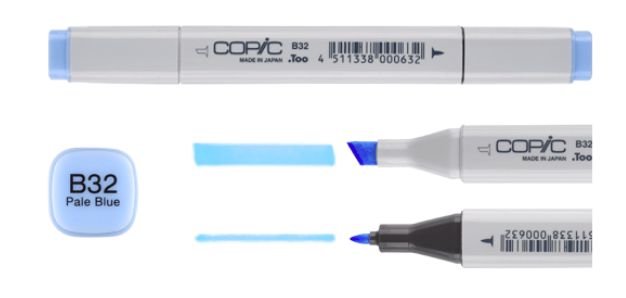 Classic
Classics are the oldest line of Copic markers, and have a large, squarish barrel and cap. One end has a large chisel tip and the other has a bullet tip. 
Multiliner
The Multiliner is a pigment-based liner pen offered in a range of sizes and colors. These pens won't bleed when colored-over with markers. 
Multiliner SP
Multiliner SP is the reusable option of the standard Multiliner, and has a replaceable nib and cartridge and a sturdy aluminium barrel.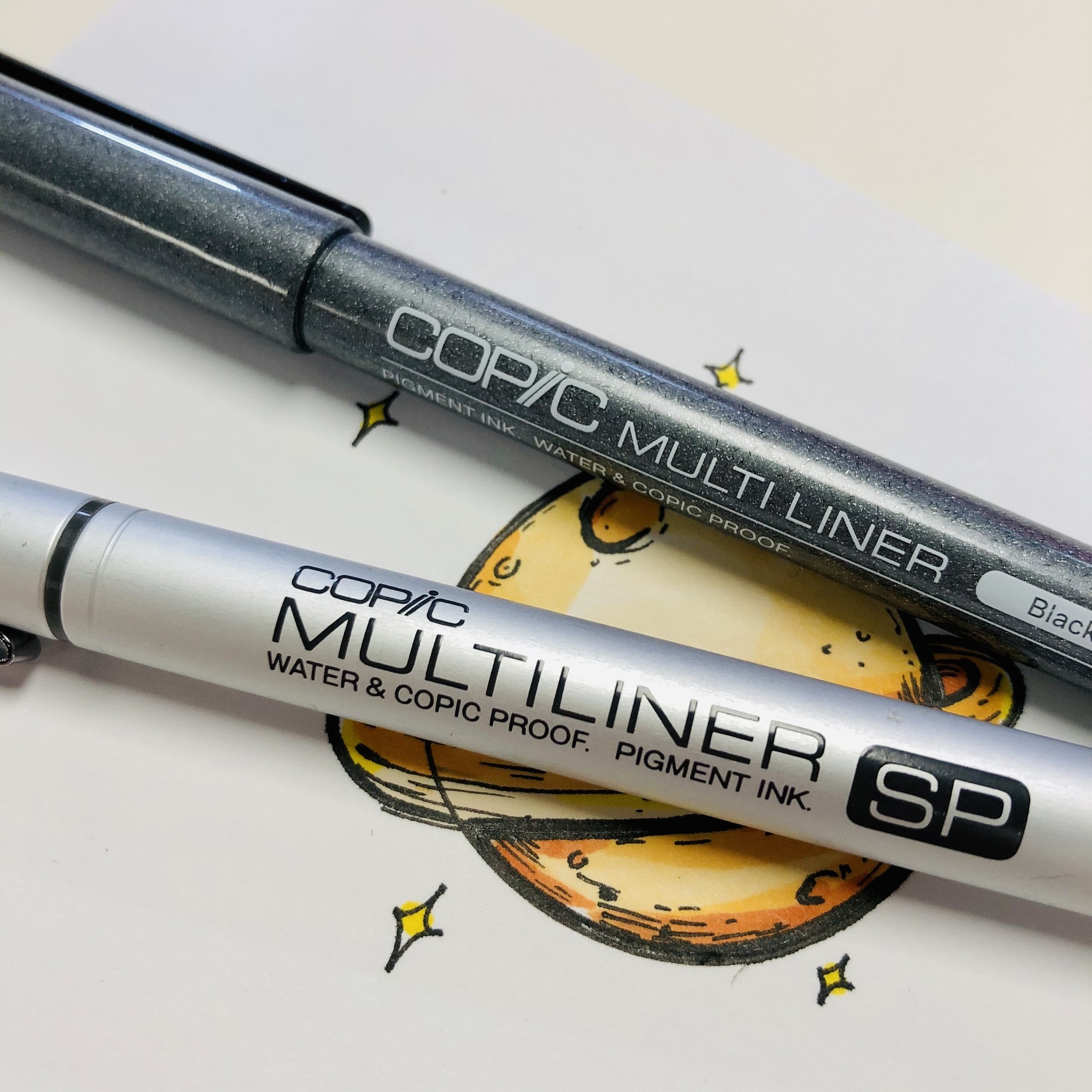 Copic Multiliner and Multiliner SP
The Copic Color System
The 358 Copic colors are categorized by color family, saturation, and intensity. The letters and numbers on each marker indicate where that specific color falls on the spectrum, how close to gray it is, and how light it is. If you think of colors as falling not only on a rainbow spectrum, but also on a spectrum of grayest to most colorful, and a spectrum of lighter to darker, you'll be able to make sense of Copic's coloring system.
The letter on each color tells you which color family it belongs to:
Primary Color Family:
R - reds
B - blues
Y - yellows
Tertiary Color Family:
BG - blue-greens
YG - yellow-greens
BV - blue-violets
RV - red-violets
Secondary Color Family:
G - greens
V - violets 
YR - oranges (yellow-red)
Grays:
C - cool grays
N - neutral grays
T - toner grays
W -  warm grays

Earth Color Family:
E
Fluorescent Color Family:
F
We use lots of interchangeable words to describe color, so it can be difficult to distinguish between saturation and intensity. But when dealing with a wide range of colors designed for precise shading and blending, it isn't quite enough to categorize them simply in rainbow order or from lightest to darkest. Some of Copic's colors are very dark, but what we're actually seeing is high intensity or saturation. Most importantly, though, the Copic color system is designed to be intuitive, so you don't have to know exactly what each digit means to know what colors will blend well. But for the curious, here is a brief breakdown of what each letter and digit means: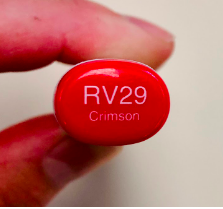 RV - red-violet   
2 - high saturation (0 is the most saturated and 9 is the least)
9 - highest intensity (0 is the least intense and 9 is the most)
Crimson - color name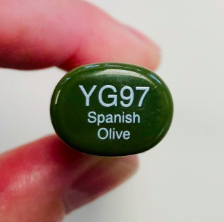 YG - yellow-green 
9 - lowest saturation (meaning closest to gray/neutral)
7 - high intensity (darker)
Spanish Olive - color name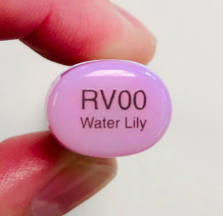 RV - red-violet
0 - most saturated (in the case of very light colors, this looks more clearest/cleanest)
0 - low intensity (lighter/paler)
Water Lily - color name
Copic makes a total of 46 shades of gray. Though gray is technically achromatic (meaning, it has no color), it can have a warmer or cooler hue that can compliment the true colors it is used with. Copic offers a range of warm grays, neutral grays, cool grays, and toner grays (which are between warm and neutral). Copic also makes two different blacks: 100 Black is a cooler, bluer black and 110 Special Black is a warmer, redder black.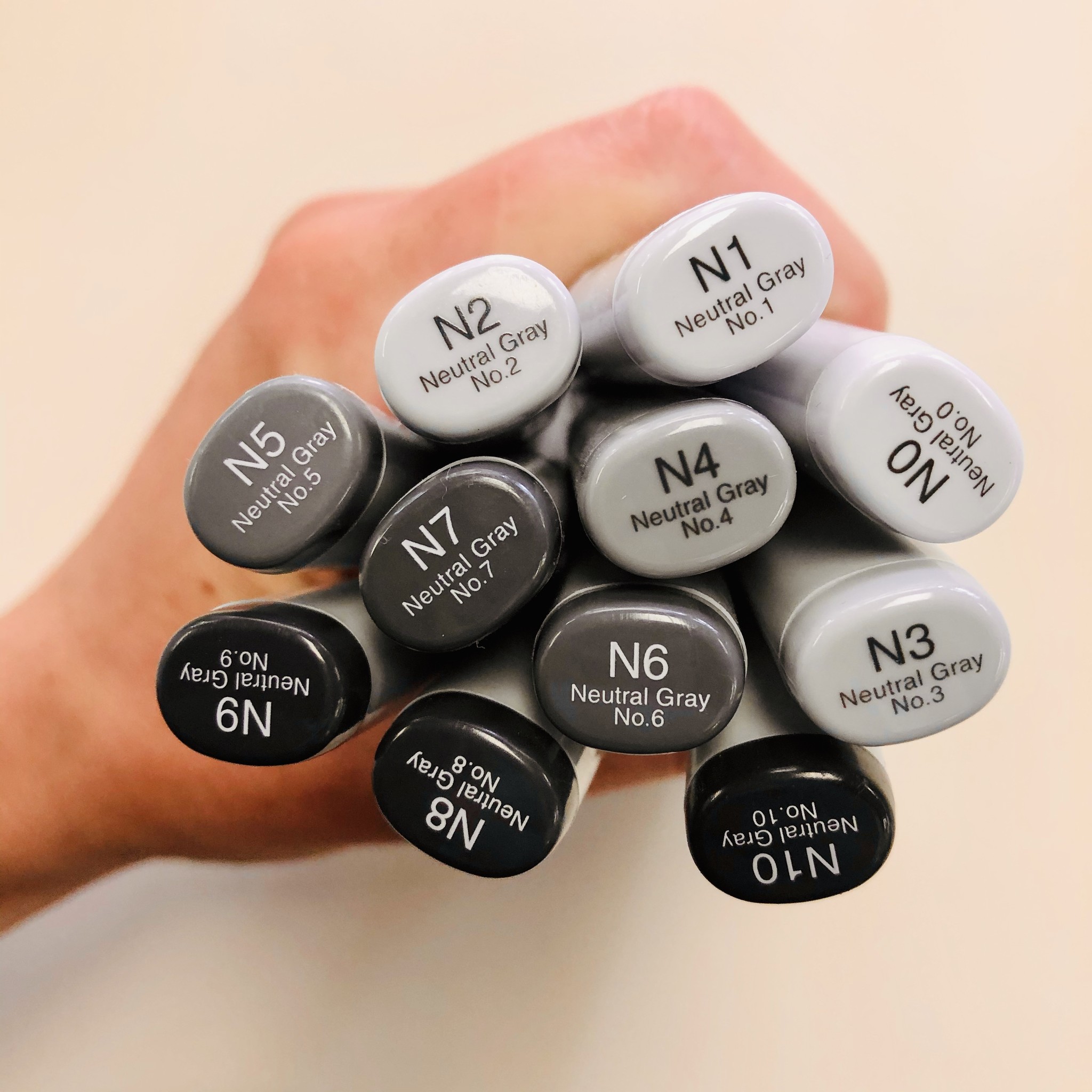 The full range of Copic neutral grays!
Copic Coloring Tips
The saturation level of each color can also tell you which other colors it will blend with. Copic makes a separation between the colors starting with a 0-3 (more vibrant colors) and colors starting with a 4-9 (closer to neutral), so colors in these blending groups will be more likely to work together. Most colors within a color family will blend well with other colors in the same blending group, so long as they are within a few digits of each other.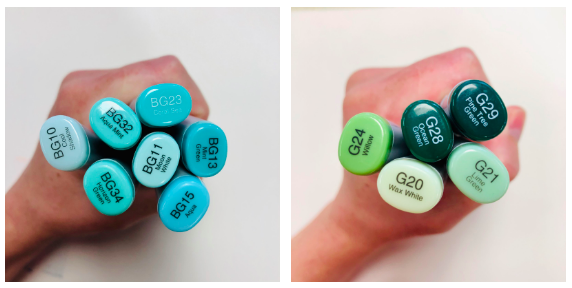 The blue-greens on the left will blend together well, even though they have different digits. The greens on the right share a saturation level (2) but differ in intensity, and would work to create a gradient.
To create a deeper black, Copic suggests putting down a layer of a dark blue, such as B79 (Iris) or B99 (Agate), before adding black. This technique works to create warmer deep blacks as well by adding dark browns or reds such as E49 (Dark Bark) or RV99 (Argyle Purple).
When blending colors, start with the lighter color first and add the dark on top while the base layer is still damp. The colorless blender works as a base layer to help the ink spread evenly into the paper, and it will also desaturate ink that has already been applied. If you want to add light spots on an area that has already been colored, the blender can be used to remove some of the color. 
Copic recommends buying skin tones in the Earth color family. Their Skin Tone set includes E00, E11, E13, E15, E18, and R20, but is weighted more toward lighter, redder tones. Any of the Earth colors could work as a skin tone. The E23-E29 range is a darker, warmer group of browns and the E70-E79 is a slightly cooler group ranging from very light to very dark.
Marker paper or other thick, extra-smooth papers like bristol work best with Copics. More textured papers (like multimedia or watercolor papers) will work, but they don't absorb the ink as smoothly and will give drawings a rougher quality.
Pigment pens are best for use with Copics, because the ink will not smear when colored over. Copic Multiliners, Microns, or other pigment-based ink pens will work.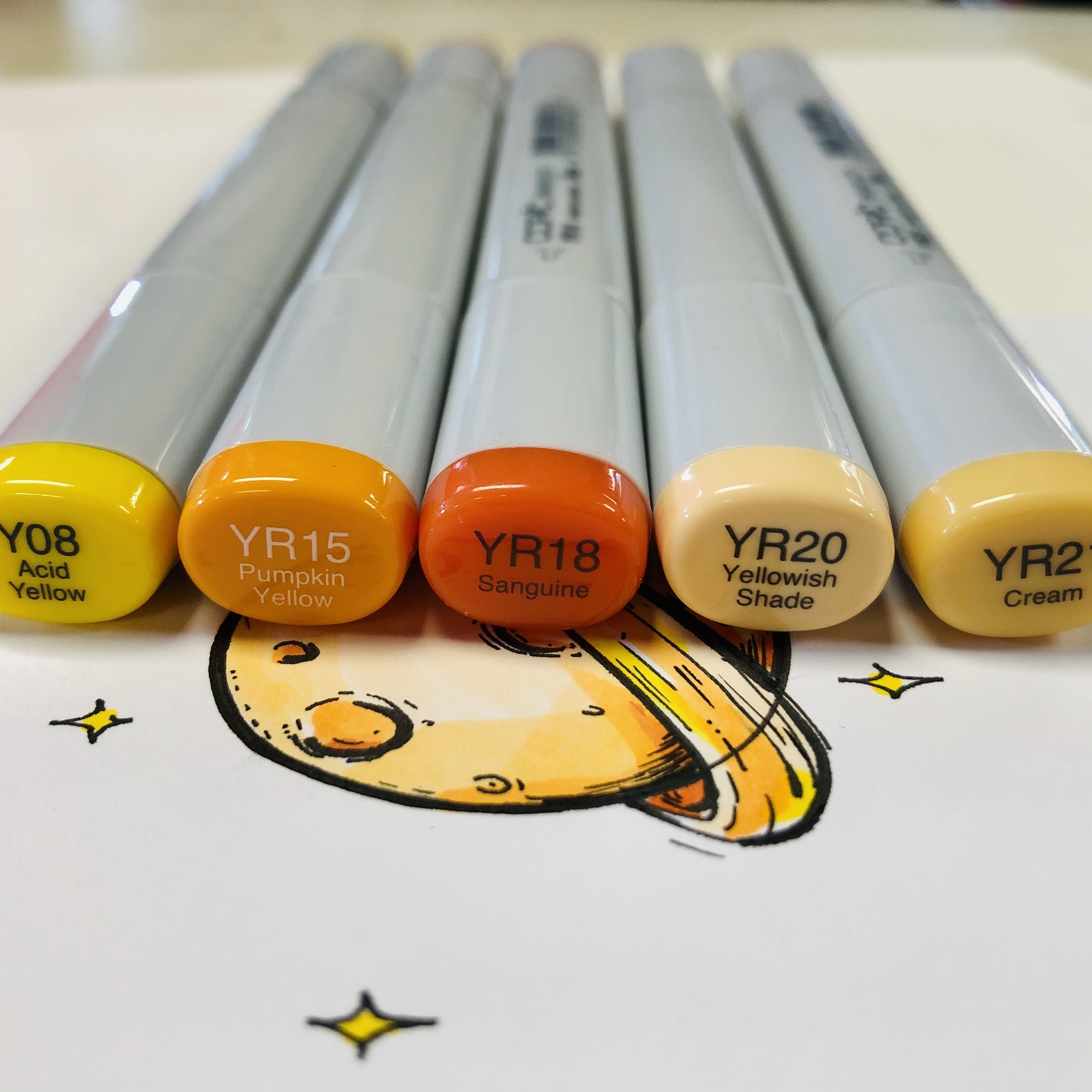 Some warm yellow-reds!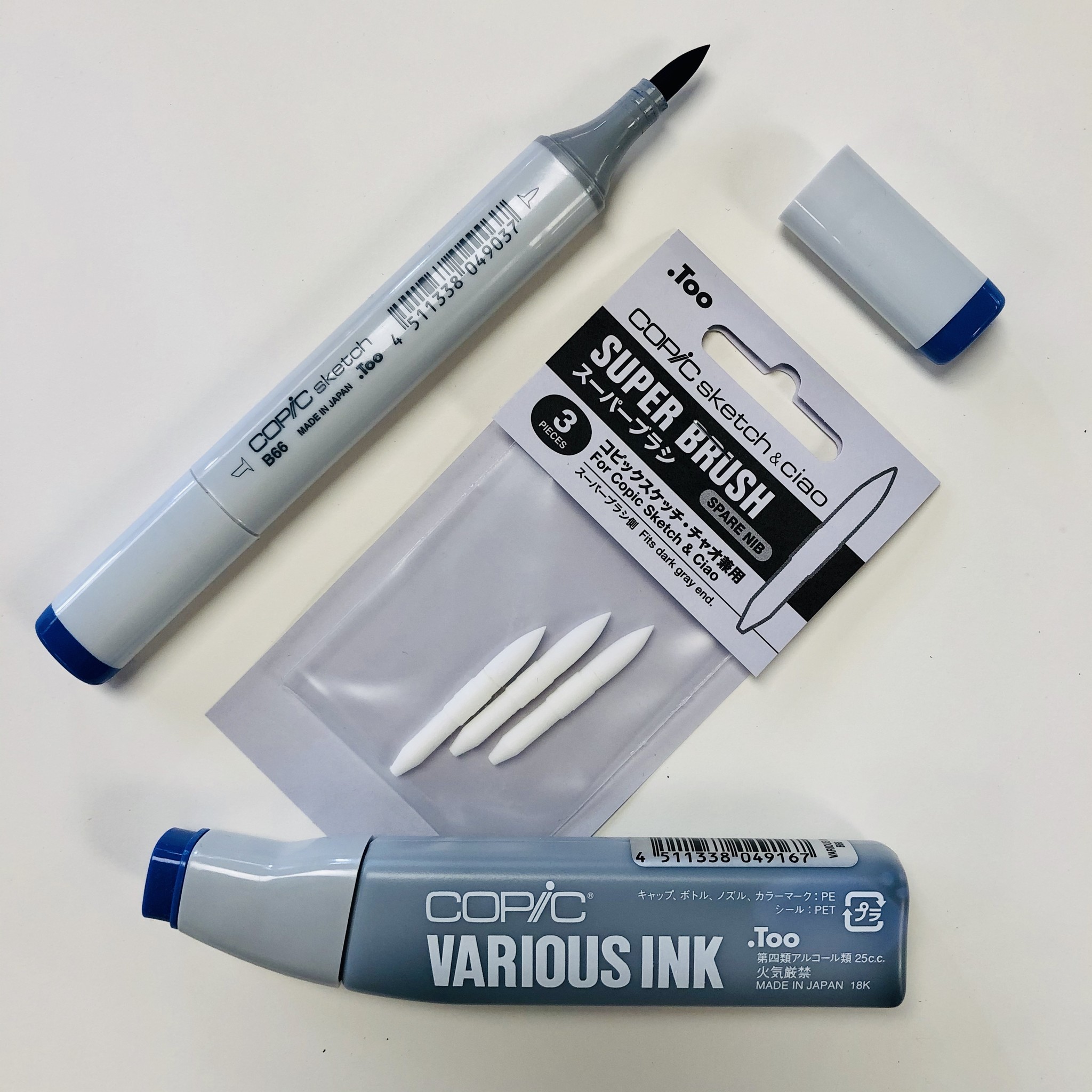 Once you buy a Copic color, you never need to buy a new one! collage carries refills as well as replacement nibs.
Copic Marker Trivia
Copics are alcohol markers, which means that the ink is an alcohol-based formula. This type of ink absorbs into the fibers of the paper rather than resting atop it, and gives the colors a smooth, produced quality that cannot be achieved with a dye-based marker. 
Copic ink is permanent, nontoxic, low odor and quick drying, and does not damage paper. 
Once you buy a color of Copic marker, you never need to buy another! Every part except the barrel is refillable and replaceable.
The color of a marker's cap may be slightly different from the ink inside, but this isn't an error or oversight. The dyes used in the resin material of the cap have different chromogenic properties than the ink inside the pen, which accounts for variations in color representation. Type of paper, quality of light, and surrounding colors will also change the way a color appears. 
Color names are always being updated in response to changes in human activities and discoveries, such as 'Stratospheric Blue' or 'Abyss Green'. Some colors have subjective, imaginative names, such as 'Atoll' (a pale, juicy orange reminiscent of tropical fruit or the sunset) or 'Baby Blossoms' (a soft and dusty pink-purple). Other color names are more traditional, such as Salmon Pink' or 'Royal Blue'.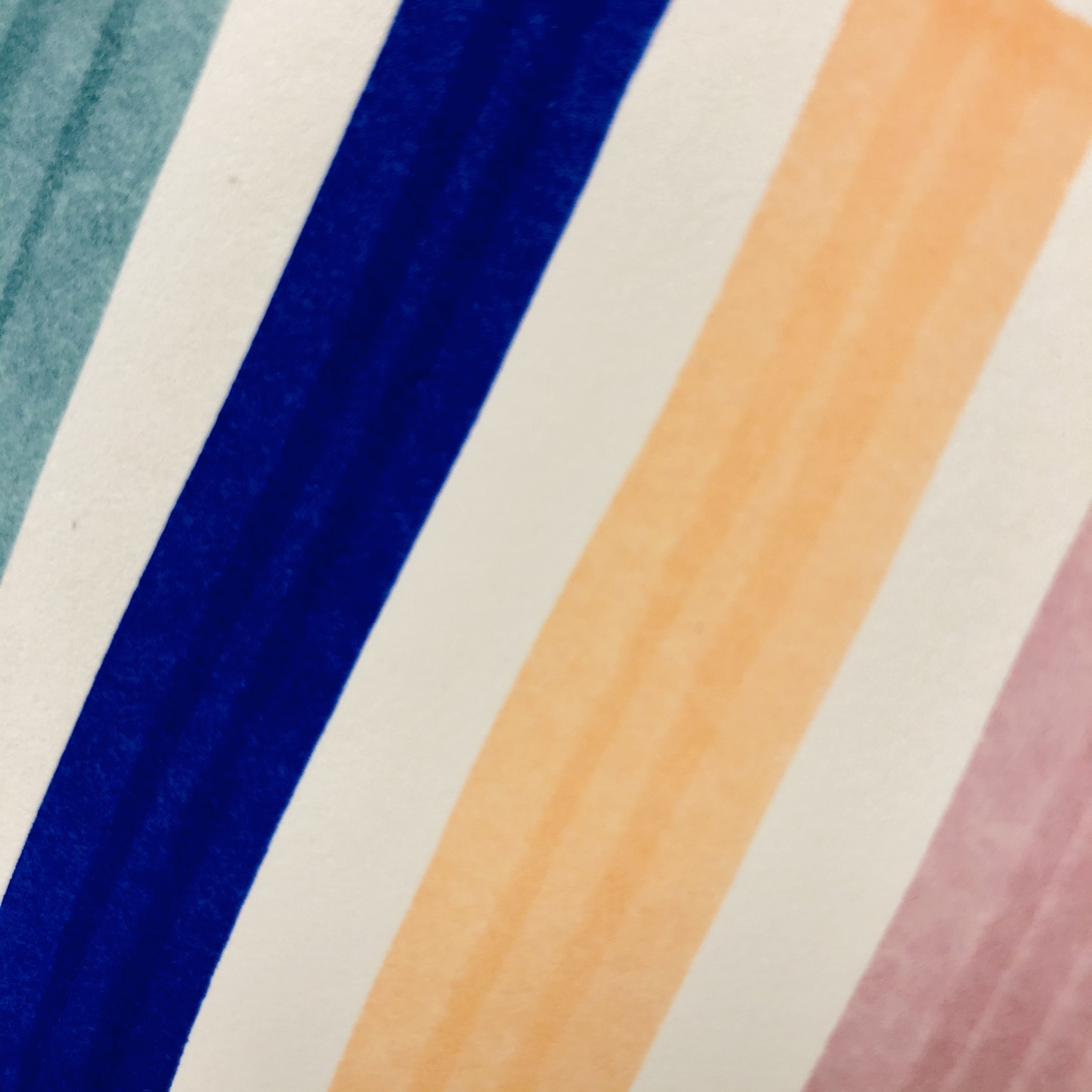 (right to left) Abyss Green, Stratospheric Blue, Atoll, Baby Blossoms.
Whether you're an old pro or a curious newcomer, there is a lot to learn and discover about Copic markers. As always, we are here to guide you in choosing the right colors or answer your questions about all things Copic!
Learn more about how to tell if your Copic Markers need a refill and how to get them refilled at collage