Mother's Day is this weekend (May 14th), and if you're still thinking about making a handmade gift, consider Das clay. We have some helpful hints and tips for working with it, below!

All supplies are available at collage!




Facts about Das Modeling Clay:
It is non-toxic, and made mostly of vegetable binders and water. It is gray and turns white when it's dry, although it also comes in a terracotta color. Das clay is not food safe or waterproof (so don't create mugs and plates with it!). It shrinks a little bit when it dries, about 10%. It is air-hardening, so there is no need to bake it!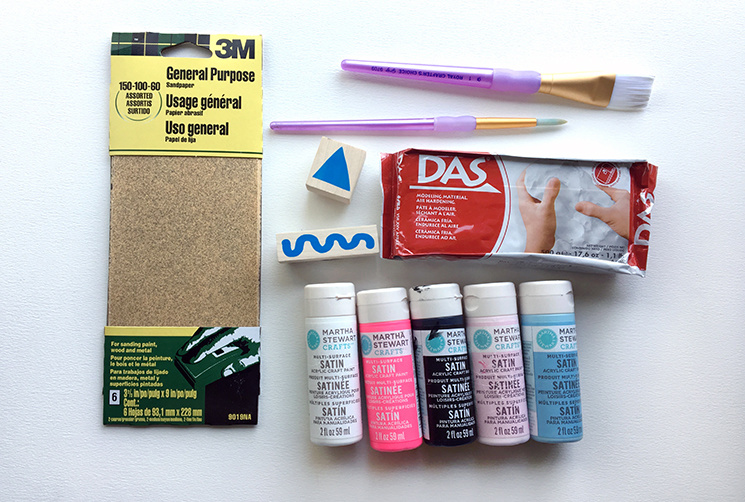 Supplies:
* Das clay (we used the white kind)
* Martha Stewart's acrylic craft paint...our favorite!
* Paintbrushes
* Sandpaper
* A bowl, to use as a mold to shape your dish (optional)
* Rubber stamps (optional. We used stamps by Yellow Owl Workshop)
* Rolling pin or brayer (optional)

Tips for working with Das clay:
* If making a tray or dish, roll it out with a brayer or rolling pin to make it even and smooth.

* If making a thicker piece, like a figurine, build a form out of aluminum foil first, or paper and wire, and then cover your armature with the clay. You will use less clay this way, and it will dry faster.

* Try to make a creation from only one piece of clay; it's difficult to attach separate pieces together.

* You can stamp the clay with a rubber stamp. If you do this, try using a pigment-based or all-purpose stamp pad. If you use dye ink, the stamp will fade and bleed a little bit; you won't have a crisp stamp. You can also make a blind stamp and paint the impression once it's dry (like we did).

* You can also make impressions with leaves, doilies, fingerprints, and other textures.

* If the clay gets hard as you work with it, add water. If you have trouble with the clay cracking, try spritzing it with water.

* Your piece should dry within 24 hours or less. If you put a fan on your project (on a low setting), it will dry more quickly.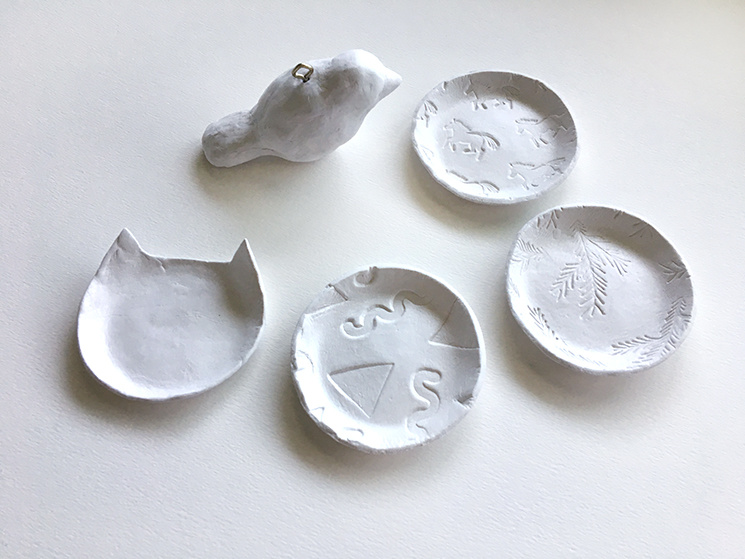 * You can sand it and drill it once it is dry.

* Once opened, we recommend using all of the clay in the package within a week. It can dry out quickly, even if you have it sealed in a ziploc bag.

* You don't have to varnish the clay once your done, but it is helpful to keep the paint from chipping. You can try a varnish spray like Krylon Crystal Clear or Krylon Matte Finish spray, or even paint on Mod Podge.

Check out our samples below!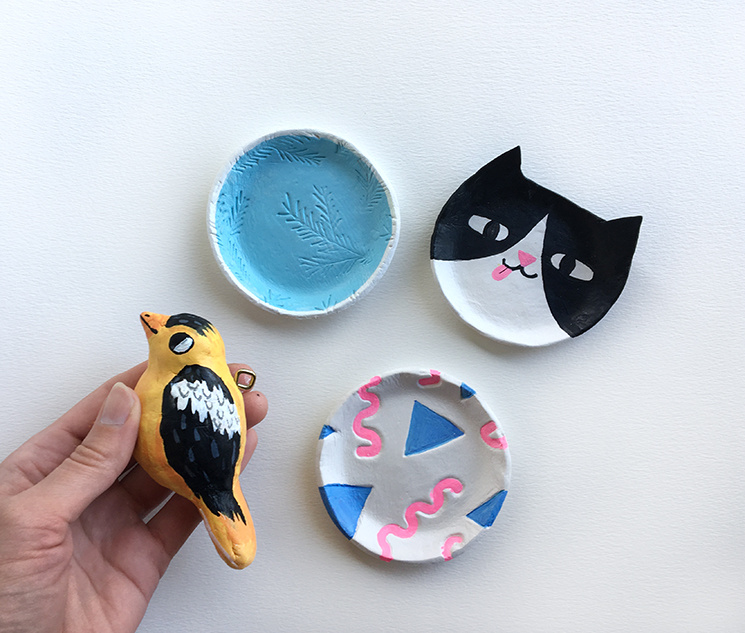 Clay after it has been painted!